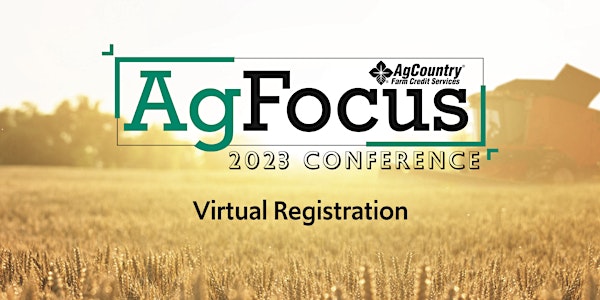 2023 Virtual AgFocus Conference
Join us virtually on January 25, 2023, from 9AM - 5PM and stay up to date on National and Global trends in agriculture!
About this event
Don't miss a great opportunity to spend a day hearing from some of the leading voices in agriculture at AgCountry's AgFocus Conference. Join us as we explore topics covering farm inputs, weather, commodity markets, and politics.
This year's presentation topics include:
Global Fertilizer Market Outlook, presented by Josh Linville, Director of Fertilizer at StoneX
The Wild Side of Weather, presented by Eric Snodgrass, Principal Atmospheric Scientist for Nutrien Ag Solutions
What's Driving Agriculture Now, presented by Mike Pearson, Host of Agriculture of America Radio Show
The Geopolitical Forces Changing Global Agriculture, presented by Jacob Shapiro, Partner & Director of Geopolitical Analysis at Cognitive Investments