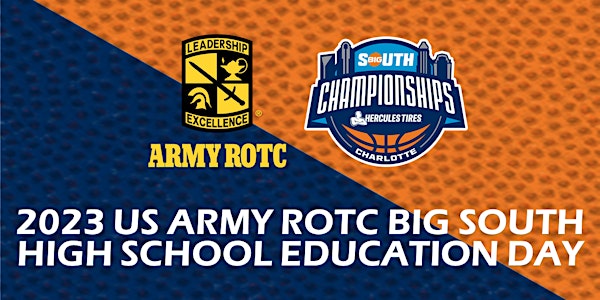 2023 US Army ROTC Big South High School Education Day (BSHSED)
.
When and where
Location
The BOplex - Home of Bojangles Coliseum & Ovens Auditorium 2700 East Independence Blvd. Charlotte, NC 28205
About this event
2023 US Army ROTC Big South High School Education Day (BSHSED)
Overview
The 2023 US Army ROTC Big South High School Education Day (BSHSED) will take place on Thursday, March 2nd, from 10:00 a.m. to 1:00 p.m. at The BOplex - home of Bojangles Coliseum and Ovens Auditorium in Charlotte, NC. We are excited to share this opportunity with Charlotte-area and surrounding NC high schools, as well as those from neighboring states. This event is geared towards high school sophomores, juniors, and seniors.
US Army ROTC BSHSED provides students the opportunity to learn more about the importance of furthering their education and to explore and discover the exciting programs and experiences Big South colleges and universities have to offer, which includes:
Campbell University
Charleston Southern University
Garner-Webb University
High Point University
Longwood University
Presbyterian College
Radford University
University of North Carolina Asheville
University of South Carolina Upstate
Winthrop University
The schedule for our opening program is as follows:
Welcome
Sponsor remarks
Guest speaker
Closing remarks
The rest of the time will be for students to navigate the various college and educational booths at their own pace. We strongly encourage your students to visit each booth represented at the fair and experience the basketball game before leaving.
IMPORTANT REMINDERS
Please be sure to register your chaperones in the same order as your student attendees.
Please note the maximum student ticket type is 100.  If you need more, choose the additional ticket options as needed rather than completing a separate registration.
Should you make a mistake, please email us to correct versus completing duplicate registrations.
Please refer back to the website for important details regarding lunch, game attendance, onsite admissions, etc. at https://bigsouthsports.com/CLTChamps.
CONTACT US
For questions regarding registration or program activities, please contact us at bigsouth.hsed@gmail.com.