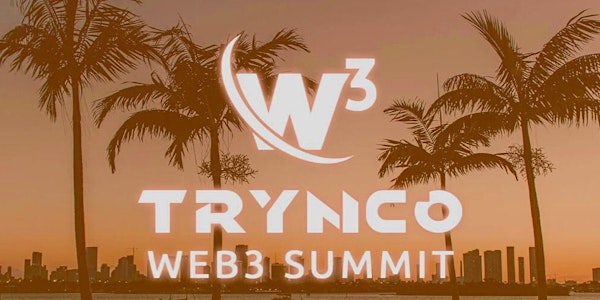 2023 Trynco Web3 Summit - Miami
Mission is to develop an inclusive Web3 community in Miami and beyond, to educate in general web3, blockchain, crypto, NFTs, laws and tax.
When and where
Location
9 Beach Latin Restaurant 1628 Collins Avenue Miami Beach, FL 33139
Refund Policy
Contact the organizer to request a refund.
Eventbrite's fee is nonrefundable.
About this event
Trynco Web3 Summit Series is a non-gated, diverse and passionate community of developers, entrepreneurs, executives, investors, creatives, educators, policy makers, and Web3 enthusiasts focused on leveraging skills & talents to empower more users to safely enter and participate in Web3.
We are focused on building a non-gated, positively engaging, safe and supportive community for those entering into the blockchain space as they build creative assets, innovative businesses, create generational wealth, and friendships & business partnerships lasting a lifetime.
Come join us for a series of in-person and online educational, entertaining, immersive, and networking events.
Summit aims to be an informative gathering of panels, fireside chats, and keynote speakers, immersive & interactive experiences and networking opportunities.
2023 Nation Wide Tour Kicks Off on Tuesday January 24th, in Miami - LET'S GOOOO
🚀🚀🚀🚀 WAGMI 🚀🚀🚀🚀
AGENDA
Miami January 24th, 4pm - 11pm
9 Beach Latin
1628 Collins Avenue
Miami Beach, FL 33139**
4 - 5pm CHECK IN & NETWORKING
5 - 9pm WEB 3 SUMMIT AND WOMEN BUSINESS LEADERS PANEL
Keynote - Eryka Gemma - Founder of Timelock Venures & Miami Bitcoin Center
Panel Moderation - Cindy Metzler - TEDxBocaRaton
Jake Brukham - Founder of CoinFund - Web3 Trends, NFTs and Investing in Web3 / Blockchain / NFTs
Meggie Soliman - DSS & Juno Health - Blockchain Technology & Healthcare
Mariana Bernado - Owl Protocol - Interoperability in Web 3 Platforms
Erik Mendelson - OneOf - NFTs in Entertainment, Lifestyle Brands and Experiences
Keva Chester - Founder & CEO of Chester Realty & Propy Crypto Certified RE Agent and Erik Mendelson - Propy Certified RE Agent - NFTs and Real Estate
Ryan Kirkley - Founder & CEO of Cryptan Labs - Good Bad & Ugly - How to Spot a Scam NFT Project
Michael Krilivsky - Founder & CEO of NFT Pay - Payment Platforms for NFTs
Ashley Shiver - Founder and CEO of LiLa Verse - Metaverse and It's Use Cases
Jesse Artman - Fine Art Society & Benny Pekala - Cryptan Labs - Art & NFTs - How to Close the Passion Gap
Amila Karunaratne - Founder and CEO - Trynco and UCSNFTCLUB - Closing Keynote
9 - 11pm AFTER PARTY
Performances by International Multi Talented star and a back up dancer to Black Eyed Peas etc., Nicole Amato, International Runway Model, Polina Munteanu and more surprise special performances - You Don't Want to Miss !
4pm - 11pm
Live Art Paintings & Drawings by Diana Castillo, Nicole Amato, Soto and Captaincasual
Art displays by Transparent, Do What You Love, Alejandro Glatt, Inessa, Black Tape Project, Eddy Bogaert, Cash Monet, Heārtist and more
** PARKING
Multi level Parking Garage on 100 16th Street, Miami Beach, FL 33139
However, rideshare - Uber / Lyft or car service recommended.
NO Parking on Premises - Parking is not included in the ticket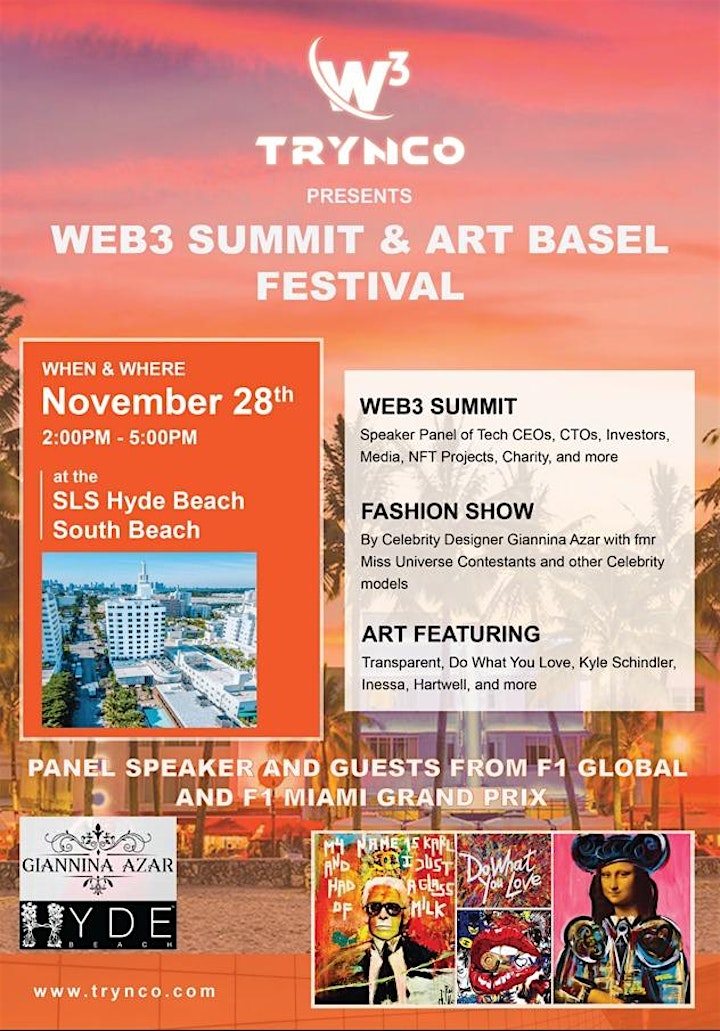 Speakers on the November 28, 2022 Web3 Panel:
1. Derek Jones - United Coin - Blockchain, Crypto Accounting
2. Constantine Kogan - BullPerks - Crypto - Good Bad & Evil; Self Custodial vs Exchanges and why Leverage Exchanges should be handled with care
3. Ori Ohayon - Founder - Intro to NFT and different use cases of NFTs
4. Nick Gordon - Dir of Formula 1 Experiences - Use of NFTs in Sporting Events for VIP Experiences
5. Erik Mendelson - Dir of Business Development, OneOf- Web3 & NFTs Projects - how to avoid scams
6. Jesse Artman - Art Dealer - Physical and Digital Art worlds - closing the gap
7. Keva Chester, Chester Realty Group, - use of Crypto in Real Estate - Propy
Photo Disclaimer
We may take professional photos and videos at the event and share them on media.