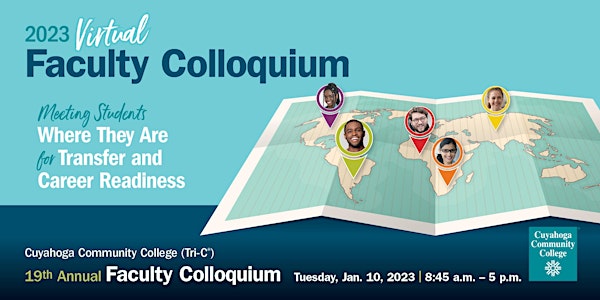 2023 Tri-C Faculty Colloquium
2023 Cuyahoga Community College Faculty Colloquium
About this event
Tri-C's annual Faculty Colloquium provides an opportunity for faculty to engage in a day of professional development through dialogue and sharing of research, scholarly pursuits and effective teaching strategies. This virtual event will be open to faculty from Ohio's two- and four-year institutions.
https://www.tri-c.edu/faculty-central/colloquium.html
Registration deadline is Jan. 9, 2023.
Agenda:
8:45-10 a.m. Welcome and Keynote
10:15 - 11:15 a.m. Concurrent Session A
11:30 a.m. – 12:30 p.m. Concurrent Session B
12:30 - 1:30 p.m. Lunch Break
1:30 - 2:30 p.m. Concurrent Session C
2:30 p.m. End of Day for External Attendees
2:30 - 4 p.m. Tri-C Full-Time Faculty Counterparts Meetings
Tri-C Adjunct Faculty Engagement Session