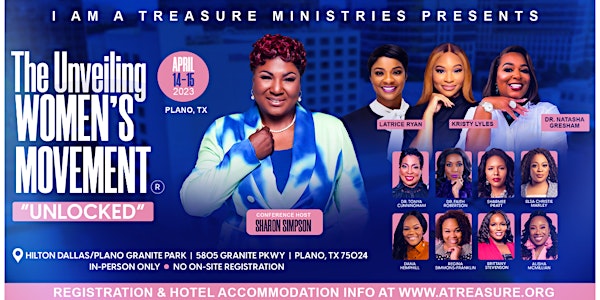 2023 The Unveiling Women's Movement ® April 14th
2023 The Unveiling Womens Movement ® "UNLOCKED"
By Sharon Simpson and I Am A Treasure Ministries
Date and time
April 14 · 3pm - April 15 · 3pm CDT
Location
Hilton Dallas/Plano Granite Park 5805 Granite Parkway Plano, TX 75024
About this event
WOMEN ONLY
Listennn Sis!!
We are Super Excited you stopped by to see what God is doing in the lives of women like you!!!
Join Us for an IN-PERSON Experience where everyone is VIP. Includes 2 Reviving, Empowering and Life-Changing days at The Unveiling Women's Movement® happening April 14th and April 15th, 2023 at Hilton Dallas/Plano Granite Park 5805 Granite Pkwy, Plano, TX 75024
The Unveiling Women's Movement® is where our focus is within. It is about looking inward and unveiling our strengths, pain and finding and utilizing our voice and gifts. Women experience revival, restoration, liberation, empowerment, removing the limitations and propel in their faith and purpose. We talk about real issues, LIFE. Most of all discerning and devoting to the voice of God in every area of their life. It's SO enriching. It's SO personal. It's intimate. It's full of Sisterhood. Relationship with God is strengthened. Visions are clearer. Gifts and Creativity become clearer and are activated. Genuine and Kingdom friendships are made. It's a place of worship + prayer, laughter, and bonding sisterfriends. Our prayer is for all women to live a transformed and whole life inside out.
WE ARE A COMMUNITY OF SISTERS ON THE MOVE TO LIVE LIFE INSIDE OUT THE WAY GOD CREATED US TO, THROUGH PRAYER, THE WORD OF GOD, ALL WHILE INSPIRING AND SUPPORTING OUR SISTERS TO DO THE SAME. 
April 13, 2023 (THURSDAY)
FIRESIDE MEET AND GREET IN THE POOL AREA WITH THE CONFERENCE HOST SHARON SIMPSON
April 14, 2023 (FRIDAY)
MID-DAY PATHWAY BREAKOUT SESSIONS
Doors Open 1:00pm
FRIDAY NIGHT LIVE (MONOLOGUE, EmpowerHER, UNPACKED CONVERSATIONS, PRAISE & WORSHIP
Doors Open 6:30pm CST
April 15, 2023 (SATURDAY)
SATURDAY LUNCHEON & ACTIVATION REVIVAL
Doors Open 8:30am CST
Conference Hotel and Venue Location
Book Your Room Today at Group discounted rates at www.atreasure.org or Call hotel at (469) 353-5000. Please give the group code The Unveiling Women's Movement.
Hilton Dallas/Plano Granite Park
5805 Granite Pkwy, Plano, TX 75024
Rooms Include: Microwave,mini refrigerator and Flat Screen TV.
$159.00 + tax per night/ Complimentary Parking in the Hotel Garage
CANCELLATION AND DISCLOSURES:
All events sponsored by I Am A Treasure Ministries/The Unveiling Women's Movement® are non-refundable upon purchase. The Unveiling Women's Movement has a "NO REFUND" policy.
What should I wear?
Whatever you feel comfy enough in to worship Jesus in + comfy enough to fellowship with other amazing women. We are asking the ladies to wear any type of "BLUE" attire as a unified stand together, if not purchasing a conference t-shirt. (neither is required to attend)
Are you still thinking about it? We want to make sure EVERY WOMAN who wants to attend TUWM is in the building.
EXCITING NEWS! Eventbrite has a partnership with PayPal to allow you to utilize a payment plan with your conference ticket.
MORE EXCITING NEWS!! LADIES! You asked and we listened!
Moving forward, registrants for The Unveiling Women's Movement 2023 have the option of an additional payment plan method aside from PayPal.
PAYMENT PLAN POLICY & DISCLAIMER:
A Deposit for 1/2 is due per Registration(s) at time of Enrollment, deposit amount varies per registration type (based on the number of registrations.
Payment plan enrollment ends on Tuesday, March 14th, 2023.
Final Payment is due by the Tuesday, March 28th, 2023 (after enrollment).
You have until Tuesday, March 28th, 2023 to pay off your balance.
If the Final Balance/Payment is NOT received by the FINAL due date the registration(s) will be voided and the NO REFUND PENALTY on Deposit and all Payments will go into effect.
All payment plans are final sale. Registrations are non-refundable and non-transferable. Additional promotions are EXCLUDED from the Payment Plan Registration Type.
NO REGISTRATION AT THE DOOR.
For More Detail Information please visit our "FREQUENTLY ASKED QUESTIONS" on our website at www.atreasure.org
Blessings,
Evangelist Sharon Simpson
I Am A Treasure Ministries, CEO/Visionary
The Unveiling Women's Movement®/Conference Host
  ~ NO REFUNDS WILL BE ISSUED AND ALL SALES ARE FINAL ~
Frequently asked questions
WHAT is the Refund and Cancellation Policy?
Is there a Registration Payment Plan?