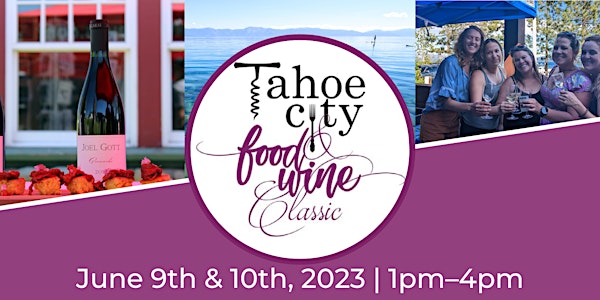 2023 Tahoe City Food & Wine Classic
The Tahoe City Food and Wine Classic returns to the shore of Lake Tahoe on Saturday, June 10th to celebrate its 16th anniversary!
By Tahoe City Downtown Association
Date and time
Saturday, June 10 · 1 - 4pm PDT
Location
Tahoe City Downtown Association 425 North Lake Boulevard #1 Tahoe City, CA 96145
Refund Policy
Contact the organizer to request a refund.
Eventbrite's fee is nonrefundable.
About this event
We are excited to welcome you back to the 16th Annual Tahoe City Food and Wine Classic taking place on June 10th, 2023 from 1-4pm!
Experience Tahoe City in one of the most eclectic ways by taking a stroll downtown along the lakeside sidewalks sipping wine, tasting delicious morsels, discovering our charming shops, and enjoying beautiful Lake Tahoe. This event features the tastiest wines & beverages paired with the most delicious food bites provided by North Tahoe's favorite restaurants and caterers!
Ticket sales go live midnight on March 1st, 2023. All tickets will be sold online through Eventbrite and cost $65 plus the processing fee. There are a limited number of tickets available, so make sure to get them while they last! This event is rain or shine and the cost includes a commemorative wine glass, and wine bag. This is a fundraiser for the nonprofit Tahoe City Downtown Association. Do not delay in purchasing your tickets as this event sells out every year!
Must be 21+ to purchase a ticket. Event check-in will begin at 12:30 pm on the day of the event and will be located at two locations: Boatworks Mall & The Old Firestation (Siren Arts Building). At Check-in, you will receive your glass, wristband, and a map of the pouring locations. There will be tables, shade tents, decorations, and loads of people at the registration location so it will be easy to spot! After registration, enjoy an afternoon of tasting and discovering all that Tahoe City has to offer! Ticket holders must arrive at registration before 3:00 pm to participate.
We will also be hosting a "Grab Your Glass" pre-party on Friday, June 9th, 5:30 - 7:30 pm at Boatworks Mall to allow locals and visitors the opportunity to pick up their tasting glass & wristbands for Saturday the day before and AVOID THE LINES on the event day. Details about the "Grab Your Glass" event will be emailed out to ticket holders in the weeks prior to the event. You can expect Live Music, a Makers Mart with local artisans, and delicious bites from our Boatworks restaurants.
ABC regulations prohibit walking between tasting locations with any wine in your glass. Thank you for either pouring out or consuming wine at each tasting location before walking to the next! Please drink responsibly. Don't Drink and Drive! This year we will have a complimentary bike valet service. We will be sending out an update closer to the event with the exact location.
By participating in the event, you agree to have your photograph taken in connection with the above-identified event, and agree that such photographs, with or without your name, may be used for any lawful purpose, including for example such purposes as publicity, illustration, advertising, and web content in print and/or electronically for the event.
Refund Policy:
Tahoe City Food & Wine Classic constantly monitors the number of tickets purchased in order to plan for the event, including; how many tastings are needed; volunteers required; as well as other event logistics. In order to ensure a well-organized event, we rely on this information; however, we understand that unforeseen circumstances might arise, which may prevent attendance after tickets have been purchased. We will consider all refund requests on a case-by-case basis that are made within 72 hours of placing a ticket order. There will be no refunds for any requests made 72 hours after placing a ticket order.
Waiver of Liability:
I understand and agree that neither Tahoe City Food & Wine Classic, Tahoe City Downtown Association nor any other organizers, promoters, or sponsors involved in the 2022 Tahoe City Food & Wine Classic, nor any of their respective principals, employees, officers, contractors, agents, or assigns (hereinafter collectively referred to as the "Released Parties"), may be held liable or responsible in any way for any injury, death, losses or other damages to me or my family, heirs or assigns that may occur as a result of my participation in the 2022 Tahoe City Food & Wine Classic (the "Event").
By purchasing tickets to the Event, I indemnify the Released Parties and hold each of them harmless from and against any and all loss, claim, damages, liability, cost, or expense whatsoever which I, my family, estate, heirs, or assigns may incur as a result of my participation in the Event.
I understand that my participation in the Event involves certain inherent risks, including but not limited to, the risk of possible injury from tripping or falling. Despite these risks, I still choose to participate in the Event. With respect to the Released Parties, I assume all risks in connection with my participation in the Event and indemnify and hold harmless the Released Parties as provided herein.
COVID-19/FORCE MAJEURE: The Released Parties will not be liable for any failure or delay in putting on the Event which results directly or indirectly from acts or conditions that are beyond the reasonable control of the Released Parties, including but not limited to: acts of God, accident, riot, strike, insurrection, war, terrorist act, epidemic, pandemic, quarantine, civil commotion, breakdown of communication facilities, breakdown of web host, breakdown of internet service provider, natural catastrophes, governmental acts of omissions, changes in laws or regulations, natural strikes, fire, explosion, flood, storm, generalized lack of availability of raw materials or energy, foreign or domestic embargo, product detention, seizure (each a "Force Majeure Event"). For the avoidance of doubt, Force Majeure shall not include (a) financial distress nor the inability of either party to make a profit or avoid financial loss, (b) changes in market prices or conditions, or (c) a party's financial inability to perform its obligations hereunder.
If any Force Majeure Event occurs, the Released Parties may elect to cancel or reschedule the Event. In the event of the cancellation of the Event due to a Force Majeure Event, the Released Parties shall issue a refund of the applicable ticket price, less any fees charged by the ticket processor, to the payor. In the event of the rescheduling of the Event due to a Force Majeure Event, the Released Parties will provide the following options to the payor: (1) a refund of the applicable ticket price, less any fees charged by the ticket processor; or (2) application or transfer of the current ticket price for the purchase of a ticket to the rescheduled Event.
About the organizer
The TCDA is a non-profit, 501 C6 corporation comprised of local merchants, property owners, community associations, residents, professionals, and contributors who are committed to working together to formulate, direct, and forge a sound and prosperous future for Tahoe City and the entire North Lake Tahoe area