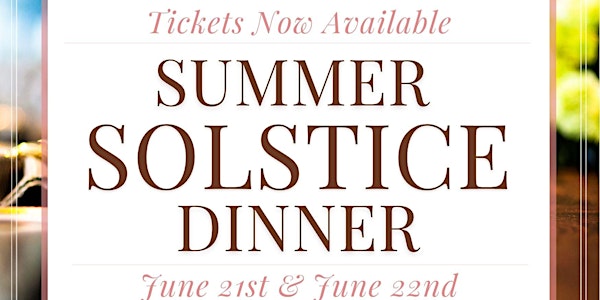 2023 Summer Solstice Dinners at Land's Sake Farm
Due to popular demand, we have 2 solstice evenings! Join Chef Andy Husbands from The Smoke Shop or Chef Jeremy Sewall of Row 34 on the farm.
Location
Land's Sake Farm 90 Wellesley Street Weston, MA 02493
About this event
1 day 2 hours

Mobile eTicket
Every June, Land's Sake Farm kicks off summer with an evening on the farm. Dinner guests enjoy a gourmet farm-to-table meal prepared by an accomplished chef while dining al fresco on the same land where the food was grown. Due to popular demand, we have added an additional night to our solstice celebration! Join either Pitmaster Andy Husbands of The Smoke Shop on Wednesday evening, June 21 or Chef Jeremy Sewall of Row 34 on Thursday evening, June 22, 2023.
Tickets: $175 per person for Land's Sake Members / $200 per person for Non-Members. Included in the cost of each ticket is an unrestricted donation of $50 for Members, $75 for Non-Members. This year's Solstice Dinner will focus on fundraising for farm education scholarships, and financial support for our education department. Tickets are limited to 4 per person.
Drinks: Dinners are BYOB. Please feel free to bring the wine or beer of your choice. We will have wine glasses and bottle openers available. Please drink responsibly.
Meals: Mother Nature reserves the right to modify the menu as needed. Please see the full menu offerings below. On the following page you may also alert us to any dietary restrictions that you may have. We do our best to accommodate any requests.
Wednesday, June 21st, 6:30-9pm
ANDY'S MENU
PASSED APPETIZERS
•House Smoked Tasso Ham with Wilted Arugula, Pimento Cheese & Saltine
• Farm Veggie Spring Rolls (GF, Veg)
• Smoked Meatball Bruschetta
SALAD
• Simple Salad with Smoked Fennel Dressing, Fire Roasted Turnips & Carrots (GF, Vegan)
ENTREES
• BBQ Grilled Chicken, 1st Place Pork Ribs, Chopped Brisket (all Dairy & GF)
• Smoked Veggie Tangine with Cilantro Almond CousCous (vegan)
SIDES
• Vegetarian Collards (GF, Vegan)
• Roasted Cauliflower & Beet Salad with Dill Yogurt Dressing (GF, can be made Vegan)
• Macaroni Salad (Veg)
• The Cornbread with Sea Salt Honey Butter (Veg)
DESSERTS
• Butter Cake
• Vegan Chocolate Mousse
• Bourbon Berry Coulis
Thursday, June 22nd, 6:30-9pm
---------SOLD OUT---------
JEREMY'S MENU
RECEPTION
• Chilled Local Oysters with Cucumber Mignonette
• Classic Shrimp Cocktail
PASSED APPETIZERS
• Radish Toast with Deviled Farm Egg, Dill Pesto
• Smoked Bluefish Pate on Sourdough with Farm Vegetables
FIRST COURSE
• Spring Beet Salad, Curried Chick Peas, Toasted Pistachios, Feta Cheese & Roasted Fennel Vinaigrette
• Baby Green & Herb Salad, Avocado & Lime Dressing
ENTREES
• Hand-Rolled Pasta with Maine Lobster, Spring Peas, Wild Mushrooms, Herb Pesto
• Fire-Roasted Beef Tenderloin, Roasted Potatoes, Spinach, Scallion & Black Pepper Butter
• Charred Broccoli, Lemon & Olive Oil
DESSERTS
• Cupcakes
• Macaroons
• Brownies
• Strawberry Shakes
About the organizer
Land's Sake Farm's Mission:
Our mission is to connect people to the land to build community and inspire lifelong stewardship.

Land's Sake Farm combines ecologically- sound land management practices with hands-on environmental education to model how public open space can be used and enjoyed by the community.
A 501(c)3 nonprofit corporation, we run a public farm, host educational programming for all ages, and help to  maintain public conservation land and town forest for recreational and production uses.