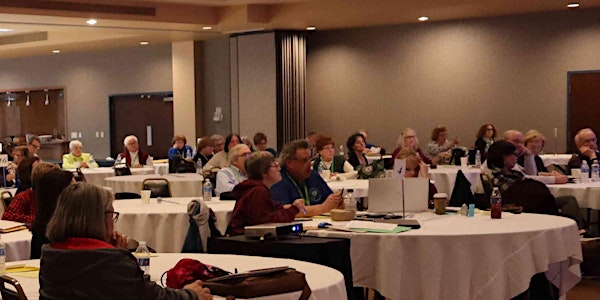 2023 Spring Genealogy Conference & Workshop with Kimberly Powell
Lectures & workshop with genealogy expert Kimberly Powell learning how to improve your family history research skills using land records.
Refund Policy
Refunds up to 7 days before event
Eventbrite's fee is nonrefundable.
About this event
1 day 3 hours

Mobile eTicket
NORTH HILLS GENEALOGISTS
SPRING CONFERENCE & WORKSHOP
March 24-25, 2023
(IN-PERSON @ KEARNS SPIRITUALITY CENTER
ONLINE VIA ZOOM)
Kimberly Powell
Our Spring 2023 Genealogy Conference and Workshop is on Friday and Saturday, March 24th & 25th, with four lectures Saturday by Kimberly, a nationally recognized expert on genealogy research. An optional hands-on workshop focused on land platting will be held on Friday afternoon, limited to 30 participants (NHG membership is required for workshop attendance).
Friday's workshop is in-person only at the Kearns Spirituality Center, while the Saturday lectures are available both in-person at Kearns and online via Zoom. Door prizes are included in the Saturday schedule. An optional box lunch is available for Saturday attendees (advance ordering necessary).
Are you the type of person who thinks it's fun to spend a day learning about how to conduct research on the internet and dive deeper into the records you find, extracting every last clue that they can give? How about spending a day with like-minded individuals learning about how to best conduct genealogical research to discover your ancestors' life stories? Then this experience is for you!
Kimberly is a professional genealogist, author, and educator specializing in genealogical writing, pre-1850 family history, land records, DNA, and solving complex problems. She served as the Genealogy Expert for About.com for sixteen years and is a past president of the Association of Professional Genealogists. She teaches at the Genealogical Research Institute of Pittsburgh (GRIP), the Salt Lake Institute of Genealogy (SLIG), and the Institute of Genealogy and Historical Research (IGHR), as well as in the online genealogy programs offered through Boston University. She's especially passionate about researching hard-to-find families in Pennsylvania, the Carolinas, and Virginia, and sharing her love of genealogy with others through teaching. You can find her online at Level Up Genealogy (https://www.levelupgenealogy.com).
SATURDAY   CONFERENCE    SCHEDULE
(Doorprize drawings during morning break and lunch break)
8:00 AM - Sign In to Zoom, socialize & networking
8:45 AM - Opening Remarks
9:00 AM - Two morning lectures with a break
Late AM - Lunchtime Break
Afternoon - Two afternoon lectures with a break
Final Q&A until 4:00 PM ET
ADDITIONAL INFORMATION with LECTURE DESCRIPTIONS and PRINTABLE BROCHURE/REGISTRATION FORM IS AVAILABLE AT  www.NorthHillsGenealogists.org  
Email us at Conference@NorthHillsGenealogists.org
COSTS 
Friday Workshop ($30, includes materials)
Saturday Lectures: $35 (NHG Member)  $40 (non-member) 
Saturday Optional box lunch (menu selection provided after registration, includes a vegetarian option): $20
DOOR PRIZES
There will be a number of door prizes awarded during the morning breaks and at the lunchtime break.  
FRIDAY WORKSHOP DETAILS:
Land Platting Workshop (1:30 - 4:00 ET, Registration at 1:00)
This hands-on workshop introduces the terminology and techniques used to convert the land descriptions found in deeds, probate, and court records into plats that can be used to identify neighbors, locate property on a map, and reconstruct communities. Learn how to create plats by hand, assemble a group of plats, and place the cluster of neighbors on a modern topo map. You'll benefit from adding this powerful tool to your genealogy toolbox!
SATURDAY LECTURE DETAILS:
MORNING SESSIONS
"Using Land records To Solve Genealogical Problems"
Land records can identify an individual's exact location, assist in distinguishing between same-named individuals, provide evidence of migration, and help to prove relationships. Through case studies set in Pennsylvania and surrounding states we'll explore just how valuable land records can be to our research.
"Digging up Land Records Online"
There are a lot more land records available online than is readily apparent. By the end of this session you'll have the tools to locate deeds and other land records online across a variety of repositories, and navigate the quirks you're likely to encounter.
AFTERNOON SESSIONS
"Those Neighbors Might Be Ancestors! How to Reconstruct Your Ancestor's Neighborhood"
Among the neighbors of our ancestors are possible kin. Clues to their origins. Context for their stories. Neighbors are not just the people on the nearby lines of the census form. This session explores the variety of sources that can help us to discover and prioritize those important neighbors so we can milk their records for clues to our ancestors.
"Mining Tax Records for Genealogical Gold"
Deeds and grants are not the only property record available to us. Tax records, when correlated with land records, census records, and maps, can be a powerful tool for reconstructing difficult pre–1850 families.
"Question & Answer Session" until 4pm EDT
The conference will conclude with a Q & A from questions submitted by attendees.
LOCATION:
If you are attending in-person at the Kearns Spirituality Center, here is a link to their address at 9000 Babcock Blvd, Allison Park PA 15101. Your information packet will contact exact directions to the meeting location - the above address will get you to their campus but not to the exact building we are meeting in!
https://www.google.com/maps/@40.5713609,-80.0123281,15z