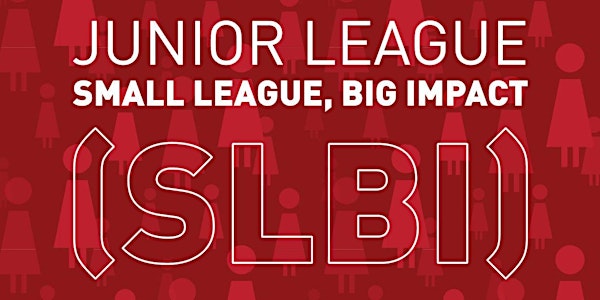 2023 Small Leagues, Big Impact Leadership Conference (SLBI)
2023 Small Leagues, Big Impact Leadership Conference. Two days of leadership development, connections, idea sharing and more!
By Small Leagues Big Impact
Date and time
August 11 · 8am - August 12 · 2pm EDT
Location
Holiday Inn Riverwalk 217 N. St. Mary's Street San Antonio,, TX 78205
About this event
1 day 6 hours

Mobile eTicket
Meet SLBI in Texas for the 2023 Small Leagues, Big Impact Leadership Conference (SLBI). Two days of leadership development, workshops, idea sharing, story telling and more with fellow Junior League Leaders. Through Empowerment, Leadership , and Development, we will "Leading the Way to Change " as small leagues and leaders.
Conference will be held at the Holiday Inn Riverwalk
Hotel Reservation
Group's booking link:
https://na01.safelinks.protection.outlook.com/?url=https%3A%2F%2Furldefense.com%2Fv3%2F__https%3A%2F%2Fwww.holidayinn.com%2Fredirect%3Fpath%3Dhd%26brandCode%3DHI%26localeCode%3Den%26regionCode%3D1%26hotelCode%3DSATRW%26_PMID%3D99801505%26GPC%3DSLB%26cn%3Dno%26viewfullsite%3Dtrue__%3B!!EOxaMA!Wjt2in70912jnmyO0LgSMdHCB6Zk-mPET6EkpBA1zBhNBNNJNIG2RqFv-K3bbxdm6PWPK8KQeTNkhVej%24&data=05%7C01%7C%7C58559ad083bf4eb7c1c708daf4e914fd%7C84df9e7fe9f640afb435aaaaaaaaaaaa%7C1%7C0%7C638091579168616485%7CUnknown%7CTWFpbGZsb3d8eyJWIjoiMC4wLjAwMDAiLCJQIjoiV2luMzIiLCJBTiI6Ik1haWwiLCJXVCI6Mn0%3D%7C3000%7C%7C%7C&sdata=YYiYb1hQkfVXvXUXDGR%2Bk0YYUnMbJZjA5laMSAIt%2Bvc%3D&reserved=0
Once you click on the link it will take you to the hotel website, then enter your arrival/ departure dates, and it will automatically populate your group name and discounted group rate.
You may also call the 24-hour reservation phone number at 210-224-2500
If you are calling, please remember to reference your group's block code: SLB
Just a friendly reminder that the last day to make reservations at your group discount will be on: July 18, 2023
Room Rate: $124/night + tax and fees (includes double occupancy).
Registration :
Early Bird : Register by July 16th $225 per person
Registeration : $250 per person after July 16th
Registeration includes workshops, open sessions, breakfast and lunch Friday and Saturday.
All workshops will be presented with the resources and view points of Small Leagues in mind.
Topics that will be offered at this conference:
This track-based event will bring you together with subject matter experts and leaders across the League who will help you prepare for the year ahead. If you want to step up your leadership game and take your lessons from theory into practice, this is not one you want to miss. This event we will be offering the following tracks:
Community Impact - The Community Impact track will intrdocue attendees to the theory of Community Impact, selecting an issue, getting member involvement, input and the different ways to practice them effectivly in the league.
Fund Development - This track attendess will learn Fund Development Common Practices, which included events, donors, grants, how to make a good fund developement plan for you League and how to put in action.
Marketing and Communications- Learn the dos and do nots of Marketing as well as what resources are avaible to Leagues, how to create a marketing plan that aligns with your annual plan and how to market with little to no resources.
Membership Model - This track will provided an introduction to the One Membership Model. Attendees will gain knowdege and tatics on how to recurit, on-board members effectivley, create a menu of options and curriculum for the members to create their own expereince. In addition, it will support the league's governance documents, strategic and annual plans.
Workshops Offered by: TBA
AGENDA
Thursday Aug 10, 2023
6pm Registration Opens
7pm Cocktail Reception
Friday Aug 11, 2023
Day 1
7:30am Registrations Opens
8:00am Breakfast ( Breakfast is included with Registration )
8:45am Welcome & Introductions
Open Plenary
10:00am Workshop Session I / Select your Track for the weekend
11:30am 15 min Break
11:45pm Lunch / Keynote Speaker
12:30pm 15 min break
12:45pm Workshop Session II
2:15pm 15 Min Break
2:30pm Workshops Session III
4:00pm Adjourn for the evening
Saturday August 12, 2023
8:00am Networking Breakfast ( Breakfast is included with Registration )
9:05am Workshop Session IV ( same track from the day before )
10:25am Break
10:30am Workshop Session V
11:20 am Break
11:45 am Lunch/ Guest Speaker
1:15 pm Closing
1:30 pm Adjourn