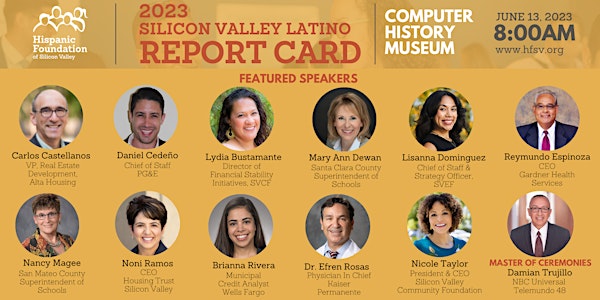 2023 Silicon Valley Latino Report Card
Join us in the reveal of the 2023 Silicon Valley Latino Report Card!
By Hispanic Foundation of Silicon Valley
Date and time
Tuesday, June 13 · 8am - 12pm PDT
Location
Computer History Museum 1401 North Shoreline Boulevard Mountain View, CA 94043
About this event
We cordially invite you to join us for the unveiling of the 2023 Silicon Valley Latino Report Card results. This year's report builds upon the previous 2011 and 2018 reports and offers updated insights into the quality of life experienced by Latinos in Silicon Valley across five key areas: Education, Health, Financial Stability, Housing, and Environment.
Of particular importance, the 2023 report features data on the impact of the COVID-19 pandemic on our community. Our ultimate objective is to identify any disparities in community quality of life and to furnish useful information to local businesses, community organizations, government agencies, and our own foundation in order to guide their strategic planning and remediate any such disparities.
For more information about our prior reports and the featured speakers, please click here.
For any questions, please contact development@hfsv.org.
If you cannot attend you can make a donation here.
____________________________________________________________________________________
Cordialmente los invitamos a participar de la revelación de resultados del Boletín de Calificaciones sobre la calidad de vida de Latinos en el Silicon Valley 2023. El evento tendrá lugar el dia Martes 13 de Junio del 2023 a las 8:00 am, en el Computer History Museum en Mountain View.
La Fundación Hispana del Silicon Valley reveló en 2011, 2014 y 2018 boletines sobre la calidad de vida de los Latinos en el Silicon Valley y los temas que mas afectan a nuestra comunidad. El reporte de este año ofrece información actualizada sobre cinco areas claves: Educación, Salud, Estabilidad financiera, Vivienda y Medio Ambiente, e incluye datos acerca del impacto del COVID-19 en la comunidad hispana.
Nuestro principal objetivo es identificar inequidades en la calidad de vida de los Latinos en la region y proporcionar esta útil información a las empresas locales, organizaciones comunitarias, y agencias gubernamentales. Nuestra Fundación utiliza este reporte como base de la planificación estratégica de nuestros programas con el fin de proporcionarle a la comunidad hispana los recursos necesarios para el mejoramiento de su calidad de vida.
Para obtener más información sobre nuestros informes anteriores y los oradores destacados, haga clic aquí.
Si tiene alguna pregunta, comuníquese con development@hfsv.org.
About the organizer
For more information, please contact Lisa Anna Dominguez at Lisa@hfsv.org.