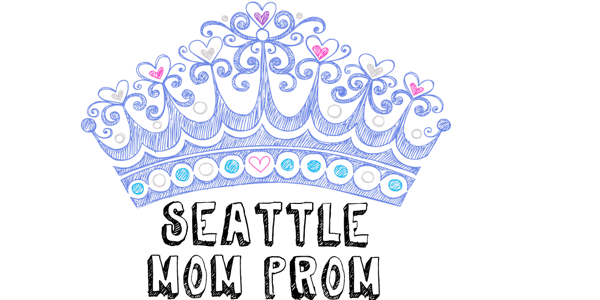 2023 Seattle Mom Prom
An evening of drinks, desserts, dancing and FUN -- the ultimate night out! All benefiting Perinatal Support Washington!
Date and time
May 20 · 8pm - May 21 · 12am PDT
Location
Fremont Abbey Arts Center 4272 Fremont Avenue North Seattle, WA 98103
Refund Policy
Contact the organizer to request a refund.
Eventbrite's fee is nonrefundable.
About this event
It's the 11th Seattle Mom Prom!!! So excited to be back!!
Seattle Mom Prom is a night to celebrate and honor moms. This is an event for femme-identifying folks, not a moms only event!
Join us for a night of FUN to raise money for Perinatal Support Washington (perinatalsupport.org). Each ticket includes a tiara or sparkly bowtie, one drink ticket, door prize eligibility, dessert, candy & snacks, unlimited photos w/photographer, props & backdrop, and dancing the night away to jams spun by our awesome DJ - We LOVE you, Vinnie!
FAQs
How much are tickets? Ticket prices range from $25 to $50 depending on when you buy. Ticket prices increase as tickets are sold. Buy your ticket early and SAVE! Tickets will SELL-OUT!
-Tier 1 - $25/person (25 tickets) - SOLD-OUT
-Tier 2 - $30/person (25 tickets) - SOLD-OUT
-Tier 3 - $35/person (25 tickets) - SOLD-OUT
-Tier 4 - $40/person (until Friday, May 19)
- If any tickets remain on the day of the event, they will be $50 on this site or at the door.
Do I have to be a mom to attend? No! It is not a moms only event! It is event for all femme-identifying folks.
What should I wear? Do I have to dress up? There is no dress code for Prom. In past years ladies have worn everything from old prom/bridesmaid dresses to jeans and t-shirts. Attendees are encouraged to wear what's comfortable for them1
Will there be hair and make-up services available? Hopefully! We are working on having these services available again this year - for free! In years past, several stylists have provided simple hair and make-up services. Please contact us if you're a salon that would like to involved or you have a salon in mind we should contact. Email us at seattlemomprom@live.com
Where can I park? There is FREE street parking. The easiest spots are usually West of Fremont Avenue. You will likely have to walk a little bit. One idea is to grab dinner at one of the area restaurants who have parking lots like Vif Wine bar or Uneeda Burger. Parking is free in the American Music store lot after 6pm. All lots are within about a block or so.
Does Prom have a theme? Nope. Some of the decorations will have an 80s feel, but there won't be a specific theme. Themes can sometimes discourage people from attending ("I want to go, but I don't have anything 80s to wear.") We don't want that! If you feel like doing a theme, get a group together and come up with your own theme!
Will there be a photographer at Prom? Yes! There will be a photo backdrop and a photographer, as well as fun props. All photos will be made available for download for free! We will post photos on SmugMug, as well as on the Facebook page following the event. Please consider posting your photos on the Facebook page, too! We are thrilled that Shelly Oberman (https://shellyobermanphotography.com/) will be taking candid photos at Prom! It is so awesome to have the FUN of Prom documented!
Will there be food and drinks? A dessert/candy/snack bar, non-alcoholic beverages and one drink ticket for wine/beer are included with each ticket. Additional drink tickets will be available for $5 each.
What is the "Mom of the Year Award"? The Mom of the Year is selected by random drawing. Tickets are available for purchase of Prom for $5. The Mom of the Year receives a prize pack, a trophy and applause!
I have an infant; can I bring my baby with me? Is there a place for me to nurse/pump? Yes. Babes-in-arms are welcome. While this is an adult-only event, if you have an infant and it's easier to have your baby with you, feel free to bring them. We have a small room with healthier snacks for moms of young ones to rest/feed/pump.
What is a sponsored ticket? A sponsored ticket is a way to help another person attend Prom. These tickets will be given to people who want to come to Prom, but cannot afford to buy a ticket. Sponsored tickets are not tax deductible.
Who does this event benefit? And is my ticket purchase tax deductible? All proceeds from the event benefit Perinatal Support Washington, PS-WA has been providing resources and supporting families with Pregnancy and Postpartum Mood and Anxiety Disorders in WA for more than thirty years, including services such as free mother to mother phone support, free drop-in support groups, free public seminars, educational publications, educational trainings for professionals and leading a state-wide education and awareness campaign regarding the nature and management of Postpartum Mood and Anxiety Disorders. Your ticket to Prom is not tax deductible. For more information about this great organization or to make a tax deductible donation visit https://perinatalsupport.org/
Is there a way to go to Prom for free? Yes! We need volunteers to get this party started! Commit to two hours of set-up or clean-up and one hour during the event and you get into prom for free! If you're interested contact us at seattlemomprom@live.com
How can I become a sponsor or donate in-kind to the event? Thanks for your generosity and interest! Please contact us at seattlemomprom@live.com
Where can I find out more? And who do I contact if I have a specific question? Visit our Facebook page (search "Seattle Mom Prom") or our Instagram @seattlemomprom. For specific questions you can email seattlemomprom@live.com
By purchasing a ticket to the Seattle Mom Prom you agree to be photographed and grant permission for your photo to be used for promotional purposes. You also agree that the organizing parties will not be liable for any loss, damage, illness or injury and assume all risks associated with attendance. You agree to waive any and all claims for liquidated or punitive damages.