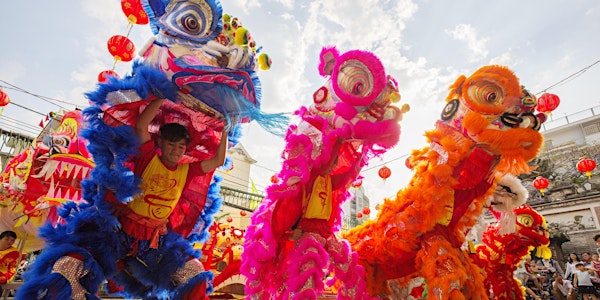 2023 SD Lunar New Year Festival
Folk and traditional performances, arts and cultural exhibitions, lion dances and firecrackers, and plenty family activities.
When and where
Location
Officer Jeremy Henwood Memorial Park 4455 Wightman Street San Diego, CA 92105
About this event
2023 Year of the Cat or Year of the Rabbit? Find out on January 20-22 in City Heights * free admission
If you are looking for something fun and exciting to start the New Year off right while also giving back, look no further! 2023 SD Lunar New Year Festival is back. The festival will include folk and traditional performances, arts and cultural exhibitions, lion dances and firecrackers, and plenty of family fun activities for the kids. More importantly, the festival is inclusive, pet friendly, and free with no admission cost.
2023 will mark an exciting milestone as it also will be the groundbreaking event for the Boat People Garden, a mini park to be built approximately one block from our festival site. If you participated at any of the SD Lunar New Year festivals before, this is your accomplishment.
All proceeds from 2020, 2022, and this year 2023 will all be used for the construction of this park. Even if you just attended and purchased goods and services, or if you participated as a vendor, sponsor, entertainer, artist, volunteers, or by any means, you directly contributed, and this park is possible because of you!
So don't forget to stop by the groundbreaking site to pick up a rock or some grain of sands to show to the world because this is your accomplishment and you help paid for those rocks, those sands, and those soon to be installed benches, tables, lanterns, flowers, plants, public art, sculpture, mural, etc. Giving back to the community is the greatest gift of all and we couldn't be more thankful to you for your contribution. Let's make this another festival to remember and let's celebrate this tremendous progress we've made together. Join the fun this January 20-22nd at Jeremy Henwood Park – 4455 Wightman Street, San Diego, CA 92105.
If you had trouble finding parking last year, worry no more. Parking spaces are available at Rosa Park Elementary School, and several underground parking structures from several buildings nearby. There will be signs so you cannot miss it.
The Lunar New Year Festival will be open Friday, January 20th, 5:00 pm – 10:00 pm, Saturday January 21st , 11:00 am – 10:00 pm and Sunday, January 22nd, 11 am – 8 pm. Admission is free
Free to join Competition• Pho eating contest – Saturday and Sunday (Gift certificate to PT Eatery Restaurant for each winner)• Children in traditional costume – winner will be determined by most likes received via Facebook ($100 red envelope + something)• Cute Pet with best costume – winner will be determined by most likes received via Facebook ($100 red envelope + treats)
Activities:• Get your oracle reading from the thousand hands great compassionate Kuan Yin• Entrust your hope, dreams, wishes, whatever they be, to the wishing tree• Try out the outdoor sports streamer folk dragon dance – try all 3 size 6 feet, 9 feet ,and 15 feet
Freebies:• Free ribbon hair accessories for cat in celebration the Year of the Cat• Free adjustable collar for Rabbit in celebration the Year of the Rabbit• Free children light up toys, glow sticks, stickers, and more from SDG&E (pending)• Free red envelops with word of the day• Free balloons• Free entertainment• Free Photo opportunities• Free fun
Location:This event will be hosted at a public park, on a major commercial street, in a residential area, next to several public schools, library, recreation center, supermarkets, and businesses. The park offers off-street parking and high foot traffic. The community is densely populated--known for its ethnic diversity with majority Hispanic and many refugees and immigrants' communities such as Vietnamese, Somali, Cambodian and Laotian. For more information on the demographic and history: https://en.wikipedia.org/wiki/City_Heights,_San_Diego