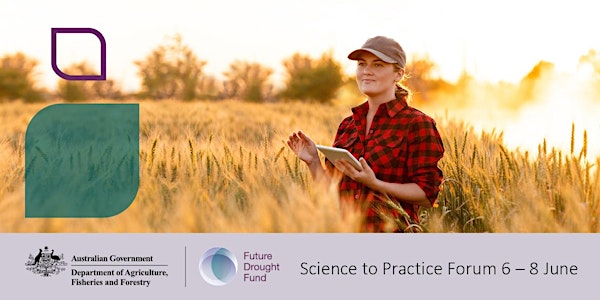 2023 Science to Practice Forum
An online showcase of the innovative tools and practices helping Australian farmers and communities become more drought resilient.
By Future Drought Fund , Department of Agriculture, Fisheries and Forestry
Date and time
Mon, 5 Jun 2023 5:00 PM - Wed, 7 Jun 2023 11:00 PM PDT
About this event
2 days 6 hours

Mobile eTicket
The Future Drought Fund's annual Science to Practice Forum brings together farmers, researchers, government, industry and the community to explore the innovative tools and practices helping our regions prepare for future drought.
Award-winning television journalist and presenter of ABC TV's Landline, Pip Courtney, will host this year's online forum and facilitate engaging conversations on drought preparedness. 
The Forum is a three-day, online event that is free to attend.
Choose to attend all three days or select a ticket for any of the individual days. We recommend the three-day registration option if you're unsure of what sessions you would like to attend. Whatever days you register for, you will receive a reminder email on the day.
Register now to attend and see how Australian agriculture is building drought resilience through collaboration.
This year, the 8 Drought Resilience Adoption and Innovation Hubs are holding various face-to-face local events in conjunction with the Science to Practice Forum! Check out the below list of events to see if there are any in your region that you might be keen to attend - click on the links for more info about each event and to register.
Southern NSW Hub
Biosecurity Track & Trace Pilot Project - Join members of the SNSW Hub for a Biosecurity technology simulation, 'Exercise Sour Grapes 2023'. The exercise will pilot the coordinated application of track and trace technology across 4 NSW wine growing regions, to demonstrate how this ag tech tool can identify higher risk areas, allow for targeted allocation of resources, and reduce the time it takes to respond to biosecurity threats.
Dates: 31 MAY & 1 JUN / Time: Info in link / Location: NSW Department of Primary Industries, Orange / Cost: FREE / MORE INFO/REGISTER HERE
Tropical North QLD Hub
Northern Beef Producers Expo - Are you are Grazier or Grower? Come see the TNQ Drought Hub team at the Charters Towers Northern Beef Producers Expo to learn more about improving your businesses sustainability, profitability and innovation uptake. Hear from Hub Director David Phelps, Senior Research Officer Ana Almeida and Digital Ag Innovation Consultant Kara-Glenn Worth.
Dates: 1 & 2 JUN / Time: Info in link / Location: CHARTERS TOWERS / Cost: FREE / MORE INFO/REGISTER HERE
Southern QLD/Northern NSW Hub
Farm Fest 2023 - Want to know about the latest trials and research that can help you prepare for the next drought? The SQNNSW Innovation Hub is working with the UniSQ School of Agriculture and Environmental Sciences to showcase a range of research activities at FarmFest 2023, including the work being undertaken via the Agricultural Innovation Hubs Program including introducing the next generation of farming technologies and drought preparedness measures.
Dates: 6 - 8 JUN / Time: Info in link / Location: FARM FEST, KINGSTHORPE PARK, QLD, ROW O, SITE 06A / Cost: VARIOUS / MORE INFO/REGISTER HERE
Northern Hub
Virtual Field Tour Launch - Join the Northern Hub for an immersive virtual field tour and delve into three distinct Hub projects: a rehydration initiative, an innovative aquaponics project driven by Aboriginal communities, and an exclusive cotton farm tour in the NT.
Date: 7 JUN / Time: 3.30pm ACST (4pm AEST) / Location: ONLINE / Cost: FREE / MORE INFO/REGISTER HERE or event enquiries to: sean@northernhub.au
SA Hub
Science to Practice Forum networking and knowledge meetings - Join the SA Drought Hub for an enjoyable series of networking and knowledge sharing events across the state! With dinner or lunch on them, depending on the event, come along to hear about various drought resilience and sustainable farming initiatives from leading researchers, producers and Natural Resource Managers.
Dates: 7 & 8 JUN / Time: Info in link / Location: VARIOUS / Cost: FREE (Including lunch or dinner) / MORE INFO/REGISTER HERE
TAS Hub
Soil biology workshop - Come along to a soil biology workshop in Tasmania's Coal River Valley on Thursday, June 8 and hear from renowned soil scientist Dr Oliver Knox. Oliver received the General Jeffery Soil Health award in 2022 for his pivotal role in driving the Soil Your Undies campaign in Australia. A great example of an effective citizen science program about assessing soil health.
Date: 8 JUN / Time: 9am – 1pm AEST / Location: COALDALE WALNUTS, 321 PROSSERS ROAD, RICHMOND / Cost: FREE / MORE INFO/REGISTER HERE
Southwest WA Hub
Science to Practice Forum Workshop - Come along to the Department of Primary Industries and Regional Development (DPIRD) Manjimup Horticulture Research Institute on Thursday 8 June to hear from industry experts leading precision agtech and water management projects, and learn about recent outcomes and how these practices could be implemented on farm.
Date: 8 JUN / Time: 1pm – 5pm AWST / Location: Manjimup DPIRD Research Institute / Cost: FREE / MORE INFO/REGISTER HERE
VIC Hub
Young Farmers Network Event – Join Vic Hub partner Birchip Cropping Group for the June Young Farmers Network Events. Held at both West Wimmera and Yarriambiack, come along to discuss in-season crop management, growth staging, topdressing, herbicides and more!
Dates: 20 & 21 JUN / Time: 9am – 1am AEST / Location: West Wimmera & Yarriambiack / Cost: FREE / MORE INFO/REGISTER HERE or or event enquiries to: grace.hosking@bcg.org.au