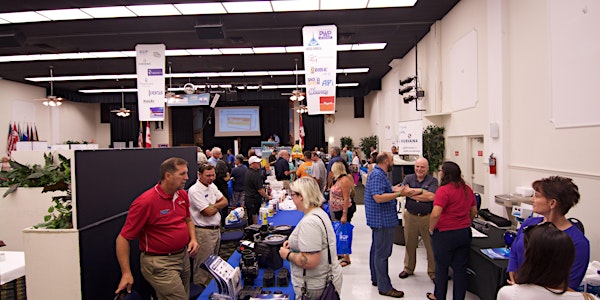 2023 SARASOTA POOL SHOW
Industry trade show for pool and spa professionals along with all other associated fields.
Date and time
Friday, June 23 · 5 - 9pm EDT
Location
Shriners Hall 600 North Beneva Rd. Sarasota, FL 34232
About this event
2023 Sarasota Pool Show, Friday, June 23rd
PRE-REGISTER BEFORE JUNE 22, 2023 AND YOU CAN WIN FROM THOUSANDS IN PRIZES. (MUST BE PRESENT TO WIN)
FREE event when you pre-register. $10 at the door if you don't pre-register. Includes a FREE dinner and three FREE classes! Cash bar on site and the new Tiki Bar!
Show is from 5 - 9 p.m. Three free classes starting at 4 p.m. See details below.
SPLASH AND DASH FRIDAY
"When the snowbirds are away, the pools guys will play"
A pool party for pool guys brought to you by all of your favorite manufacturers and distributors.
Come hang out, meet other pool and related professionals, talk with manufacturers and distributors.
Thousands of dollars worth in raffle prizes. Must be present to win. Drawings throughout the evening. Grand prize drawings at 8:30 p.m.
Portion of the proceeds go to the Swim Fund to provide swim lessons at RL Taylor Complex and Lincoln Aquatic Center (located in Manatee and Sarasota Counties). Our goal is to raise $5000!!
Learn, win and have fun! See you there!
THREE CLASS AVAILABLE - PRE-REGISTRATION IS REQUIRED
4 p.m. Class is the Sahara Room: Metals and Metal Staining: How Do I Prevent Them? How Do I Remove Them? by Dr. Joseph Laurino
This presentation will detail how the three different ways pool water chemistry is maintained – industry specific ranges, pool specific target values, and balance indices – impact the major sources of metal contaminants in pools and spas. It will address the common causes of metal staining and the compatibility of various disinfection and oxidation methods with metal-ionizer systems. Methods to prevent metal stains on fiberglass, membrane, plaster, and pebble pool surfaces will be presented, with an emphasis on finding and correcting the source of metal contamination. This presentation will use case studies to present the various methods to successfully remove metal stains from all pool surfaces. Common problems associated with surface remediations will be addressed along with useful troubleshooting techniques.
Dr. Joseph Laurino is the President and founder of Periodic Products Inc. and frequently conducts educational programs on water chemistry, metal staining, and surface remediation. During his career, he has held positions in both industry and academia, and has authored numerous scientific publications. He is the past chair of PHTA's Recreational Water and Air Quality Committee, the current chair of its Technical Advisory Council, a member of PHTA's board of directors, and its current chair elect.
5 p.m. Class in the Sahara Room: Hands on training session on Century's New Automation Compatible Variable Speed Motor by Dick Abare.
Dick Abare is a state licensed swimming pool repair contractor. This June of 2023 marks his 50th year in the pool industry. Thru out his career he has been involved in new pool construction, retail and repair. The repair part is what really sparked his interest, especially automation and new technology. He has been part of the Century team for over 10 years, as a beta consultant and most importantly as a teacher.
6 p.m. Class in the Sahara Room: Financial Planning for Business Owners by Clarity Financial
Brief synopsis of key long term financial planning tenants that business owners should have to ensure their financial independence. Most people go into business in pursuit of independence but then end up so enveloped in their business that they fail to set up proper fail safes and diversification strategies to protect themselves and their families in retirement or worse, if they get hurt. There are a number of planning strategies available to make sure your most valuable financial assets are protected and working for you, especially when you aren't able or willing to keep working for them.
About the organizer
Sarasota IPSSA is a non-profit 401 (c) (3) organization.  They are a chapter of the national Independent Pool and Spa Service Association which is dedicated to promoting professionalism in the pool and spa service industry and works to prevent accidental drowning. The Sarasota chapter is very active in promoting swimming pool safety in the community and providing swim lessons to underprivileged youth.