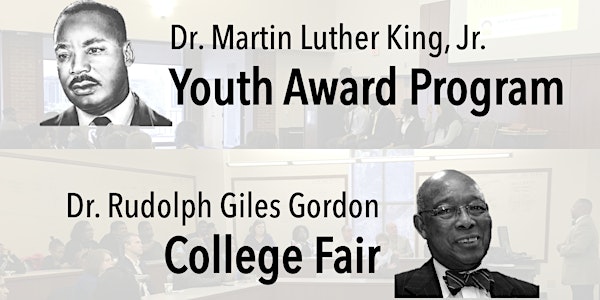 2023 Rudolph G. Gordon College Fair (part of MLK Youth Award Program)
Alpha Greenville Foundation invites you to participate in our 43rd 2023 Rudolph Gordon College Fair to be held at Furman University
When and where
Location
Trone Student Center Watkins Room / Burgess Theater 3300 Poinsett Highway Greenville, SC 29613
About this event
Alpha Phi Alpha Greenville Foundation invites your institution to participate in our 43rd annual 2023 Rudolph Gordon College Fair to be held in person with some virtual options.
THIS RVSP is only for COLLEGE RECRUITERS ONLY: Student Winners or their parents, please RSVP at https://mlkyp2023.eventbrite.com
THIS REGISTRATION METHOD will open on December 1, 2022.
Please CONTACT Bobby Clark @ carlccu@gmail.com for other alternatives.
The Rudolph Gordon College Fair is a part of a larger event, our Martin Luther King, Jr. Youth Award Program, where we are honoring high achieving high school students in Greenville County in six categories: Academics, Athletics, Art, STEM (Science, Technology, Engineering, & Math), Leadership, and Music. Sophomore, junior, and senior students are eligible for the awards, and all are strongly encouraged to attend the award program and fair. The main award program will last from 10 AM until Noon, and the fair will be available to students during the program and until 1 PM.
This event will be held as an in-person event (Furman University) event. We are making changes in our program to adjust to the new normal while keeping our students and families safe. We will release more details of those changes in the next few weeks, and we invite your feedback. Due to the COVID19 Crisis, we will be encouraging all participants to be vaccinated and practice to prevent disease.
We have a unique effort to ask high school counselors to select college-worthy students who need encouragement to pursue a college career. We have consistently had from 250 to 350 students receive awards, with about 300 students and their families who attend our award program and fair. In 2020, we added a new STEM category, we expect to exceed those numbers. Greenville County includes more than 22 high schools with more than 27,000 students, and Furman University is again our sponsor for this year's event.
We ask you or your representative to participate in the First Year of College seminar. We have our winners from 10:10 AM to 11:20 AM. This seminar allows our student winners to hear directly from you and other college students about their experiences in their first year in college. We are also conducting a seminar for parents on Financial Aid concurrently with the previously mentioned seminar.
We want you and your institution to be represented at our event. If you can't use this page, you can send a message to our email address (contact@alphagreenville.org) as long as it includes all the information on the confirmation form by February 2, 2023. Once I receive your confirmation, I will forward directions and other details about the event by email.
If you would like more information about Alpha Phi Alpha Greenville Foundation or any further questions about the event, please call me directly at (864) 414-7629 or please visit our foundation website, www.alphagreenville.org. Thank you for your time, and I hope to see you at our event in February.
Sincerely,
Bobby Clark
Chair, MLK Youth Program & Rudolph Gordon College Fair
Alpha Phi Alpha Greenville Foundation
(864) 735-0880 |   contact@alphagreenville.org
(864) 414-7629 (direct cell)