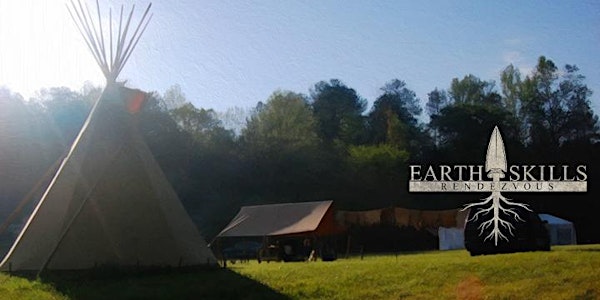 2023 Rivercane Rendezvous
Rivercane Rendezvous April 17-23, 2023. We are so excited to gather together with you all once again!
By Earthskills Rendezvous, INC
Date and time
April 17 · 1pm - April 23 · 4pm EDT
Location
Avalon 444 Patterson Rd Westminster, SC 29693
About this event
6 days 3 hours

Mobile eTicket
Earthskills Rendezvous is an ancestral skills gathering that happens twice a year in the Southeastern United States. The gathering is a week-long educational camping event where participants come to learn earth skills, connect with nature, and experience a more community-oriented atmosphere. Join us!
Rivercane Rendezvous will be from Monday, April 17 to Sunday, April 23, 2023. Monday the 17th will be the arrival day when folks can come set up camp and get settled.
Registration Hours during the event:
Monday 1-8 pm
Tuesday - Friday 8 am - 8 pm
Saturday 8 am - 1 pm
The gate will be locked when registration is not open. Please plan accordingly. Registration is in the parking lot as you arrive on-site. Please do not arrive after dark.
Classes begin Tuesday morning and go through Sunday morning.
Our focus is top-quality instruction in dozens of ancestral and heritage skills such as friction fire making, foraging for wild edible and medicinal plants, stone tool creation and use, basket making, and wood carving just to name a few. We offer two class periods a day, with several class choices available during each period.
A closing circle will be held after morning classes on Sunday.
Youth Programs begin at age 3 are are held daily during the morning class period. The teen program also has an evening option.
Infant & Toddler Tickets
Toddlers 5 years of age and under and Infants are free, and therefore their tickets are considered add-ons. Please scroll to the bottom of the tickets page to find infant and toddler add-on tickets.
Meals
Meals are changing. This year, we will be providing only suppers (no more breakfast, though we will still have coffee and hot water available in the mornings). The first supper will be TUESDAY evening - that's the day after arrival day, the same day classes begin. You will need to supply your own breakfasts and lunches. There will be a couple of community kitchen spaces available in main camp for you to use, and we will have a dishwashing station in main camp as well. We encourage you to collaborate with friends.
Dogs
If you would like to bring your dog to camp with you, this year your dog will need its own ticket. These can be purchased as an add-on during registration.
Cars and Parking
Car-camping in the main field will require a paid pass, which can be purchased as an add-on during registration. You may also choose to car camp in the parking field for free.
If you choose not to purchase a pass for car-camping, you may drive into main camp (on Monday and Friday) to drop off your gear, and then take your car back to the parking field near the barn to park it. On other days (Tuesday-Thursday & Saturday), we will have a gear shuttle to take you and your things to your campsite.
You DO NOT need to print any type of ticket, although we recommend you save the email confirmation. The registration team will have a current list of individuals who are registered. At registration, you will get a camp orientation, gate book, and a registration bead/band. The bead/band indicates that you have paid and checked in, and the bead/band will be checked at meals, so please keep your bead/bands with you at all times.
Thanks! We're looking forward to enjoying our time together!
The Earthskills Rendezvous Team
Find more event details on our website at www.primitiveskills.org.
About the organizer
Earthskills Rendezvous was founded by "Snow Bear" Taylor and Darry Wood. They began the gathering to preserve and promote indigenous primitive skills like making white oak baskets, foraging for wild food, starting fire by friction and tanning deer skins with brains and smoke. The three founders eventually invited their Cherokee friends to come share their living traditions of baskets and pottery, weapons and music. From these elders they learned many wonderful things, not the least of which is about being both humble and good-humored.
In the present day, Earthskills Rendezvous is a 501c3 operated by a small staff and board of directors.  See our website for more info at www.primitiveskills.org.