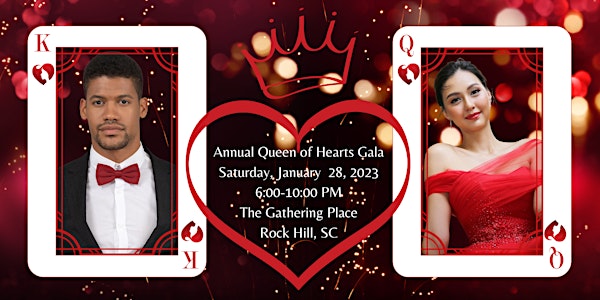 2023 Queen of Hearts Gala
Show your heart some love ... join us for the 2023 Queen of Hearts Gala!
By The Heart2Heart Foundation
Date and time
Saturday, January 28 · 6 - 10pm EST
Location
The Gathering Space (Kounter) 135 East Main Street Rock Hill, SC 29730 United States
About this event
Carolina Cardiology Associates, Comporium/CN2 and Healthy Blue South Carolina presents the 2023 Queen of Hearts Gala!
Enjoy a spectacular evening featuring a specially curated menu by Chef Rob Masone, music with dancing and our Heads or Tails 50/50 contest to raise funds for our heart health education and screening programs!
During our annual gala, guests will also enjoy an Open Bar including our exclusive Signature Cocktail as well as non-alcoholic beverages. Each guest will receive either a King or Queen of Hearts card for a chance to win a special door prize.
Our RED dress/RED tie event
celebrates those who have survived cardiovascular events . . .
encourages those now living with heart disease . . .
increases awareness to help adults and youth learn how to live heart healthy . . .
helps more women and men know their risk for this largely preventable disease and
raises funds to support our heart health education, prevention screening and scholarship programs in the local communities we serve.
Ladies, wear your tiaras to show your support for Women's Heart Health! The RED dress is the symbol for women's heart health but if you'd rather wear a splash of red that will be awesome, too!
We're putting the FUN back in fundraising during the Gala with our special twist on a game of Heads or Tails. Add Heart bead necklaces in increments of a $20 donation to participate in our 50/50 contest with your Gala ticket order or pick them up at the event. The last person with a Heart necklace wins half the pot! Order your Heart beads in advance or at check-in!
During the evening, we will also honor those who have contributed above and beyond to our mission: Companies with Heart, Heroes with Heart and Outstanding Community Partner Awards will be presented to our 2022 honorees:
Companies with Heart: Walmart Neighborhood Market - Fort Mill
Outstanding Community Partner: Palmetto Community Health Care
Heroes with Heart: David & Kim Oxendine
Heroes with Heart: Windy & Doug Cole
After the awards presentation, we will open the dance floor so bring your comfy shoes! Help us paint the town red ... dancing is great for your heart ... so we are going to show our heart some real love!
GUEST OPTIONS:
Companies with Heart Sponsorships for 2023 are now available. Recognition and activations for our sponsors are valid for 12 consecutive months. CONTACT US for more information.
TABLE HOST PACKAGE - Contribution: $1,200 - SOLD OUT!
Reserve your table for a total of 8 guests. As Table Host, you will also receive a complimentary bottle of champagne and each guest will receive a Queen or King of Hearts card for the Door Prize Drawing.
GALA GUEST - Contribution: $125 each - ONLY 6 TIX LEFT!
Your ticket includes open seating with one Queen or King of Hearts card for the Door Prize Drawing.
* * * * * * * * * * * * * * * * * * * * * * * * * * * * * * * * * * * * * * *
Proceeds from our annual gala will support our signature programs, including:
Frontline Heroes Wellness Fund - provides advance cardiovascular prevention screenings, heart health evaluation from a board-certified cardiologist, mental health support services and lifestyle coaching with ongoing educational resources.
#RedHeartMamas Group by Women for Women - our private Facebook group reaches women from all over the US with ongoing heart health education, encouragement and free resources.
Back2School Block Party - our annual program provides book bags, school supplies, age-appropriate health educational information and parent resource bags to more than 2,000 students and their parents or guardians in the York County area.
* * * * * * * * * * * * * * * * * * * * * * * * * * * * * * * * * * * * * * *
The Heart2Heart Foundation is an all-volunteer, grassroots organization based in the York County, South Carolina area. Our mission is to "inspire and enable women and their loved ones to take action to prevent heart attack, stroke, and premature death." We accomplish this through our heart health educational and screening programs that teach children, youth and adults about prevention through healthy lifestyle choices as well as providing access to cardiovascular screenings and coaching.
While our primary service area includes York, Chester and Lancaster Counties in South Carolina and Mecklenburg County in North Carolina, our #RedHeartMamas Facebook Group by Women for Women reaches women nationwide.
Through our partnership with the Singhi Charitable Foundation, our Frontline Heroes Wellness Fund provides advance preventative screening scholarships to women and men serving as first responders, emergency services personnel, nurses and educators in our primary service area. Eligible participants receive advance CVD screenings, an evaluation by a board certified cardiologist and special lifestyle coaching at no charge.
Our signature heart health programs include:
For any questions regarding our event, please feel free to call us at 803-805-1421 or email us at admin@theheart2heartfoundation.org.
Pictured below: Our pre-pandemic 2020 Queen of Hearts Gala. In 2021, we held our Virtual Queen of Hearts Gala and in 2022, we hosted a 10th Anniversary Celebration. In 2023, we're bringing back our Queen of Hearts Gala at The Gathering Place in Rock Hill. Event capacity will be limited to 150 guests.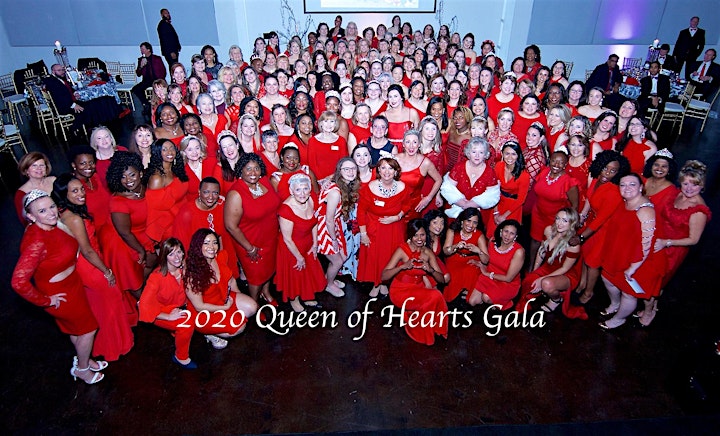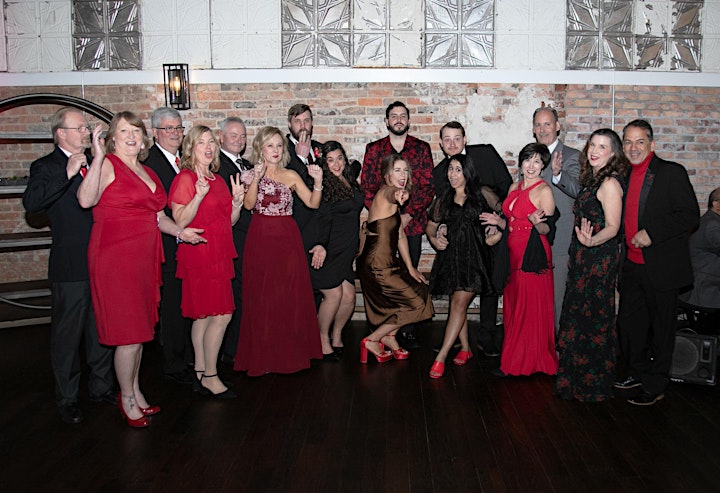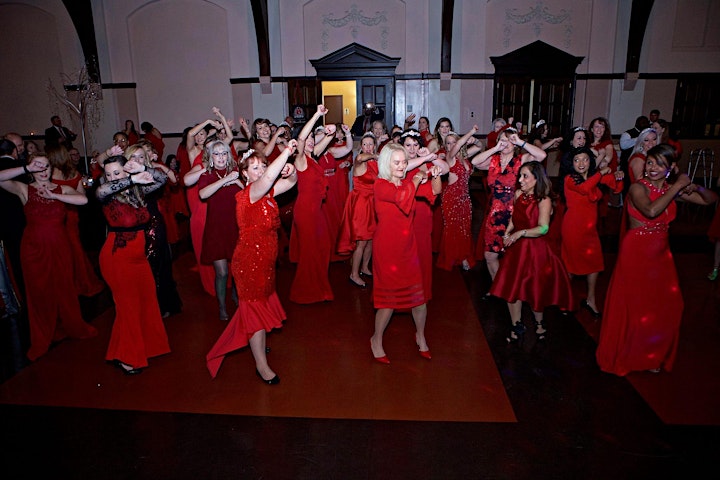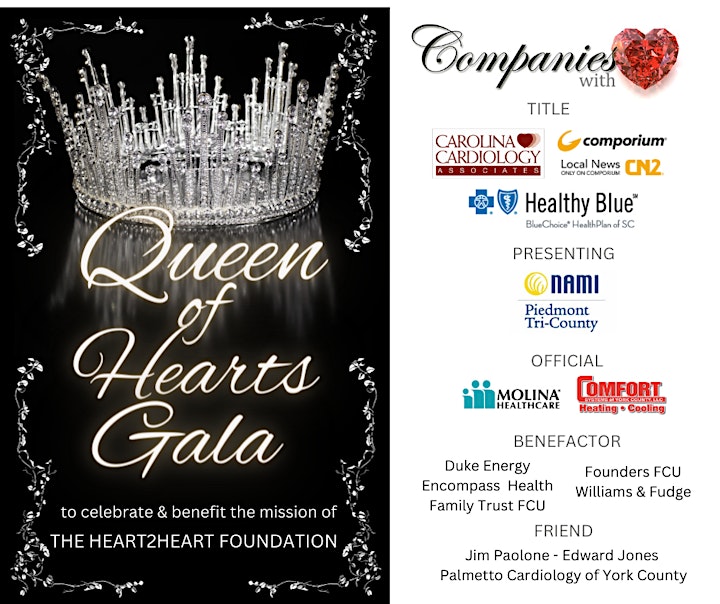 About the organizer
The mission of The Heart2Heart Foundation is to inspire and enable women and their loved ones to take action that prevents heart attack, stroke, and premature death.