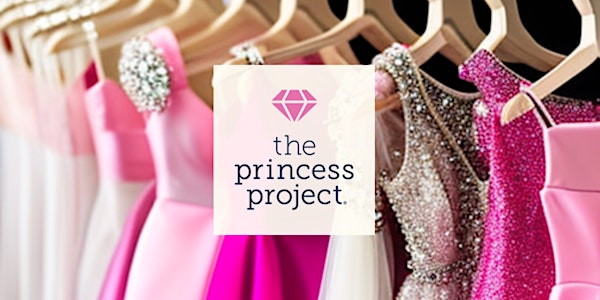 2023 Prom Dress Giveaways with The Princess Project San Diego
Princess Project San Diego Prom Dress Giveaway 2023 at Westfield Mission Valley Mall
By The Princess Project San Diego
Location
Westfield Mission Valley 1640 Camino Del Rio North San Diego, CA 92108
About this event
24 days 1 hour

Mobile eTicket
Attention High School Teens! Register to attend The Princess Project San Diego's Prom Dress Giveaway happening in April at Westfield Mission Valley Mall!
FAQs:
Q. Who can get a dress?
A. High school teens in grades 9 through 12 are eligible to come get one (1) free prom dress and (1) accessory with us!
Q. Are the dresses really free? What do I need to bring in order to be able to get a dress?
A. Yes! Dresses are free! Participating teens must bring proof of current enrollment in high school. In addition, everyone entering our dress store must check in all backpacks, purses, large bags and cell phones at our Check-In table!
Q. Can I get more than one dress?
A. Each teen participant may sign up for one (1) appointment only to select one (1) free prom dress and one (1) accessory. Multiple registrations will be cancelled.
Q. Do I have to register on Eventbrite to get a dress? Can I just show up?
A. Due to limited space, all teen participants must pre-register to reserve an entry time for our Mission Valley store location. Your Eventbrite registration is your ticket inside to shop! (No need to print out your ticket; you can show a screen shot of it on your phone at check-in!)
Q. Is there a time limit on how long I will be able to shop? How much time will I have?
A. Teens will have approximately an hour, from walk-in to walk-out, to shop in our dress store. (It's ideal to allot about 45 minutes to shop and try on dresses, and then allott the remaining 15 minutes to choose an accessory and head over to check-out!) All teens and their guests will check-in backpacks, large bags, purses and cell phones before entering our Mission Valley Dress Store to shop.
Q. My friend needs to get a dress for prom - can I bring them with me to get a dress too?
A. As long as your friend attends high school and also registers on Eventbrite for the same timeslot, you can shop together! Remember, each teen participant must sign up individually to attend!
Q. Can I bring my mom/sister/family member/friend to come help me find a dress?
Each teen participant may bring one (1) guest to help them shop. Guests must also check-in large bags, backpacks, purses and cell phones at our Check-In table before entering the dress store.
Q. Does my guest need to also register separately on Eventbrite?
A. Only teen participants who are getting a prom dress should be registering to come get a dress with us. There is a section in the registration form to enter in the name of your guest.
Q. What if I have to cancel my appointment or reschedule?
If you need to reschedule your appointment, please go to your confirmation e-mail and cancel your registration so that another teen may sign up for that timeslot, as spots are very limited. You will need to re-register for a different appointment time. (Do not reserve multiple timeslots. Multiple registrations will be cancelled).
Additional Questions? E-mail getadresssd@princessproject.org