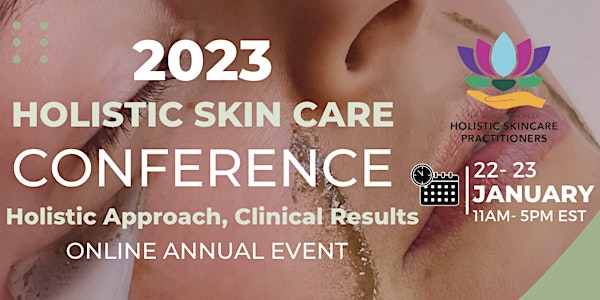 2023 Professional Skincare Conference - Holistic Approach, Clinical Results
2023 Association of Holistic Skincare Practitioners Online Conference
Refund Policy
Contact the organizer to request a refund.
Eventbrite's fee is nonrefundable.
About this event
Holistic Approach, Clinical Results
Many seek holistic estheticians in search of non-invasive skin care alternatives to improve their skin. Learn how to analyze the skin, indicate the problem, and offer effective holistic solutions which will deliver long-term results to your clients.
The Association of Holistic Skincare Practitioners organization was founded and established in 2007 by Elina Fedotova, with a mission to raise the standards of postgraduate training and to create awareness of the philosophy and practice of natural skin care in the esthetic and wellness professions. The AHSCP is a non-profit professional association with educational and scientific purposes. We intend to instill holistic concepts and validate that a healthy approach to beauty and wellness is more effective and viable in the long term.
Ticket information:
If you are not an active member of the AHSCP, it is a requirement to become an active member to attend the conference. Please purchase the conference ticket+membership option. If you are an active member of the AHSCP, you can purchase the ticket-only option. If you have any questions about your membership, please contact us at 312-722-8122 or elina@elinaorganics.com
Conference Schedule:
SUNDAY, JANUARY 22nd
11-12:15 pm EST: Keeley Lore
Title: Healthy Hormones and Beautiful Skin
Description: Getting to the root cause of inflammation is important to rebalancing hormones that impact skin health throughout our lifetime. This workshop will provide you with tools to use in your practice when addressing the Skin-Hormone connection.
12:15 -1:30 pm EST: Taylor Gaia
Title: Inside Out Beauty-How to Meet Your Souls' Goals
Description: A unique seminar designed to support you to achieve a deep level of releasing old programming without reliving the trauma. How we do anything is how we do everything. Our business life is affected by our personal thoughts, actions, and behaviors. When we are able to align our inner feelings with our deepest values with a deep level of awareness, the possibilities for creation become expansive. This seminar will help you create life and business beautifully from the inside out.
1:30 -2:00 pm EST: BREAK
2:00 -3:15 pm EST: Lynn Zamberlan
Title: Holistic Healing From The Inside Out
Description: Lynn will share her personal medical experience of holistic and spiritual healing to overcome stage 3 ovarian cancer.
3:15 - 4:30 pm EST: Elina Fedotova
Title: Innovative, Holistic, and Non-invasive Methods and Techniques to Achieve Clinical Results for Acne-prone and Scarred Complexion
Description: Learn how to improve texture, heal the skin, and prevent new outbreaks. During this live demo, Elina will perform a corrective facial treatment. You will be able to real witness results from her latest 2023 skincare formulations and equipment modalities.
MONDAY, JANUARY 23rd
11:00 - 11:45 am EST: Arielle Spring
Title: Mind, Body, and Spirit Healing Treatments
Description: We will discuss going through trauma, especially head/neck, and how Elina Organic healing treatments provide mind/body spirit healing, not just aesthetics. I will talk about the book I wrote, "When Birds Sing - My Journey from Trauma to Triumph". I will be sharing some of my stories and discussing how I thrive after trauma - and how Elina Organics treatments heal mind/body spirit.
11:45 - 12:15 pm EST: Lindsey Stifler
Title: Nourishing Clients From a Nourishing Space. *Yoga Live Demo
Description: Nourishing the practitioner; how to take care of yourself through simple rituals throughout the day to allow yourself to take care of your clients.
12:15 - 1:30 pm EST: Cameron Handler
Title: Five Elements
Description: Let's get elemental! An introduction to the Five Elements in Traditional Chinese Medicine and how you may observe them in your clients. Learn to apply acupressure points to help affect your clients and offer harmony to the elements.
1:30 -2:00 pm EST: BREAK
2:00 - 3:15 pm EST: Dr. Chloe Koldberg, ND
Title: Healing the Skin Through Emotional Roots of Disease
Description: Mind, body, skin connection. How we can address skin concerns on the emotional level. Using flower essences, energy healing, etc.
3:15 - 4:30 pm EST: Elina Fedotova
Title: Natural Makeup Application Techniques for Aging and Problem Complexions. *Several Live Makeup Demo's
Description: Quick and effortless ways to conceal and highlight features using skin rejuvenating and protecting makeup. As skincare professionals, it is that our clients do not intoxicate their skin by using conventional makeup which is why we need to educate our clients on the importance of healthy makeup. It is also difficult for the aging complexion to find makeup on the market that will not accentuate their fine lines and dehydrate their skin, until now!
Conference Speakers:
Elina Fedotova:
Founder and Chief Formulator of Elina Organics is an award-winning celebrity aesthetician and President of The Association of Holistic Skincare Practitioners. Since 1998 she's used holistic principles and organic ingredients worldwide to create healthy, highly effective products. They are produced in small batches in her family-owned facility.
Learn more: www.elinaorganics.com.
Keeley Lore:
Certified Natural Health Professional, Master Aesthetician & Certified Functional Nutritionist, Nutritional Coach, and Nutrition Response Practitioner
Learn more: https://www.naturallyradiantva.com
Dr. Chloe Koldberg, ND:
Holistic Esthetician and a Naturopathic Doctor with a Ph.D. in Natural Medicine. She has been studying skin care since 2018 and natural health has been in my daily life for the last 10+ years, before also pursuing that as a degree in 2018. Her passion is studying and educating clients on the mind, body, and skin connection while finding inward solutions for outward problems. She specializes in offering Holistic Skin Health Evaluations and Full Body Health Evaluations through my business Well Watered Living.
Cameron Handler:
Cameron Handler is currently practicing Acupuncture and Traditional Chinese Medicine in Kalamazoo, MI., at her office cams Ph. D.a partan Wellness. She began her career in wellness as a Massage Therapist and worked at Boyne Resorts in Michigan, as well as the Forbes 5-star Eau Spa in Manalapan, FL. Her love of holistic therapies led her to pursue skincare and natural remedies. Ultimately, her own healing journey led her to Traditional Chinese Medicine and she graduated with a Master's Degree in 2017. Since then she has been studying and learning NSEV Healing & Acupuncture, as well as her current graduate program with the White Pine Institute.
Learn more: https://camswellness.com
Taylor Gaia:
NLP, CHt, MBA, Lean Six Sigma, More than 20 years in Corporate Marketing, Consulting, and Coaching, Former University Professor, Marketing and Public Relations, Master Trainer and Coach of NLP, Clinical Hypnotherapy, Timeline Therapy, Holistic Health Coach. Energy Healing, Private Practice, Group work, Executive Leadership Development
Learn more: https://www.illumeu.com/
Arielle Spring:
Arielle Spring is a living example of a phoenix rising. After her own personal traumas, Arielle took a job as a domestic violence crisis group facilitator which inspired her to create her own DV support group. She went on to become a certified professional life coach and health coach. Arielle has now published her first book, a memoir When Birds Sing. Books, publications, and blogging are her current pursuit. Kay Cole CPC, CPHC, Author
Learn more: https://www.ariellespring.net
Lynn Zamberlan:
Licensed cosmetologist, esthetician, certified laser technician, and CNHP ( certified natural health practitioner). I have been working in the medical esthetics field for over 20 years, the last 15 focusing on holistic esthetics. I received my CNHP 12 years ago which has allowed me to expand my knowledge and practice of holistic health and beauty.
Lindsey Stifler:
Lindsey has been at Elina Organics for over 10 years. She is the Financial Director and Holistic Skin Care, Practitioner. Lindsey is also a 200 E-RYT, teaching weekly yoga classes for the last 8 years. Lindsey likes to nourish the clients on her table, doing so from a full cup for herself.
Learn more: https://nourishedwithlindsey.com/