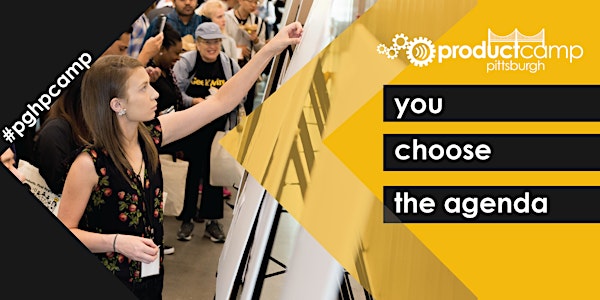 2023 ProductCamp Pittsburgh
ProductCamp will be held in-person at the DICK'S Sporting Goods Headquarters on April 1, 2023.
When and where
Location
DICK'S Sporting Goods, Inc. 345 Court Street Coraopolis, PA 15108
About this event
ProductCamp Pittsburgh is a free "un-conference" for:
product managers
product marketing professionals 
innovators
marketers
designers
CxOs
founders
engineers
researchers
Anyone who is eager to discuss best product development practices, share insights and make connections with top minds in the local product community.
About
ProductCamp is an un-conference where you come together with experts and peers to share tips, best practices and your experience!
What's an unconference?
​Answer: Not your typical conference 
Not just passive listening
Not predetermined
Not prearranged
Sessions are hosted by attendees like YOU!
An unconference is a free conference organized, structured and led by the people attending it.  Instead of passive listening all attendees and organizers are encouraged to become participants with discussion leaders providing moderation and structure for attendees.  
Host a Session 
At the unconference 20 session topics are not predetermined and panels have not been arranged.  Instead, the event lives and dies by the participation of you and other attendees!  So whether you come prepared to run a full workshop or presentation, lead a Q&A, or just lead or contribute to an open discussion, all formats are welcome.  Go to our website to propose a session and share your knowledge!
Schedule
Go to our website to view the rough schedule here: https://www.pghpcamp.com.  Remember to come early to ProductCamp so you can vote on the sessions you want to hear!
Voting is from 8-9  a.m.! Don't be late if you want your session to be picked!
Important Note: Pittsburgh ProductCamp Gold and Silver sponsors will receive your name, email address, and title for marketing purposes after the event.