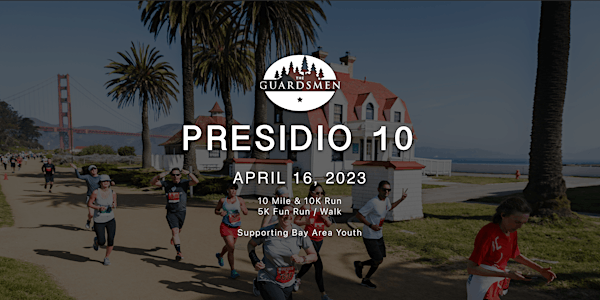 2023 Presidio 10 Presented by The Guardsmen
The Presidio 10 is a fun, family-oriented race brought to you by the Guardsmen.
Date and time
Sunday, April 16 · 6am - 12pm PDT
Location
Crissy Field across from the Sports Basement 610 Old Mason St. San Francisco, CA 94129
About this event
The Presidio 10 brought to you by the Guardsmen is back and better than ever! We will be holding this in-person event at our traditional locations. The most incredible views of the presidio, Golden Gate Bridge, and our signature pancake breakfast at the finish line. Join us and find out why runners come from all over the Bay Area to be a part of this event. We have an option for everyone, 10 Mile, 10K, and a 5K fun run + walk. Not running this year? Sign up for a post-race expo only ticket to cheer on that special runner in your life at the finish line where you can all enjoy adult beverages and delicious breakfast to celebrate!
The kids need your help more than ever. We have additional fundraising opportunities through Presidio10.guardsmen.org, sign your team up today!
FAQs
Who are The Guardsmen? Why is this a benefit?
Every year The Guardsmen changes lives across the Bay Area by sending more than 2,500 at-risk youth to outdoor education programs and by providing scholarships for more than 250 students to attend private schools. Learn more about The Guardsmen
Can I help fundraise?
Absolutely! You can sign up to fundraise here. Become a Fundraiser
What time does the race/s start?
We have different start times for each race.
10 Mile - 8:00 am
10 K - 8:30 am
5 K - 9:00 am
I rolled my ticket forward during COVID, how do I get my ticket this year?
Please email us at presidio10@guardsmen.org with your full name and email address that you used to purchase your original ticket, and we'll issue you new ticket/s.
Where are the course maps?
Course maps for the races can be found under the Course Map section on the P10 home page.
How do I get there, and where do I park?
Please park in the East Beach Parking Lot, or the Marina Green Parking Lot and walk to the Start and Finish area. We encourage you to take public transit if possible. Due to construction, the area between McDowell Avenue and Girard Road will be closed. The Sports Basement parking lot will be closed to participants on the day of the event.
What is the refund policy? How can I transfer my registration?
While registrations are non-refundable, you may transfer your registration to a friend on Eventbrite. To change your registration, you need to update your order information with the new runner's information. Log into Eventbrite, click Tickets (under your name in the top right), and follow this screenshot.
May I change my running distance? (e.g. 5k  to 10k)?
Yes, please transfer to the other registration type in Eventbrite. Log into Eventbrite, click Tickets (under your name in the top right), and follow this screenshot.
What is The Guardsmen's IRS status and the Fair Market Value of the event?
The Guardsmen is a registered 501 (c) (3) nonprofit corporation. In exchange for each ticket, the donor will receive $50 in goods and services for all distances. The amount of the registration price less the Fair Market Value is tax deductible. Donations are greatly appreciated and highly encouraged but are separate from ticket purchases. Only a registration purchase grants entry to the race. Separate donations alone can not qualify for entrance.
Are strollers and/or dogs allowed in the race?
Strollers and dogs are allowed in the 5K fun run/race only.
I have more questions!
Feel free to reach out to us directly with any additional questions you may have using the contact button at the bottom of this page.
Thank You for Supporting The Guardsmen!
About the organizer
The Guardsmen is a group of Bay Area men mobilizing their significant talents and resources to enhance and improve the lives of at-risk youth. This all-volunteer organization, founded in 1947, provides access to high-quality educational and outdoor activities for inner-city youth.  The opportunities created through The Guardsmen's scholarship and campership programs mean that every year kids who otherwise would not have a chance at success are given the opportunity to excel as productive members of society. Each year The Guardsmen sends 2,500 youth to outdoor education programs and provides scholarship support to more than 250 students at Bay Area private schools.
The Guardsmen is committed to making sure that fundraising dollars are spent wisely, with the greatest need and highest returns always in mind. In fact, approximately 90 cents of every dollar raised goes directly to support programs for kids.