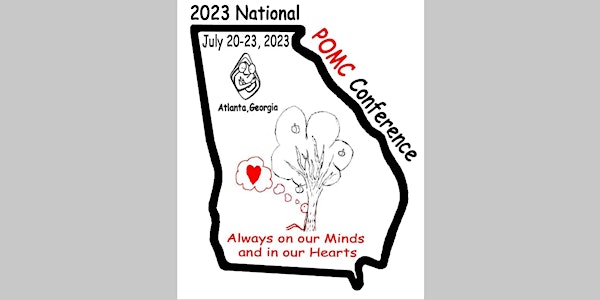 2023 POMC NATIONAL CONFERENCE - Atlanta, GA
National Conference of PARENTS OF MURDERED CHILDREN (POMC), Inc.- For families and friends of those who have died by violence.
When and where
Location
Hilton Atlanta Airport 1031 Virginia Avenue Hapeville, GA 30354
Refund Policy
Contact the organizer to request a refund.
About this event
2023 Theme:  "Always on our Minds and in our Hearts."    This supportive weekend is our Parents Of Murdered Children National Conference.  There are touching programs and informative and supportive workshops intended for survivors of homicide victims and the professionals who serve them. Attending this conference will help you to be able to face another day with new hope and encouragement.
Hotel Reservations: Call 1-800-Hiltons (445-8667) Hotel reservation deadline - June 21, 2023. Also, be sure to mention that you are attending the Parents Of Murdered Children conference to get the reduced room rate of $119.00 + tax per night. Check-in time is 4:00 p.m. and check-out is 11:00 p.m. Eastern Time. If you want to make your room reservation online, click HERE.
Airport Information: Fly into Hartsfield-Jackson International Airport, 6000 N. Terminal Pkwy, Atlanta, GA 30320
Transportation: Complimentary Airport Shuttle Service
HOW TO REGISTER ONLINE
1.  Once you click the "Register" button, it will open a new window to complete your registration form.  (Note:  Once you start filling out the form, if you click your back arrow, you will have to start over again.)
2.  When you see the box with the selection of registration forms, you'll need to scroll down to see all the registration options including  - Donation of a Registration  - Workshop Sponsor  - Table Host, etc. A detailed description of what is included with each option is written directly beneath the title.
3.  Clicking on the quantity box will give you the option to choose how many registrations you want.  You'll be able to see your total quantity and dollar amount at the bottom of the page as you go along.
4.  If you select a quantity of more than 1, you'll have an opportunity to fill in the additional information (ex. other registrants, table hostname, workshop sponsor, etc.) in the next step.
5.  When you feel you've accurately completed this part of your registration, click on the "Check Out" button. Remember that if you have to go back for any reason, you'll need to start from the beginning again.
6.  When you have arrived at payment options, choose credit card, check, or Paypal. After you have filled out your payment information, continue to scroll down to fill out the information for each registration. At the bottom of this section are the T-Shirt sales and Memorial Conference Book submission section.
7.  Once you have checked out you will receive a Confirmation Email.
For a Conference Brochure which includes a registration form that can be downloaded and printed, click HERE.
For a full list of FREQUENTLY ASKED QUESTIONS (FAQ's), click HERE.
**IF YOU ARE HAVING ANY PROBLEMS REGISTERING, please call our POMC National Office at 513-721-5683. 
PHOTOS OF YOUR LOVED ONE(S)
There are no fees for including your loved one's photo in the video or Picture Wall.
However, submissions for the Memorial Service Video must be received NO LATER THAN  June 30, 2023.  ** After that date, your loved one's photo will NOT be able to be included in the Memorial Video.** 
We cannot accept photos if you are not attending the Conference.
** NO NEED TO SEND A PHOTO IF WE HAVE ONE FROM THE 2022 CONFERENCE IN ST. LOUIS, MISSOURI.**
Please email photo to:
natlpomc@pomc.org
-Or-
Mail a 5"x7" copy of a photo to:
National POMC office
635 West 7th Street Suite 307
Cincinnati, OH 45203
Any questions, or if you need assistance, please call the National POMC Office at 513-721-5683.