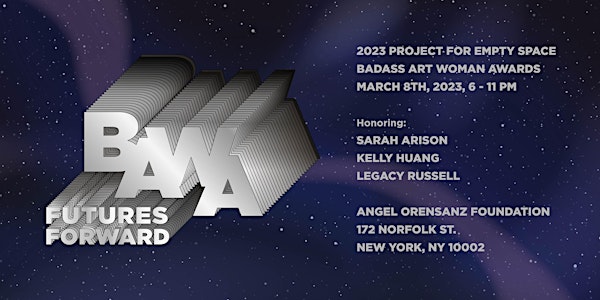 2023 PES BADASS ART WOMAN AWARDS
Join Project for Empty Space Wednesday, March 8th, 2023 from 6 - 11 pm for the 2023 Badass Art Woman Awards.
When and where
Location
Angel Orensanz Foundation 172 Norfolk Street New York, NY 10002
Refund Policy
Contact the organizer to request a refund.
Eventbrite's fee is nonrefundable.
About this event
The 2023 Badass Art Woman Awards: Futures Forward, honors three women who dynamically push culture forward by centering radical artists. Honorees include Sarah Arison, President of the Arison Arts Foundation, Kelly Huang, Co-Founder of the Gold Art Prize, and Legacy Russell, Executive Director & Chief Curator of The Kitchen.
This year's Badass Art Woman Awards program is inspired by the work of Contemporary Feminist artists, such as Chitra Ganesh, Wangechi Mutu, and Firelei Baez (to name a few), who draw from the legacies of intersectional Futurisms. Specifically, it pulls from Afro and Asian futurist aesthetic-ideas from the late 1990s/early 00s. This framing runs parallel to PES' forthcoming visionary space: PES-FUTURES, which will open in the fall of 2023 in New York City. This new space will host exhibitions and a hybridized virtual-in person residency program oriented around 'Radical Futuremaking.'
BAWA will be held on Wednesday, March 8th, 2023, 6 - 11 pm at the Angel Orensanz Foundation in the Lower East Side of Manhattan. This will be our first BAWA in New York City, where Project for Empty Space began.
Situated in the gorgeous arches of a landmarked former synagogue, this year's fete invites you to dress in your best futurist couture, enjoy cocktails and dine amongst stars and enjoy an evening of brilliant performance and DANCING. In addition to our program, guests will have the opportunity to take home limited edition PES Artist-In-Residence alumni prints.
The 2023 BAWA Host Committee includes (in formation) Adam Mrlik, Amitha Raman, Antwaun Sargent, Cat Dawson, Cerrie Bamford & Dian Woodner, Charlie Jarvis, Courtney Burbela, David Antonio Cruz, Derrick Adams, Hannah Gottlieb-Graham, Helen Toomer, Ian Cofre, Isolde Brielmaier, Jane Aiello, Jane Hait, Jonathan Gardenhire, Lewis Long, Melissa Osterwind, Michi Jigarjian, Mickalene Thomas, Nicola Vassell, Phyllis Hollis, Ricardo Salazar, Rujeko Hockley, Sarah Arison, Storm Ascher, Tai Cooper, Tiana Webb Evans, and Wardell Milan.
Learn more at pesfutures.org. To inquire about event sponsorship opportunities or program salutations, please contact us at bawa@projectforemptyspace.org.
About BAWA:
The Badass Art Woman Awards (BAWA) emerged organically one day, several years ago, while chatting with several other cultural practitioners in our circle at an event. We noticed a general homogeneity in the types of people who are recognized in large institutional spaces. It was very apparent that many of the women cultural workers in our industry, particularly those who cross over multiple roles beyond artists (ie curators, gallerists, academics, writers, etc.), are often overlooked. Of course, there are occasions when women in the art world transcend into the mainstream realm, however, those instances are far too few. We wanted to create an award that brought in a true sense of celebration and joy — a 'badass' celebration! Thus, BAWA was born; a celebration of women who do phenomenal work within the contemporary art world.
About our Honorees:
Sarah Arison, President of the Arison Arts Foundation
Born and raised in Miami, Arison is President of the Arison Arts Foundation, a private grant-making organization that supports emerging artists and the institutions that foster them.
Arison is active across a broad cross-section of national arts organizations. She is Chair of the Board of YoungArts, where she has developed strategic partnerships with the Center for the Art of Performance at UCLA, Jacob's Pillow, The Metropolitan Museum of Art, Sundance Film Festival, and more. Arison is also the Chair of the board of MoMA PS1; a trustee of MoMA; Board President of American Ballet Theatre; a trustee of Lincoln Center; a trustee of the Brooklyn Museum and Chair of the Education Committee; a trustee at New World Symphony; a member of the Board of Directors of Americans for the Arts; and a trustee of the Americas Foundation of the Serpentine Galleries.
Kelly Huang, Co-Founder of the Gold Art Prize
Kelly Huang has held roles as a curator, advisor and dealer at leading institutions over the course of her 15-year career in the art world. She established KCH Advisory in the San Francisco Bay Area with the goal of helping clients navigate the contemporary art market and build meaningful art collections aligned with individual goals, personal interests, and passions. Prior to establishing KCH Advisory, Huang was Co-Director of Gagosian San Francisco and was an art advisor with a prominent San Francisco firm.
Huang dedicates time to lead efforts to expand access to the art world and build community through roles as the Co-Founder of the Gold Art Prize, consulting on curatorial and collections strategy for Arkive, the first decentralized museum of art and cultural artifacts, and as the Art Basel VIP Representative for the SF Bay Area. She is also a mother to three incredible children.
Legacy Russell, Executive Director & Chief Curator of The Kitchen
Legacy Russell is a curator and writer. Born and raised in New York City, she is the Executive Director & Chief Curator of The Kitchen. Formerly she was the Associate Curator of Exhibitions at The Studio Museum in Harlem. Russell holds an MRes with Distinction in Art History from Goldsmiths, University of London with a focus in Visual Culture.
Her academic, curatorial, and creative work focuses on gender, performance, digital selfdom, internet idolatry, and new media ritual. Russell's written work, interviews, and essays have been published internationally. She is the recipient of the Thoma Foundation 2019 Arts Writing Award in Digital Art, a 2020 Rauschenberg Residency Fellow, and a recipient of the 2021 Creative Capital Award. Her first book is Glitch Feminism: A Manifesto (2020). Her second book, BLACK MEME, is forthcoming via Verso Books.