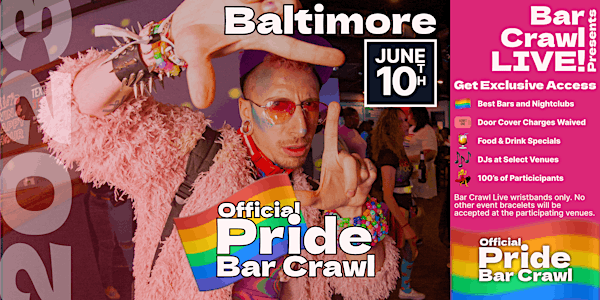 2023 Official Pride Bar Crawl Baltimore, MD LGBTQ+ Bar Event
Celebrate Baltimore Pride on June 10th with a colorful bar crawl through the city's top LGBTQ+-friendly bars and nightclubs!
Date and time
Saturday, June 10 · 3 - 10pm EDT
Location
Power Plant Live! 34 Market Place Baltimore, MD 21202
Agenda
Registration/Check-in
Drag show info
3:00 PM - 5:00 PM
Mandatory check-in to receive your wristband(s). Subject to change.
Front gate entrance 34 Market Place
---
Wristbands must be picked up before 5pm. If you can't make it, have a friend check your ticket in and they will have your wristband when you arrive. Check-in bar and hours are subject to change.
About this event
Pride Bar Crawl LGBTQ+ 2023 Event - Baltimore
Get ready to rainbow and roll with us at the Official Pride Bar Crawl! We'll be hitting the hottest LGBTQ+- friendly bars and clubs in Power Plant LIVE, and you're invited to come along for the ride.
Whether you're a member of the LGBTQ+ community or an ally, you're welcome to join us on this colorful adventure. So put on your dancing shoes, grab your friends (or a cute stranger, who knows?), and let's paint the town rainbow together!
To learn more visit https://www.barcrawllive.com/crawls/2023-baltimore-maryland-pride-bar-crawl
No other event bracelets will be accepted at the participating venues. You must have a Bar Crawl Live wristband to avoid cover.
What's included in the ticket price:
Bar Crawl LIVE Wristband
Welcome Kickoff Party
A portion of each ticket sold will be donated to the Trevor Project and the local Pride organization.
FREE entry to the best bars
Door Cover Charges Waived
Up To 50% OFF Well Drinks, Shots, Beers
Up To 20% OFF Select items
Tasty Themed Drinks
Halftime Party
After Parties
Photographer and Videographer
DJs at Select Bars
Digital bar list to guide you through the crawl.
What To Expect:
A fun-filled day/night of celebrating Pride with friends.
Exclusive deals and discounts at participating venues
The opportunity to make new friends and explore Power Plant LIVE Baltimore's nightlife
Ticket holders will receive an email from Bar Crawl LIVE! Follow the steps to receive the digital bar list including the registration/check-in info.
When:
Hours:
Crawl event hours 3pm until 10pm
Review the digital bar list sent to you via email.
Where:
Baltimore, MD
Power Plant LIVE bars and Nightclubs
Bar List:
Luckie's Tavern
Luckie's Liquors
Crush Bar
Underground Pizza
Leinie Beer Garden
Tin Roof Baltimore
Kraken Axes
PBR Baltimore
Angel Rock Baltimore
Mosaic Nightclub
LIVE Alley Stage
More bars TBA...
All participating bars are 100% exclusive to our event wristbands only.
Important information:
The event is for 21+ only
Don't worry! In the event of cancellation, for any reason, all tickets will be refunded in full. No vouchers, no credits, just your money back in your bank, guaranteed.
There is a strict "no refunds" policy
If you are unable to make it to the event, you will be able to receive a credit to any upcoming crawl for unused tickets.
Please drink responsibly and plan for a safe ride home
Questions check out our FAQs page https://www.barcrawllive.com/faq
#BarCrawl #PubCrawl #Festival #Party #NightLife #Nightclub #Nightout #Baltimore #Maryland #BaltimoreNightlife #PowerPlantLIVEBars #BaltimoreBars #BaltimorePubCrawl #BaltimoreBarCrawl #BaltimoreNightlife #BaltimoreEvents #GloBarPhilly #WoodysPhilly #VoyeurPhilly #PulsePhilly #ConcoursePhilly #LGBTQ+ #Pride #PrideBarCrawl #Rainbow #LoveIsLove #Equality #SupportTheCommunity #LoveWins #Diversity #Inclusion #Respect #CelebrateLove #PrideMonth
Frequently asked questions
What if I can't make registration/check-in before the start of the crawl?
How does a pub crawl work?
How does a bar crawl work?
Is there an age limit for pub crawls or bar crawls?
What should I wear to a pub crawl or bar crawl?
What are some benefits of participating in a pub crawl or bar crawl?
What should I bring to a pub crawl or bar crawl?
How much does a pub crawl or bar crawl cost?
Can I join a bar crawl alone?
Can I bring my own drinks on a bar crawl?
Is the cost of drinks included in the ticket price?
What if I have more questions about the bar crawl or pub crawl bar event?
About the organizer
All your favorite Bar crawl themes & thousands of participants on a mission to visit the top bar in cities across the country. Join us and lets pub crawl the day away.