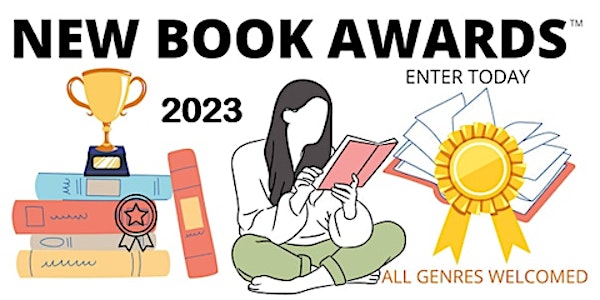 2023 NEW BOOK AWARDS
Hey book lovers and authors who published between 2022-2023 - its the return of the NEW BOOK AWARDS! Finally gain recognition for your work!
By Awards Judge Organization
Date and time
May 6 · 5pm - December 25 · 8pm PDT
About this event
For more information about the New Book Awards program check out our website at www.NewBookAwards.com --- You can also email Info@NewBookAwards.org (note .org)
2023 NEW BOOK AWARDS ENTRY INFORMATION
Online Entry Information
Only nominated authors and publishers of various genre and category are considered. If you have been contacted but need your entry information or wish for a title to be considered for nomination contact us at enter@newbookawards.org
Congratulations on your invitation to participate in the New Book Awards. We are using Eventbrite to make the necessary online entry process quick and easy. You can enter the awards here on this site and later send your ebook link or physical book (by post, online or email) to the requesting judges for your sector by following the steps below.
First congratulations on your nomination, in order to accept you now must officially enter the awards. 
If you were not nominated, you cannot enter the awards without an invite code.
However, if you are with the media, a book reviewer, blogger or podcaster please contact us with your suggested titles or if you would be willing to help with reviewing & voting on entries.
I was nominated so, how do I officially enter the New Book Awards?
The process is easy and is the same every year. Here are the steps to complete your entry:
Proceed ONLY IF you were directed here and/or contacted and informed of your nomination....
Begin the entry process by reading this page of information and all the information you will need to start the process is right here on this page.
With your book title already existing in our nominations database you will now take the next step and accept your nomination and use this opportunity to officially entry the awards enabling the judges to consider your path forward into our screening process. We ask you to read through the simple steps. Once you are officially entered you can then tell us more about your book.
Decide to what level to enter your book(s) and complete this entry form. Entry fees are low cost and nominally requested to cover our expenses and demonstrates proof of author serious intent to enter the New Book Awards. Payment is made through this website via Credit Card or PayPal.
Shortly after you submit your online entry for the New Book Awards, we will send you a confirmation email from either Eventbrite or info@newbookawards.org
To ensure that you receive the confirmation email, please add us to your address book. To finish the online early entry process, make sure that you also complete the questions asked and do not close this window until you see your confirmation. If you can have any difficulty contact us.
Within a few days of review and acceptance of your entry application you will be asked to either send a electronic or (mail a) hard print copy of your book (as judges see fit) to a select First Round Evaluation (usually this is an indie book store or reviewer evaluating the first round).
If your entry is in electronic format only (Kindle, PDF, etc) you do NOT have to send a hard copy.
Please include a printout of your entry receipt and/or the "Confirmation of Entry" email, which will include all of your entry details, together with requested copies of your book or ebook or PDF (plus one additional copy of your book for each additional category entered). You will be notified as to which location to send your book entry and address will be given at that time. You will have 2 weeks for your book to be received and all locations for judging will be in the USA.
..........Please do not pester judges or bookstores about your entry during the review period.
If you entered as an ebook you can send it as soon as you have receipt of entry. For the first round unless otherwise indicated sending a PDF is best to Entry@NewBookAwards.com
Be sure to include your receipt of entry, your direct contact information and book title in your correspondence to make it easy for the judges to find and reference.
............
Depending upon the success of your entry. You may be asked to send more copies of your book to additional locations which may include book reviewers, finalist judges or store buyers or industry VIP interested in particular New Book Award titles. Please comply as soon as possible.
This payment is a one time entry fee that applies per book per entry and no further fees are required to participate however, you may wish to take advantage of 'featured' and premium entry PR offerings that are geared to help your book gain maximum exposure in the New Book Awards, its an opportunity to stand-out and be seen in more places during the judging process but it is not required for entry nor does it excel the process nor increase likelihood of winning - but it may help you get more reviews and sell more books which is why it is being offered.
Again, featured showcase, category selects & additional PR placement choices are optional.
The NEW BOOK AWARDS is becoming the signature independent industry awards recognition program honoring the latest literary works in multiple genres. What makes us unique is that we are 100% independent. We do not take paid sponsorship or ad money. We are NOT affiliated with any one trade group, product, publisher, trade show or association. All publishers and authors including indie press are welcome to enter. Our award determinations are not skewed into singling out 'best of' a single category characteristic or insider industry favoritism. Instead, reviews and finalist judging are based on individual merit, scoring based on ratings inherent of the qualities that made you come to our attention as a recently published book with the added effort of the book's author makes for their own titles. Merits towards an award will vary and result from bookstores, reviewers, bloggers and other assorted contributors your entry effort encounters. We are very excited and pleased with the fair plus extra involved judging process.
ALL AUTHORS or PUBLISHER TITLES ENTERING THE AWARDS MUST ACCEPT THESE TERMS
///////////////////////////////////////////////AGREEMENT///////////////////////////////////////////////////
As the author or authorized representative entering into the awards, YOU hereby agree that by using this entry form you are confirming full acceptance of the New Book Awards Rules and Regulations as detailed on this page and the awards website www.NewBookAwards.com. If your book (title entered) is selected, by entering the awards you agree to grant the awards the rights to publicly display it. Display of selects: (display meaning showcasing the cover or content excerpts or descriptions via online, shelving, poster, flier or visual mock-up, etc)
New Book Awards SUBMISSION OATH:
In your words (You are stating the following:) I confirm that I have the right to submit the book I am entering into the New Book Awards. I give permission to the organizers to use excerpts (max usually is 2 minutes or pages), photos and all aforementioned materials for awards publication and promotional purposes. I agree that the awards event organizer may hold and/or distribute all submitted materials to the appropriate reviewers or judges as determined by the awards committee or organizers. I understand that any printed hard or soft copies, CDs, Audio Books, DVDs, digital files and ebooks including related publicity materials submitted to the New Book Awards will not be returned. Having agreed to the above statement, I am now submitting my official entry here via Eventbrite (or affiliated group or website).
Have questions about the NEW BOOK AWARDS? Email the committee at - Info@NewBookAwards.org
General inquiries: awardreview@gmail.com
Media outlets, bloggers, podcasters and book reviewers are welcome to participate. Please contact Mike for PR purposes, requests or journalist enquires at Editor@Eaternews.com
You may also inquire about judging (and becoming one): Judges@NewBookAwards.org
NOTE: The AJO Awards Judge Organization oversees the entire Voted Best Awards program.
About the organizer
The AJO is the national association of Volunteer Awards Judges and Officials.
This organization promotes events and moderates selected awards programs.
Judging criteria is defined per program and may vary year to year.  Entry rules and winning selection process are always posted in advance online.  Judging decisions are final.  The AJO is an independent body and usually not directly affiliated with any sponsoring association or trade show hosting the judging.  
For the NEW BOOK AWARDS judges chosen usually are a mix of known readers, book reviewers, store buyers, lit agents, bloggers and media reviewers.