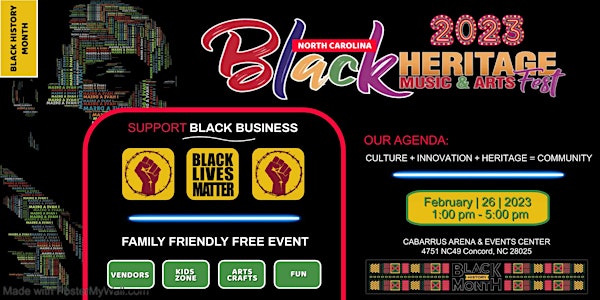 2023 N.C. Black Heritage Festival
The 2023 North Carolina Black Heritage Festival
Date and time
Sunday, February 26 · 1 - 5pm EST
Location
Cabarrus Arena & Events Center 4751 North Carolina 49 Gold Hall Concord, NC 28025
About this event
The 2023 North Carolina Black Heritage Festival themed "Remember the past, Celebrate the present, & Shape the future" will feature 100 black owned companies. Crafts, culture, art, games, performances, information and more is some of what attendees can expect. Free giveaways, discounts, and coupons make the vendor shopping experience like none other and also kids activities. Support black business and black excellence. Black History Month 2023.
Sponsored by: Grow With Google
Free Workshop: Grow With Google
Grow with Google Digital Coaches provides digital skills training and coaching to help Black and Latinx small businesses reach new customers, thrive online, and grow!
Kid Activities:
Baby Bumper Cars
Bounce House
Basketball
Kid Playground
Games
Performances:
Marvel Dance Academy
Diamond Dolls of the QC
Praise & Motion Outreach Dancers
Charlotte Cultural Collective
House of Dreams
Dedrick's Dance District
$1 Raffle:
Current Vendor List (We only accept one vendor per company) NO FOOD VENDORS ALLOWED. ***Vendors click tickets to register***
Royal Boss Beauty, LLC
Trinity Insurance Group of Lincoln Heritage Life Insurance
Worlds Traders Market and Cathys Creations
Beadazzled
Queen Cyte Tees LLC
Protect Your Crownn LLC
From Me To You Accessories
Kemp's Kreations, LLC
Artshocreationsnc
Joyous Cakes by Josette
NC Medicaid Enrollment Broker
Nessy's Naturals
Capital Bank, NA
Teas&Tinctures
Renaissance International Ghana.
Balanced Chiropractic
Scents By Marsha'
Fit 4 the Kingdom 365
K. Rose Wicks and Salts
Barb's & Crystal Jewelry
RNA Mortgage
Z Balloon Art
BeUButterfly Success Planning
Black Thread Handbags
Salim's Shining Light, LLC
Loyal Royaltees
Origins of Peace, LLC dba PlanterswithSOUL!
Goddess Code
Therapy in a Jar and Co.
Melanated Melon
The House of Sufyan Soaps,Fragrance's and Herbals
Worth the Tassel
Renewal by Andersen
Paparazzi Accessories
Rice Love Tree Publishing
Queendom's Luxurious Bath and body co.
Let's Glow
Tastebuds Popcorn - Concord
Urban Reader Bookstore
Exotic Tops LLC
The Retaliater
ArtiSun Gallery
PHP Agency
Chateau Cigars
Gracefully AJ
Cookie's Special Things, LLC
Leaf Guard
The Risen Lotus LLC
Kaliah Ligon - REALTOR, Fathom Realty
Something Special
Mission in Services
Shameeka the Author
Elle Enigma, Art & Jewelry
WH Farms Co.
US Mobile Health
Mercadel Consulting Solutions
AshDoesMyHair
Teddy's Elite Fragrances and More
Gorgeous Golden Goddess
Prayer is the Posture LLC
WellCare NC Medicaid
Black Queen Fashions
AC Creations Events & Decor LLC
UPS
Blue Raven Solar
Baste Sauces & Seasonings
The Confident Movement
Silhouette Waisted
Sherwin Williams
Twins Color Too
Taste of Arnay
Partners Health Management
Styled By Elegance
Baldflower Apothecary, llc
J. Yearwood Marketing LLC
Jazzy Original Design
Well Into Life Holistic Care PLLC
Delta Sigma Theta Sorority, Inc
RICH PROPHET
L&F Production