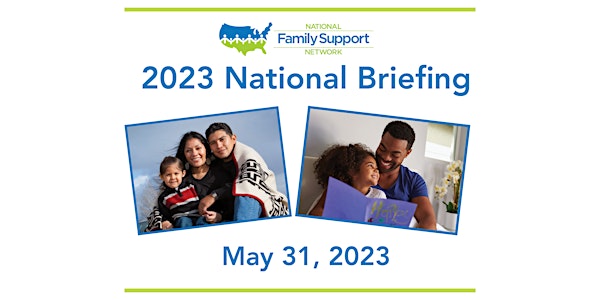 2023 National Briefing
Interactive virtual event focused on engaging stakeholders in understanding and scaling Family Resource Centers (FRCs) and FRC Networks
By National Family Support Network
Date and time
Wednesday, May 31 · 11:45am - 2pm PDT
About this event
2 hours 15 minutes

Mobile eTicket
What progress is being made on strengthening our nation's families by investing in Family Resource Centers (FRCs)?
How can Networks of FRCs be effective vehicles for supporting families to thrive?
How can your work connect with, leverage, and support FRCs and FRC Networks?
This interactive and free annual virtual event designed for stakeholders working at the national, state, and local systems and policy levels will highlight perspectives on the value of Family Resource Centers and Family Resource Center Networks and explore how and why they continue to be scaled across the country. Ninety-eight percent of participants in last year's Briefing found it helpful in informing their work.
Participants will receive the annual progress report on the Blueprint for the Development of Strong Networks of Family Resource Centers and learn how they can support its successful implementation.
Participants will also have the unique opportunity to virtually tour a community-based or school-based FRC and visit two FRC Networks of their choice.
Described as "America's best kept secret," there are more than 3,000 community and school-based FRCs in both rural and urban settings, organized into Family Resource Center Networks in 38 states and the District of Columbia that work with more than 2 million people annually.
Schedule
1:15-2:30pm ET - Family Resource Center Virtual Tours (select one as a ticket add on)
2:45-5:00pm ET – National Briefing & Opportunity to Connect with State FRC Networks
Recommended Participants
Key stakeholders working at the systems and policy levels such as national, state, and local policymakers, public departments, Child Welfare leaders, Children's Trust Fund staff, private funders, and nonprofit organizations.
About the organizer
Founded in 2011, the National Family Support Network (NFSN) is a membership-based organization comprised of state networks of two or more Family Resource Centers working together within a collective impact framework to ensure coordinated quality support for families. As the United States' coordinating body for Family Strengthening & Support networks, the NFSN currently has 38 member networks, comprised of more than 3,000 Family Support and Strengthening organizations, representing the great geographical and demographic diversity of the nation.
 
The mission of the NFSN is to promote positive outcomes for all children, families, and communities by leveraging the collective impact of state networks and championing quality family support and family strengthening practices and policies.