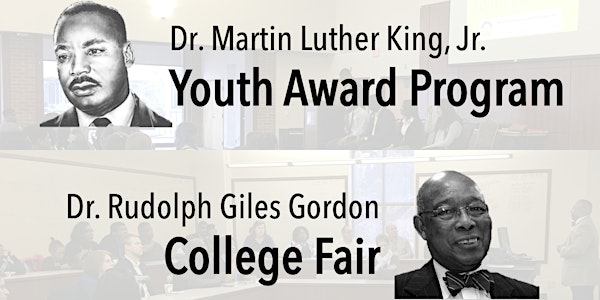 2023 MLK Youth Program & Rudolph Gordon College Fair
Alpha Greenville Foundation w/ Greenville County School District & Furman Univ present MLK Youth Program & Gordon College Fair on Feb.4th
When and where
Location
Trone Student Center Watkins Room / Burgess Theater 3300 Poinsett Highway Greenville, SC 29613
About this event
Dr. Martin Luther King, Jr. Youth Program & Rudolph Gordon College Fair
Winner Information
Congratulations Award Winner!!!
You have been selected by your school's teachers and administrators to receive the MLK Youth award. This letter is meant to provide you with some information about the College Fair and Youth Program.
On Saturday, February 4, 2023, the Rudolph Gordon College Fair will start promptly at 10 AM and will be held Trone Student Center on the campus of Furman University. The program is being held in person, but we econruage participant to be vaccinated and obrserve COVID19 Crisis precautions. We have a sincere desire to keep all of our participants safe.
In case of bad weather, we will not reschedule this event, please check on our chapter website (www.gglapa.org) or our foundation website (www.alphagreenville.org) for any program changes.
All recipients must be ready to assemble by 10:20 am., so please be prompt. Even though this event is being held virtually, the attire for the event is dressy casual (Please, no jeans or sneakers). We will still be taking a picture at the end of the Youth program.
The College Fair will have two sessions, "What you need to know about Financial Aid?" and "What to expect in your First Year of College". Each session will last about 45 minutes. We strongly encourage you to attend the sessions. In addition to the sessions, several college representatives will be available to answer questions throughout the morning. We are planning to have What you need to know about Finanical Aid" recorded for further reference.
If you are not present, we will send your award to your High School Guidance Counselor's Office. Corrections to the awards (misspellings, etc.) can be requested through your school's Guidance Counselor's Office.
Again, congratulations on receiving this award, and I hope to see you at the program and fair.
Sincerely,
Bobby Clark
MLK Youth Program Chair