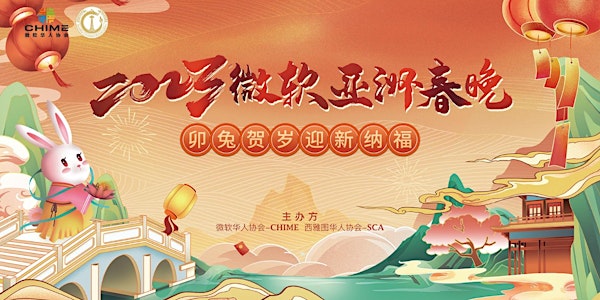 2023微软亚洲春晚 Microsoft Asian Spring Festival
2023 Microsoft Asian Spring Festival Celebration is an one-of-a-kind Chinese Lunar New Year celebration event hosted by SCA & CHIME.
When and where
Location
McCaw Hall 321 Mercer St Seattle, WA 98109
Refund Policy
Contact the organizer to request a refund.
Eventbrite's fee is nonrefundable.
About this event
Ticketing Information:
When purchasing tickets, please select discount type first (normal admission/early bird/family package/large package) and then choose what type of ticket you want to purchase. "Best available" option will automatically match you to the cheapest ticket around optimal watching location. To satisfy your needs and make sure you get the best price available, it is recommended to select your ticket type manually. Children under age of 3 are free to enter. Seating on the day of event will not follow assigned seating number. It will be first-come-first-serve by ticketing section (General Admission, Premium, VIP)
购票时请先选择购票优惠种类(普通票,早鸟票,家庭票,团购票),再选择票价档位 (GA/Premium/VIP)。Best Available选项系统会自动匹配最佳观赏位附近最低票价,为了最符合您的需求和确保您能购买最优惠的票,请手动进行选择票价档位3岁以下儿童免票入场晚会当天不按照购票时的指定座位入座,按照票位区域(GA, Premium, VIP)随即入座,先到先得。
Event Information:
2023 Microsoft Asian Spring Festival consists of an afternoon festival and an evening gala performance, which are ticketed separately. It is highly recommended to get the full Chinese Lunar New Year celebration experience with your friends, your families, or on your own starting from the fun and rich afternoon activities (lots of games, food court, afternoon performance, photo booth with traditional Chinese outfits, gifts, etc.) into the remarkable evening celebration gala performance happening in the main auditorium of the famous Seattle McCaw Hall.
Event Time:
2023 Microsoft Spring Festival Afternoon Event: 12:00pm - 5:00pm
2023 Microsoft Spring Festival Gala: 6:30pm - 9:00pm
Parking Information:
The garage with shortest wait is 5th Avenue North Garage, which is 5-minute-walk away from the venue. The garage closet to the venue is Mercer Street Garage, which is right across the street to the venue. There is some street parking/small parking lots around. It is highly recommended to arrive early to reduce difficulty, cost, and wait time in parking (driven by evening traffic and other events).
活动信息:
2023微软亚洲春晚将于西雅图著名艺术表演中心McCaw Hall举办,是疫情以来第一次回归线下的春晚活动。此次春晚活动将具备微软亚洲春晚历史以来独具一格的规模,质量,和高端的场地,旨在为西雅图华人群体提供一个舒适热闹欢度春节的平台。我们将尽全力为支持微软亚洲春晚的观众提供一场集娱乐,美事,节目观赏于一体的盛宴。2023微软亚洲春晚由下午场游园会和晚场春晚晚会组成。为了最棒的体验和划算的价格,强烈建议观众购买晚场表演送下午场游园会活动的套票。下午场游园会我们将会为您和您的家庭,朋友提供丰富无比的游园游戏,游戏奖品,穿传统服饰拍摄照片的春晚拍照角,不可或缺的春晚美食广场,和精彩的下午场表演!无论儿童和成人都可以尽情享受欢庆春节的热闹!游园会一直是微软亚洲春晚备受欢迎的环节。晚场春晚表演更是必不可错过的体验。春晚一直是中国人刻在骨子里的春节传统。我们精心筹备了一场属于西雅图华人的春晚,并准备了豪华的抽奖奖品!您将在华美的节目表演,和有趣的互动环节中,感受到春节氛围的高潮。
活动时间:
2023微软亚洲春晚游园会:12:00 pm - 5:00 pm
2023微软亚洲春晚晚场:6:30 pm - 9:00 pm (晚场座位购票指示图如下)
停车信息:
活动当天停车等待时间最短的停车场是5th Avenue North Garage,距离春晚场地5分钟步行距离 (5th avenue N with entrances on Republican Street and Harrison Street)。距离场地最近的停车场是Mercer Street Garage,和春晚场地相邻 (entrances on 4th Avenue N and 3rd Avenue N)。场馆附近还有小型露天停车场和street parking,请务必提前预留好时间停车。为了减少停车难度,停车费用和等待时间,建议尽早到达春晚会场,避开晚高峰和其他大型活动的车流。