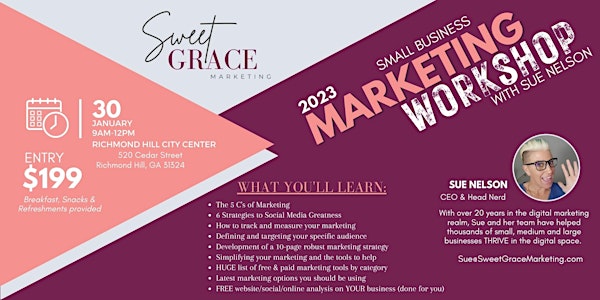 2023 Marketing Secrets for Small Business WORKSHOP!
This workshop is MADE for small businesses. 3 hrs FULL of incredible information, guidance, training and the 'HOW TO' for digital marketing!
When and where
Location
Richmond Hill City Center 520 Cedar Street Richmond Hill, GA 31324
About this event
WHAT YOU'LL LEARN:
The 5 C's of Marketing
6 Strategies to Social Media Greatness
How to track and measure your marketing
Defining and targeting your specific audience
FREE website/social/online analysis on YOUR business (done for you)
Development of a 10-page robust marketing strategy
Simplifying your marketing and the tools to help
HUGE list of free & paid marketing tools by category
Latest marketing options you should be using
...and soooo much more!
SCHEDULE:
Breakfast: 8:30am
Session 1: 8:45am - 9:30am
Session 2: 9:40am - 10:25am
Snacks/Refreshments/Break
Session 3: 10:35am - 11:20am
Q&A: 11:20am - 11:50am
THE WHY:
It's only a few hours
We are local
You'll have a personalized guidebook to help you organize your marketing at the end of the workshop PLUS a free FULL digital analysis on your business!
If you've ever heard Sue speak before, she breaks it down in everyday language (enough with the SEO, SEM, PPO, SMM, ROI, SOP, and LMNOPs right?!) with easy to understand terminology and will ensure everyone is on the same page.
You will meet other local business owners and managers who are in the same boat as you! Ready to learn and GROW.
Look at your business from a fresh perspective.
Get 1 on 1 guidance from professional marketers who do THIS for a living. We may not be able to replace a garage door, repair HVAC systems or know the best chemical to clean that floor - BUT, we do know marketing. :)
LET'S GROWWWW!
This event is casual and is meant to be conversational, come as you are, casual is perfectly fine and encouraged! Be comfy! Bring notebook, pen, computer, laptop, charger, or anything you think will help! There will be workbooks handed out for you to work through as we go through certain sessions. There will be a portal setup so you can access all of the materials shown and presented in the workshop as well, once the event has concluded. Bring your questions - we are happy to answer any questions you have!
**once you register, you will receive a separate invoice, due immediately, from Sweet Grace Marketing for your total due.