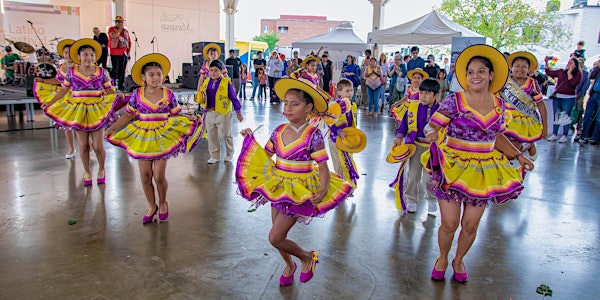 2023 Manassas Latino Festival
The Latino Festival highlights the culture, food, music, and arts of the Manassas and DC Metro area's Latin American communities.
Date and time
Saturday, September 30 · 11am - 6pm EDT
Location
Harris Pavilion 9201 Center St Manassas, VA 20110
About this event
The Manassas Latino Festival, a project of Abriendo Puertas, Inc., is an annual event which includes live music, dance performances, diverse foods and other fun activities for the entire family, all in celebration of the cultural heritage and contributions of the Latin American communities to our City, to Virginia and to our nation. The event is free and open to public.
The Manassas Latino Festival will be held on Saturday, September 30, 2023 at the Harris Pavilion in old town Manassas. The activities and entertainment start at 11:00 a.m. and end at 6:00 pm.
Visit us at http://ManassasLatinoFestival.com for more information about the event activities and entertainment, sponsors and participating vendors and exhibitors.
About the organizer
OUR MISSION
The mission of Abriendo Puertas is to empower the Latino community to integrate, thrive and fully participate in building a stronger, just, and inclusive society for all.
VISION
We envision Abriendo Puertas as a community-centered organization grounded in Latino culture which serves as a bridge between the Latino community, non-profits, and government agencies. We believe that social change is best achieved through collaboration, community empowerment and civic engagement.
GOALS
• Foment civic participation and community engagement.
• Increase access to services and opportunities.
• Protect and advance the rights of immigrants and the Latino community.
• Promote cultural awareness, enhancing the sense of community.
• Encourage Latino youth to achieve educational success.
• Ultimately, Abriendo Puertas' overall goal is that Latino families are decision-makers in the institutions and political systems that affect their lives. Abriendo Puertas serves as a vehicle to make that a reality.
NUESTRA MISIÓN
La misión de Abriendo Puertas es empoderar a la comunidad latina para que se integre, prospere y participe plenamente en la construcción de una sociedad más fuerte, justa e inclusiva para todos.
VISIÓN
Visualizamos a Abriendo Puertas como una organización, con enfoque en la comunidad y basada en la cultura latina, que sirve como un puente entre la comunidad latina, las organizaciones sin fines de lucro, y las agencias gubernamentales. Creemos que el cambio social se logra mejor a través de la colaboración, el empoderamiento de la comunidad y el compromiso cívico.
METAS
• Fomentar la participación cívica y acción social.
• Incrementar el acceso a servicios y oportunidades.
• Proteger y promover los derechos de los inmigrantes y de la comunidad latina.
• Promover la conciencia cultural, potenciando el sentido de comunidad.
• Alentar a los jóvenes latinos a lograr el éxito educativo.
• En última instancia, el objetivo general de Abriendo Puertas es que la comunidad latina sea partícipe directa en las instituciones y los sistemas políticos que afectan sus vidas. Abriendo Puertas sirve como vehículo para hacerlo realidad.