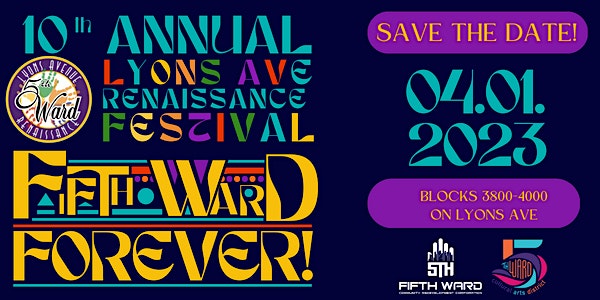 2023 Lyons Avenue Renaissance Festival
LARF 2023 is a FREE community event open to the public to experience art, live music, food, kid-friendly activities and more in 5th Ward!
Date and time
Saturday, April 1 · 12 - 5pm CDT
Location
Lyons Avenue 3800-4000 Lyons Ave Houston, TX 77020
About this event
Patrons!
The Lyons Avenue Renaissance Festival celebrates the history, art, culture, and current revitalization of Houston's historic 5th Ward. The event attracts thousands of residents and visitors every year and includes musical performances, food, vendors of all sorts, a helicopter egg drop, face painting, and other family-friendly activities for the public to indulge in.
As we approach its tenth running year, the festival remains FREE to the community and continues to celebrate its rich history while showcasing positive changes in the area and new developments that are taking place.
Come out to Lyons Avenue on April 1st and bring the whole family. There's something for everyone!
Vendors!
We are STILL taking on vendors for the Lyons Avenue Renaissance Festival on April 1st!
The festival celebrates the rich culture and history of Houston's 5th Ward community. This year, the 10th annual festival is happening Saturday, April 1, 2023, and applications are officially open for vendors of all kinds!
- Food & Drink 🍖🦞️-Clothing 👗👖-Shoes & Accessories 👡🕶-Art/Artisan Products 🖌🧵- Service Providers ‍🏦🏥- Nonprofits ☮️♻️
Vendors of all categories welcome! The earlier you apply to be a vendor, the better! We have 150 spots to fill, and if you apply and complete your payment before the end of February, there is $25 off of your vendor fee!
To register as a vendor NOW, click here!
Volunteers!
The countdown is on for the Lyons Avenue Renaissance Festival, and we need YOU and your helping hands! This year, the 10th annual festival is happening Saturday, April 1, 2023, and we are going bigger and better!
Register to be a volunteer for LARF2023 and help create an experience that everyone will love!
To learn more about the festival, visit www.lyonavenuefestival.com or the Facebook page linked above!
Frequently asked questions
Is this event free to attend?
How can I be a volunteer?
How can I sponsor this event?
Can I donate to the event?