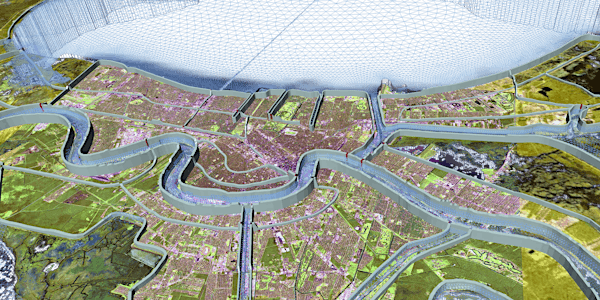 2023 Louisiana ADCIRC Boot Camp
ADCIRC training sponsored by the Tulane University Department of River-Coastal Science and Engineering, New Orleans, Louisiana, USA.
By Tulane RCSE Department and Seahorse Consulting
Date and time
June 5 · 9am - June 8 · 4pm CDT
Location
Tulane River and Coastal Center 1370 Port of New Orleans Place New Orleans, LA 70130
Refund Policy
Refunds up to 7 days before event
Eventbrite's fee is nonrefundable.
About this event
3 days 7 hours

Mobile eTicket
2023 Louisiana ADCIRC Boot Camp
We are excited to offer a 4 day intensive training event for ADCIRC, sponsored and hosted by the Tulane University Department of River-Coastal Science and Engineering and held at the Tulane River and Coastal Center in New Orleans, June 5-8, 2023. The registration deadline is 15 May 2023. If we reach capacity before the deadline, registration will close early.
The key offering for ADCIRC newcomers in this event is a single 3 day session (June 6-8) with two components: (a) Dr. Jason Fleming will teach ADCIRC 101: Fundamentals, and (b) Dr. Alan Zundel will teach ADCIRC 102: SMS for ADCIRC, which covers the graphical construction of input data sets and the visualization of ADCIRC output.
There will also be a special topic session on Monday June 5 on the production of real time coastal model guidance with the ADCIRC Surge Guidance System (ASGS). 
Event Sponsorships
Students participating in this event receive the training they need to contribute at a professional level in their academic program and after graduation. Sponsorships for this event are therefore targeted to support student participation to build a competent and competitive workforce.
For Potential Sponsors
We are proud to offer three levels of corporate sponsorship for this event to invest in workforce development: (a) visionary, (b) mentor, and (c) supporter. The benefits of each level includes complementary professional registration(s), logo placement on this registration site as well as in training materials, and the CVs and contact information of all the students sponsored to participate in this event. Becoming a sponsor is easy! Simply tap the Reserve a Spot button and select the corresponding sponsor registration type.
For Students Seeking Sponsorship
If you are a student willing to make the personal commitment to invest in your skills, but cannot afford to pay the full registration price, please scroll to the bottom of this page to the box labeled "About the Organizer" and tap "Contact". Then tap the "Contact the Organizer" button. Send us a message stating your interest in being sponsored.
In order to be considered, you must also email us your updated CV and give your written consent to have it forwarded to all sponsors. If you are selected, you will receive a special code that provides a 90% discount from the full registration cost (i.e., you will be able to register for only $125).
Our ability to fulfill student requests will be limited by the level of support we receive from corporate sponsors; we are hoping to have up to 8 sponsored students but cannot make any guarantees.
Main Session (June 6-8)
ADCIRC 101: Fundamentals
Led by Jason Fleming of Seahorse Coastal Consulting, this content covers the nitty gritty basics of ADCIRC input files, output files, and the detailed functioning of the code. It is helpful for complete newcomers who will make their own models, and is also valuable for ADCIRC analysts with some experience to learn how to go deeper into the meaning behind the each model parameter.  
Comprehensive coverage of ADCIRC's fort.15 (control) file, each parameter, line-by-line
Nodal attributes file (fort.13)
Output files, including hotstart files
Use of parametric vortex wind models for tropical cyclones
Discussion of boundaries and boundary conditions, including tidal B.C.sand levee B.C.s
Building the ADCIRC code
Output visualization and validation tools
Dr. Alan Zundel will teach ADCIRC 102: SMS for ADCIRC; the SMS software from Aquaveo is used to visually create and modify input files for ADCIRC and is widely used in the ADCIRC community for this purpose, as well as visualization of results. For these reasons, knowledge of the SMS software is practically required for new ADCIRC users. Please download the latest version (13.2) to prepare for this session. We will email you a trial license key. 
ADCIRC 102: SMS for ADCIRC
The modeling process within SMS (overview)
Background data (images, surveys/LIDAR/DEM)
Conceptual model (vector coastline databases, features, GIS)
Mesh generation for ADCIRC
Mesh editing
ADCIRC parameter specification including nodal attributes
Special Topic Session (Monday June 5)
ADCIRC 305: ADCIRC Surge Guidance System (ASGS)
The ADCIRC Surge Guidance System (ASGS) is an open source software automation system for ADCIRC and ADCIRC+SWAN for real time forecasting and decision support purposes. It automates the process of acquiring the latest meteorological forecast data (including the latest forecast/advisories from the National Hurricane Center in the case of tropical cyclones), setting up ADCIRC input files, submitting jobs on a cluster or other HPC platform, and post processing the results. Brett Estrade, the Software Architect for ASGS, will conduct a one day session to enable participants to learn about the ASGS and how to install and configure it. The goal of the session is for participants to have their own ADCIRC-based real time forecasting system up and running by the end of the day. 
Engaging Format
The presentation style will be a mix of lecture, demonstration, and interactive discussion: more like a college classroom than a set of conference presentations. The instructors will also specify hands-on work for those trainees that have a laptop with them.
Value
The few days that a new ADCIRC user invests in this training event could save weeks of project time spent in guesswork and trial-and-error. We also highlight time-saving tips and tricks that are not especially prominent in the documentation.
The registration fee includes light lunches and coffee breaks. Break times present great opportunities for professional networking as well as knowledge transfer and sharing of ideas among ADCIRC users at all levels of experience.
Testimonials
Some representative feedback from past attendees:
"I liked the format of the adcirc portion of going through each parameter. Thanks again, I think we all got a lot out of it."
"I thought the Boot Camp was awesome.  For researchers like me, it was extremely beneficial to get into the guts of the mechanisms behind the scenes of the fort files. ... [the] format was engaging."
Venue
The 2023 Louisiana ADCIRC Boot Camp will be held at the Tulane River and Coastal Center at the Port of New Orleans (1370 Port of New Orleans Place, New Orleans, LA 70130).
Space is limited and registrations will be accepted on a first come, first served basis. A waitlist will be initiated if/when all seats are filled. If registered participant cancels, one person on the waitlist will be notified and will have 24 hours to register before the seat is passed to the next name on the waitlist.
Computers will not be furnished, so participants are strongly encouraged to bring a laptop. WiFi is available throughout the facility using Tulane's guest network. 
Parking
For participants with cars, parking is available at the Center. There is also spillover parking in the Port of New Orleans facility, the cost of which is covered by the training registration price.
Access
The building is open from 8:00am to 5:00pm. There are no special restrictions or procedures for international participants.
Accommodations
There are three hotels near the meeting venue that are commonly used by visitors:
1201 Convention Center Blvd. New Orleans, Louisiana, 70130, USA
+1 504-566-9990
1001 S. Peters Street, New Orleans, Louisiana, 70130, USA
+1 504-525-0044
301 St. Joseph Street, New Orleans, Louisiana, USA, 70130, USA
+1 504-522-3100
There are no special room blocks or room rates available at these sites and there are many excellent hotels and AirBnb sites throughout the city of New Orleans.
Airport
The Louis Armstrong International Airport (MSY) (+1 504-303-7500) is approximately 15 miles (24km) away and is the most convenient way to fly in and out of New Orleans for this event.
Be There
We are looking forward to working with you this year at the 2023 Louisiana ADCIRC Boot Camp!
About the organizer
The Department of River-Coastal Science and Engineering (RCSE) is Tulane School of Science and Engineering's newest academic department. The interdisciplinary aspect of this new department's educational and research mission will draw heavily upon the deep expertise faculty and staff partners in other departments within the School of Science and Engineering and in Tulane's other schools and faculty working on water-related issues, as well as foster collaboration with local and regional government scientists.
Seahorse Coastal Consulting is a company focused on producing real time storm surge guidance for hurricane decision support; designing, delivering, and supporting operational forecast systems for academic and private sector applications; ADCIRC implementation including support, training, testing, and troubleshooting; validation of coastal physical oceanographic models; and software development for coastal modeling and data analysis projects.