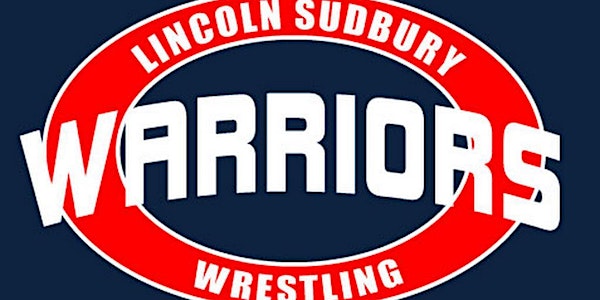 2023 Lincoln-Sudbury Youth Wrestling
Lincoln-Sudbury Youth Wrestling Winter 2022-23
When and where
Location
Lincoln-Sudbury Regional HS 390 Lincoln Road Sudbury, MA 01776
About this event
Lincoln-Sudbury Youth Wrestling
Winter 2022-23
ABOUT THE CLUB: Lincoln-Sudbury Youth Wrestling, founded in 2000, is a non-profit organization run by volunteer coaches. LSYW, part of Friends of Sudbury Wrestling, is affiliated with USA Wrestling and the Massachusetts Wrestling Association.
The primary goal of the program is to introduce students in Grades K-8 to amateur folkstyle wrestling in a competitive environment, foster a young wrestler's potential through their commitment to the sport and act as a feeder program for the LSRHS wrestling team. No prior experience is necessary and is open to all students.
The season generally runs from December through the end of February.
REGISTRATION FEES: Grades 3-8 - $225 or Grades K-2 - $100  
PRACTICES : Grade 3-8 practices are held Tuesday and Thursday nights 6:00-7:30 PM. Grades K-2 will practice Mondays 6:00-7:00PM at Lincoln-Sudbury Regional HS and will begin November 28.
SCRIMMAGES Wrestlers may participate in scrimmages with other local wrestling clubs throughout the season. These are essentially joint practices with live wrestling and no scoring and are scheduled several times throughout the season. Scrimmages are optional and appropriate for all wrestlers regardless of prior experience.
TOURNAMENTS and DUAL MEETS: The team will also participate in select Tournaments and Dual Meets throughout the season. Participation is encouraged but optional, and coaches will consult with parents and wrestlers to decide which events are appropriate. Tournaments are held on Saturdays or Sundays throughout the season.
For additional information, please contact: Joel Mode - Lincoln-Sudbury Youth Wrestling sudburyyouthwrestling@gmail.com or www.sudburywrestling.com