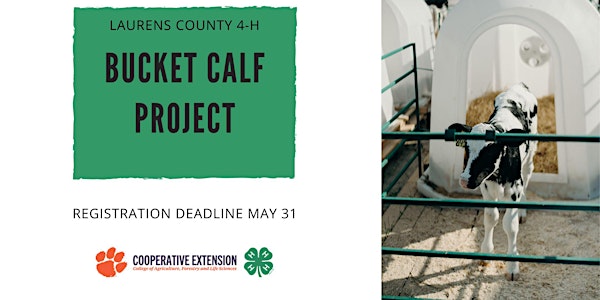 2023 Laurens County 4-H Bucket Calf Project
Project designed to introduce youth 5 to 18 years old to beef and dairy 4-­H projects.
Location
219 W Laurens St 219 West Laurens Street Laurens, SC 29360
Refund Policy
Contact the organizer to request a refund.
Eventbrite's fee is nonrefundable.
About this event
There are several reasons for raising calves without their mother. Occasionally, a cow dies giving birth or doesn't produce enough milk to support a growing calf. Some people buy calves to raise for beef and to use grass grown on a few acres. Some are bought to help control weeds. It also makes a great beginning 4-­H or FFA beef project.
Who: 4-H members age 5 to 18 years old as of January 1, 2023. Not a member? Go to v2.4honline.com to sign up today!
What: The 4­‐H Bucket Calf Project is designed to introduce youth 5 to 18 years old to beef and dairy 4-­H projects. By allowing youth the experience of working with a smaller, less intimidating size of animal, they become comfortable with beef and dairy cattle as they grow.
When: May - January
Registration and Rules:
Cost is $15 for current 4-H members and $30 for new 4-H members ($15 project registration plus $15 membership fee when you sign up on v2.4honline.com).
A bucket calf is an orphan or newborn calf purchased when they are 2 to 14 days old. Calves are started on a bottle (or bucket) and nipple.
Youth will be responsible for the care of their calf.
Calves must be beef or dairy steers.
Each participant is responsible for acquiring their own calf, however, if you need assistance in locating a project calf, please email akpetty@clemson.edu.
Record Books:
Record books are to be completed by youth throughout the course of the project and are to be submitted to the Laurens Extension Office no later than January 31, 2024.
Project Timeline:
May 31 - Registration deadline
August and September: Local livestock shows
January 31 - Record book submission deadline
Contact akpetty@clemson.edu for questions or more information!
Clemson University Cooperative Extension Service offers its programs to people of all ages, regardless of race, color, gender, religion, national origin, disability, political beliefs, sexual orientation, gender identity, marital or family status and is an equal opportunity employer.