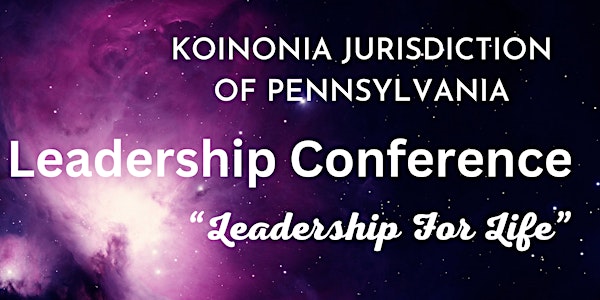 2023 Koinonia Leadership Conference "Leadership for Life"
Friday, January 27, 2023 (Pastors & Wives Workshops Only) Saturday, January 28, 2023 (General Attendees and (4) Workshops)
When and where
Location
Clarion Hotel and Conference Center 76 Industrial Highway Tinicum Township, PA 19029
About this event
REGISTRATION CLOSES ON FRIDAY 1/20/23 @ 11:59PM
Conference Registration Covers Two (2) Days
Day One: Friday Evening - Pastors & Wives Only Workshop
Day Two: Everyone - Package Includes Lunch and Workshops
Registration Fee: $35.00 Per Person
(To Pay via Credit/Debit Card, click more options to pay, you do not need a PayPal account)
(Includes Lunch and Workshops)
Registration Closes - 1/20/2023 @ 6:00 pm (No Extensions will be offered)
There will be NO REGISTRATION accepted after 1/20/2023......
TICKETS are available online ONLY, "EVERYONE MUST REGISTER"! The ticket can be printed or download to your mobile device.
Friday Evening: January 27, 2023 (6:00 pm - 9:00 pm)
Pastor & Pastor Wives Only....
Presenter: Apostle Gilbert Coleman, Presiding Bishop of Freedom Worldwide Covenant Ministries, shares his insights and wisdom regarding pastoral leadership that is designed to empower, inspire and equip leaders for the effective work of the kingdom
5:30 pm - Welcome & Registration
Saturday: January 28, 2023 (9:00 am - 3:30 pm)
Keynote Speaker: Dr. Damone Jones, Senior Pastor of Bibleway Baptist Church.
8:30 am Registration
Workshop Selection.....
Generational Connection I - Younger Saints Working with Older Saints | Presenter: Supt. Jerome Barmore shares the secret in working with older saints to accelerate ministry in today's church.
Generational Connection II - Older Saints Working with Younger Saints | Presenter: Lady Rose Joseph-Lewis teaches on the critical need for older saints to enrich the church's foundation by coaching, training and accelerating the ministry of youth, young adult and the 'not-so-senior' generations.
Levites Ministers of music, praise and worship ministers and musicians | Presenter: Pastor Troy Chambers, New Testament Church of Christ shares on the power of the music ministry and its ability to accelerate and advance the work of the Spirit in the ministry. Enable your music ministry to explode with power.
Family Values - Pastor and First Lady Butler shares on conquering family and life challenges through faith and the application of God's word. May your family and households be established exceedingly as you learn from these teachings.
-----------------------------------------------------------------------------------------------------
General Session: Hours: 9 - 9:30 am
Session One: Hours: 9:45 - 11:30 am
Session Two: Hours: 11:45 am - 1:00 pm
Luncheon: Hours: 1:15 pm - 2:45 pm
Closing Session: Hours: 3:00 pm - 3:30 pm
Contact Persons:
Supt. Robert Harrison - 267-688-7554 Supt. Jerome Barmore - 215-407-6556
Supt. Lawrence Matthews - 267-625-5429 Pastor Jeffrey Gaskins - 215-554-5350