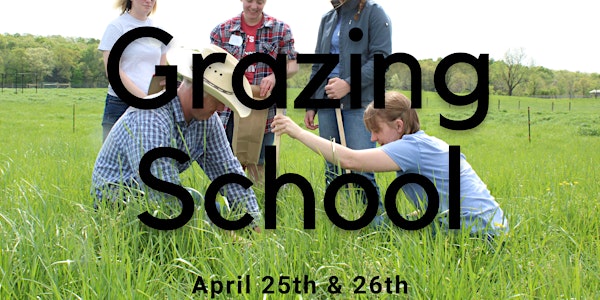 2023 Kentucky Beginning Grazing School
Helping livestock producers improve profitability with classroom and hands-on learning.
By Kentucky Forage and Grassland Council
Location
Kentucky Soybean Board 1099 U.S. 62 Princeton, KY 42445
Refund Policy
Contact the organizer to request a refund.
Eventbrite's fee is nonrefundable.
About this event
1 day 10 hours

Mobile eTicket
Tuesday, April 25, 2023
7:30 Registration and refreshments
8:00 Introduction of staff and participants
8:15 Benefits of Rotational Grazing-Dr. Ray Smith, UK
8:35 Meeting Nutritional Needs on Pasture-Dr. Donna Amaral-Phillips, UK
9:05 Grazing Math Concepts/ Introduce Field Exercise-Jeff Lehmkuhler, UK
9:45 Break & Travel to Field Demonstration Area
10:10 Fencing Types and Cost for Rotational Stocking-Morgan Hayes, UK
10:30 Portable/Seasonal Water Systems-Dr. Jeff Lehmkuhler, UK
10:50 Methods to Assess Pasture Production and Determine Stocking Rate-Dr. Ray Smith, UK
11:15 Hands-on Setting up Small Paddocks for Grazing Demonstrations-All Instructors
12:30 Lunch at farm
1:00 Using Electric Fencing to Control Grazing-Jeremy McGill, Gallagher
1:45 Hands on: offsets, soil and hay sampling
3:00 Travel to teaching facility
3:30 Hands-on: Forage Plant Growth and Grazing Management-Dr. Ray Smith, UK
4:15 Forage Species for a Comprehensive Grazing System-Dr. Chris Teutsch, UK
5:00 Discussion and adjourn
Wednesday, April 26, 2023
7:30 Refreshments
8:00 Grazing Myths that Reduce Profitability-Dr. Greg Halich, UK
8:40 General Management Considerations for Grazing Livestock-Dr. Donna Amaral-Phillips UK
9:20 NRCS GRAZE Model-Jimmy Henning, UK
10:00 Break
10:30 Fundamentals of Laying out a Grazing System-Dr. Jeff Lehmkuhler, UK
11:00 Case Study: Grazing System Design (Class Exercise)-Adam Jones, NRCS
12:00 Lunch
1:00 How I made grazing work on the farm- Producer Speaker-TBD
1:30 Rejuvenating Run-down Pastures-Dr. Chris Teutsch UK
2:00 Fencing Types and Costs - Dr. Morgan Hayes, UK
2:45 Complete Grazing School Evaluation
3:00 Travel to Field Demo Area
3:15 Field Exercise: Observe grazed paddocks and hear reports from each group
4:00 Hands on
GPS for grazing operations
Grain Drill Calibration and Setup
Forage related disorders
5:00 Final comments and adjourn
About the organizer
KFGC Mission Statement - To promote the use of forages as profitable, economical and environmentally sound agriculture through education, communication and professional development of producers, scientists, educators and commercial representatives and by/through communication with policy makers and consumers in Kentucky.