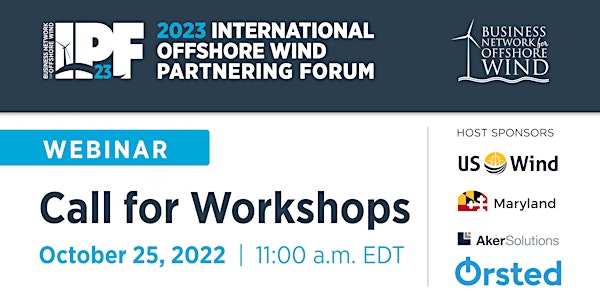 2023 IPF Call for Workshops Webinar
Learn about the workshop submission process and workshop areas of interest for 2023 IPF.
About this event
2023 IPF Call for Workshops Webinar
Join the Business Network on Tuesday, October 25, at 11:00 a.m. EDT for a 30-minute informational webinar about the 2023 IPF workshop submission process. This webinar is free and open to everyone. Network staff will present an overview of the submission process, highlight workshop areas of interest, and answer your questions. If you have been considering submitting a proposal, make sure you attend this informational webinar to learn about the submission process. Workshop proposals are due November 1.
About 2023 IPF:
Hosted by the Business Network for Offshore Wind, the International Offshore Wind Partnering Forum (IPF) is the premier offshore wind conference in North America. Featuring 3,000+ attendees and 250+ speakers, industry experts from around the world converge to share best business practices, the most advanced technical and scientific findings, and policy updates impacting offshore wind.
2023 is expected to be another year of exponential growth for offshore wind renewable energy. Do you have a solution to a current offshore wind energy industry challenge? Now is your opportunity to create a session and assemble experts for an IPF workshop. Visibility at IPF provides an opportunity to build your professional network, gain recognition as a market thought leader, and engage with your peers.
Upcoming Network Events
Ongoing: Education & Training Programs
November 9-10: OSW Grid & Transmission Summit
Charleston, South Carolina
November 17: Ventus Gala
January 19-20: OSW O&M/ Health & Safety Summit