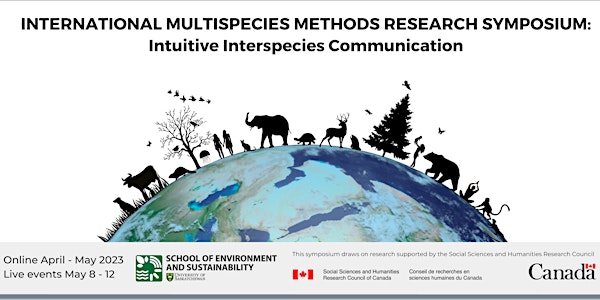 2023 International Multispecies Methods Research Symposium
Have you ever wondered what an animal was trying to tell you?
By University of Saskatchewan School of Environment and Sustainability
About this event
4 days 7 hours

Mobile eTicket
If you would like to participate in the Symposium but the fee is a barrier to participation, or if you are negatively impacted by exchange rates, please get in touch with us at multispecies.symposium@usask.ca.
Live online sessions take place from May 8th-12th, 2023 (see tentative schedule). Although it would be ideal if participants could attend all the live events during the symposium, we know that this may be challenging, especially for individuals joining from various parts of the world, and with work and other commitments.
Please note that many of the live sessions will be recorded and available for registrants to view afterwards. You can also take advantage of the online symposium platform with chat and meeting room features to engage with other attendees and to view the submissions (papers, presentations and artwork) from April 8th, 2023 – March 30, 2024.
ABOUT THE SYMPOSIUM
Following on the success of last year's symposium, we invite you to join us for five days of knowledge sharing, idea generation and community building with scholars, Indigenous Knowledge Keepers, animal care providers and practitioners of intuitive interspecies communication (IIC): the exchange of information between humans and other animals without the need for external physical cues normally associated with communication.
As this practice is a relatively new area of dedicated academic study, symposium organizers want attendees to know that this forum will neither prove nor disprove that interspecies communication is occurring. Rather, this is an opportunity for interested individuals, practitioners and academics to engage in thoughtful and productive dialogue about IIC.
Please Note:
For simplicity of language, we use the word 'animal' to represent animals who are other-than-human.
A primary focus of this symposium is on practices of professional animal communicators. Throughout, we recognize and honour Indigenous and other approaches to interspecies relations and communication.
Please view our current working definition of intuitive interspecies communication (IIC).
WHO IS THIS FOR?
This event will be of interest to those who are seeking to more deeply understand interspecies communication, including researchers, animal care practitioners and caretakers, animal and interspecies communicators, conservation practitioners, artists, educators and more.
LAND ACKNOWLEDGMENT
This event is hosted virtually at the University of Saskatchewan, which is located on Treaty 6 territory and the Homeland of the Métis. We pay our respect to the First Nations and Métis ancestors of this place and reaffirm our relationship with one another. We also thank the many plants, animals and other beings of the land, water and sky, for their support of this work.
AIMS
Scholarly exploration and deeper understanding of intuitive interspecies communication (IIC);
Catalyze novel partnerships and grow an international network of IIC research;
Develop new research questions, directions, teams, discussion groups across diverse areas of inquiry and disciplines.
PROGRAM HIGHLIGHTS
Keynotes by researchers, thought leaders and practitioners, including Anna Breytenbach
Pre-viewing research and practitioner perspectives on the practice of IIC
Panel presentations on highly relevant topics of interest
Sample interspecies consultation with a professional animal communicator
Contributions from Indigenous Knowledge Keepers
Small group dialogues based on participant interest (e.g. ethics; wildlife, working with veterinarians, animal shelters; intercultural implications; research design, etc.)
Networking opportunities with scholars, animal communicators, and animal care providers
* If you would like to make a submission, please visit the Symposium website for details.
IMPORTANT DATES
Symposium portal opens for pre-viewing and dialogue: April 8th
Registration closes: May 5th
Live events: May 8th - 12th
Many of the symposium events will be recorded and available for playback
For most up-to-date program information, including keynote speakers and other presenters, see the event website here.
PRICING - CANADIAN DOLLARS
$75 early bird price (until February 15th)
$110 regular price
$35 for full-time student/unwaged
If you would like to participate in the Symposium but the fee is a barrier to participation, or if you are negatively impacted by exchange rates, please get in touch with us at multispecies.symposium@usask.ca.
DONATIONS
If you wish to donate to IIC research, click here. Donations to the Intuitive Interspecies Communication (IIC) Research Fund will be used to support the development of partnerships, research projects and knowledge sharing related to IIC.
A NOTE ON INFORMATION REQUESTED FOR REGISTRATION
To support networking, the information you provide in the registration process will be imported into your Symposium attendee profile for other attendees to see. You may edit this at any time once the platform opens on April 8th. If you would prefer that your information not be made visible to other attendees and used only for registration purposes and demographic totals (e.g. total numbers of researchers and areas of specialization), you will have an opportunity to select this option at the end of the registration form.
REFUND POLICY
If, in special circumstances, you need a refund, please contact us at multispecies.symposium@usask.ca.
NOTE:
We will be using Zoom and a third party platform (PheedLoop) to host this event.