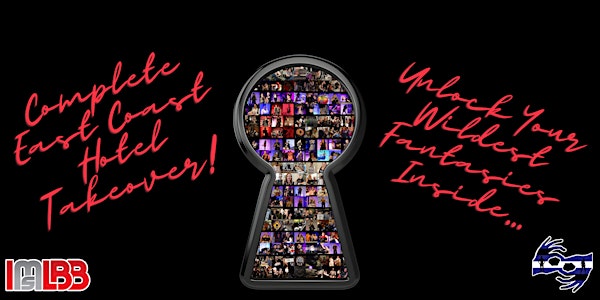 2023 International Ms Leather & International Ms B
IMsLBB invites you to our first event since 2019! Join us online or in person in Piscataway, NJ for a complete hotel takeover!!!
When and where
Location
Holiday Inn Piscataway - Somerset, an IHG Hotel 21 Kingsbridge Road Piscataway, NJ 08854
Refund Policy
Refunds up to 7 days before event
Eventbrite's fee is nonrefundable.
About this event
3 days 6 hours

Mobile eTicket
INTERNATIONAL MS LEATHER & INTERNATIONAL MS BOOTBLACK IS BACK AND BETTER THAN EVER IN A COMPLETE HOTEL TAKEOVER ON THE EAST COAST!
****PLEASE READ THROUGH TO THE END FOR IMPORTANT INFORMATION****
IMsLBB will be holding a HYBRID event in 2023 from April 20th to 23rd and our CONTEST is BACK!!! We can't wait to find out who will be our International Ms Leather 35 and International Ms Bootblack 23!!!
We are giddy with excitement to welcome you into an IMsLBB wonderland of fun, frolic and downright dirty play!! To this end we have secured an ENTIRE hotel in Piscataway, New Jersey, USA to make our own!
What does this mean? We're so glad you asked!
It means that once the hotel shuts down from the outside world at noon on Thursday, you can be free to fly your freak flag high anywhere within the walls of the establishment. Wanna do a yellow hanky scene by the gazebo? Have at it!! Feel like letting your mermaid out in the pool? We can't wait to meet them!! And we aren't only talking about indoors, either! This hotel is built around a courtyard that will be all ours and prepped for play day and night! That means bring on the fire play, long whips and sploshing folks!
While the hotel takeover is exciting, we also know that not everyone is able or ready to attend this in person event. Fear not, this event will be a hybrid in person and virtual event. Join us globally for scintillating and educational kinky camaraderie right from the comfort of your favourite chill spot. Classes and all main stage events will be streamed live, and all non interactive content will be available to watch around the clock. This goes for in person attendees as well, as your ticket will also unlock the event streaming pages on the www.imslbb.org website. Remember to set up your free profile today, no matter how you plan on attending, to stay up to date! We are currently working on a couple tutorial videos, but in the meantime, wanna get a hottie from our tech team to walk you through it? Shoot us an email at gen5@imslbb.org.
Once you have a profile, decorate it! Chat up that cutie and join some of your Community Groups. Here is where, as the announcements are made, you will learn all about the educators (and download any course content that you will need for their classes), special events, parties and all the fun stuff we have in store!! This is also a great place to hit up that hottie you've been wanting to play with via private chat! We will also set up a station onsite for folks to pop in and say hello to our virtual attendees!
We cannot wait to see you all in April! Until then, here are a few notes to help you prepare for the weekend:
In Person Attendees:
Going forward all attendees will be asked to volunteer 2 hours of their time over the course of the event. This is a necessary move to enable us to offer more accessible ticket prices and volunteer packages. We thank you, in advance, for your service to your Community. We will do our very best to place you in one of your preferred volunteer spots (chosen during ticket purchase) but unfortunately we cannot make any guarantees. If you would prefer not to volunteer, please choose a ticket option that includes "Opt Out of Volunteering"in the title to purchase the exemption add-on with your ticket. If you are worried that you might not be able to volunteer, you will find an option in the "Volunteer First Choice", "Volunteer Second Choice" and "Volunteer Third Choice" drop down menus that will allow you to set up a meeting with our Accessibility team to discuss accommodations. The "Human Non-Human" option for volunteer choice includes activities that range from scheduled shifts as a human ashtray in the cigar lounge to nude/semi-nude human easel for the art show to accessibility pony or emotional support human. Should you choose this option, you will be contacted to discuss and negotiate.
Currently we only have the hotel shut down from the world from Thursday at noon to Sunday at noon. If we sell out the hotel for Sunday night as well, we would get to keep the total shut down until Monday at noon, just sayin'... The hotel will open for booking on December 15th. We are prioritizing the rooms that face in towards our private play courtyard for people who are willing to be a little exhibitionist for the crowd and offer some play in their windows. If this is you, message gen5@imslbb.org to discuss.
April in New Jersey tends to be a little bit colder than San Jose, so breakout your fave leathers and be ready to strut your stuff in the outdoor play space and cigar lounge. The pool, however, is indoor, heated and play ready!
Your Basic Registration Package includes access to the virtual event. You do not need to purchase both to access the vitrual only content. Likewise, your Basic Registration includes all onsite event over IMsLBB weekend.
Virtual Attendees:
While some of the format for the weekend will change from your previous digital IMsLBB experience, most of the event will proceed exactly as it did the last two years. The main difference will be that we will have a contest this year and are bringing in some new virtual kink education programming from around the world. If you are not US based and would like to present virtually during the event, keep an eye on the "IMsLBB News" group at www.imslbb.org for the presenter call and choose "International Virtual" in the jotform when you submit your application to teach.
All Attendees:
Your www.imslbb.org profile is open to you all year round, but the event "CHANNEL" pages won't open up until April 20th 2023. Your completed registration will grant you access as soon as the pages open, so help out our tech team by setting up your profile and registering early. Also, make use of the "General News" group to keep folks informed about the events you are having in your local communities or virtually!
See you in April!!
Scholarship Applications are available at: https://form.jotform.com/223285579784170
International Ms Leather & International Ms Bootblack 2023 Covid Policy
The safety and wellbeing of our attendees, volunteers and community members is of utmost concern to everyone at IMsLBB. The purpose of these guidelines is to help prevent COVID-19 transmission during IMsLBB. Taking guidance from the CDC, Rutgers University, internal accessibility channels, community polling and the Township of Piscataway Health Department, IMsLBB is requiring all participants in our in-person events to provide proof of vaccination or proof of a negative PCR test for COVID-19 taken within 72 hours of the event. You will be asked to show this proof when you arrive at the event. Full refunds will be given if an attendee provides proof of a positive PCR test for Covid-19.
We will have hand sanitizer stations readily available at safer sex stations and around the event. We encourage you to bring your own if you need a specific kind. Masks will be available onsite.
After heavy deliberation we have decided to ***ASK*** attendees to wear face coverings, when possible, in indoor common areas such as classrooms, hallways, elevators, the lobby, vending, registration etc. We understand that masks may not be wearable during play in the indoor dungeon and while play stations will be separated by 6 ft, we ask that everyone assume that the indoor dungeon space will likely have unmasked people in it. Please practice strong personal accountability and responsibility. Don't forget that outdoor dungeon will be available for you and if you feel uncomfortable during a class or live stage event, you can stream it from your room on the www.imslbb.org website as your in person ticket will activate all of the digital access as well.
We will not penalize attendees who choose not to mask. We are simply asking for your support in keeping our community as safe as possible. As an added incentive, we will have random prize giveaways throughout the weekend to bestow upon a mask wearing human! Please respect the decisions of each attendee and practice strong personal responsibility and accountability.
During this event, attendees release all liability from Balance Studio LLC, CloudWing LLC and IMsLBB LLC.
****FLASH SALE PRICING IS ACTIVE UNTIL MIDNIGHT ON WEDNESDAY****