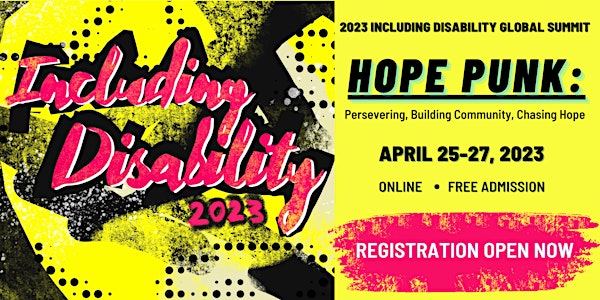 2023 Including Disability Global Summit
HopePunk: Persevering, Building Community, Chasing Hope
About this event
2 days 3 hours

Mobile eTicket
HopePunk: Persevering, Building Community, Chasing Hope
April 25-27, 2023
The theme for the 2023 Summit is a call for agitation:
What can we do now so that the future is far better than the present for disabled people?
The Summit features keynote presentations by Liz Jackson, an advocate and founding member of The Disabled List, and D'Arcee Charington Neal, a disability scholar coining the theory of Afrophantam or, the rhetorical applications of invisibility through Afrofuturism and black disability culture.
The Summit will also feature a screening of the award-winning film, "Dani's Twins", a documentary providing a rare, intimate look into the topics of disability, pregnancy and adaptive parenthood. Following the screening will be a panel discussion featuring the subject of the film, Dani Izzie, and other disabled parenting activists.
QUESTIONS: Contact the Including Disability Organizing Committee
Follow us on Twitter: https://twitter.com/InclDisability
#IDGS #IncludingDisability #2023DisabilitySummit #HopePunk
Main Event Image Description: decorative image stating Including Disability Global Summit, HopePunk, April 25-27, online and free admission, and registration open now. Words placed in yellow, pink, and black abstract artwork.