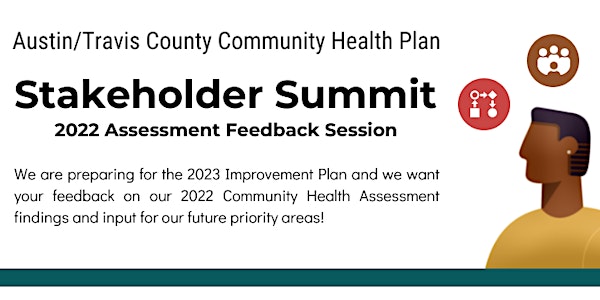 2023 Improvement Plan - Development Stakeholder Summit
We are launching our Development Phase and we want your feedback on our 2022 Assessment for our upcoming 2023 Improvement Plan.
About this event
We are planning a Stakeholder Summit for Thursday, August 25th, 9am-12pm (duration may change). We completed our 2022 Community Health Assessment in April and we are now looking to share the findings with you all and gather your feedback for our prioritization process. This input wil be provided to our Steering Committee Members during their September meeting to inform their discussion on the development of the 2023 Community Health Improvement Plan; this plan will guide our work for the next six years so your input is extremely important, and I hope you're able to join us!
For those unable to join the event the day of, we will develop a survey to gather your feedback but please feel free to contact us if you would like to schedule a special session or if there is any other opportunity to gather your feedback on our findings and your input on what our collective focus needs to be for the next six years as a community of providers.
The Austin/Travis County Community Health Plan is a collaborative planning initiative. Community members, partners, and stakeholders come together to address health issues where we live, learn, work, and play. To learn more visit: www.austintexas.gov/communityhealthplan