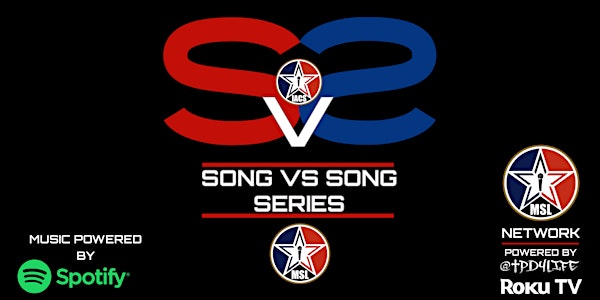 2023 IACS SONG vs SONG SERIES (GAME 1)
A virtual league where indie recording artists' songs compete head-to-head for cash prizes, ranking, and a national championship.
About this event
36 days 14 hours

Mobile eTicket
PLEASE READ CAREFULLY AND THOROUGHLY
WHY IS THERE A SUBMISSION FEE? Music-Sports League (MSL) is the national governing body for Music-Performance Sports (MPS) , and is a 501(c)(3) nonprofit organization. To continue funding the MPS program to make it much more beneficial and effective for independent artists, we rely on donations, grants, and fees.
Submission fees are tax deductible. EIN: 86-1869202
_________________________________________________
INDEPENDENT ARTISTS, it's a no-brainer to be apart this. Here's why:
Gain massive national exposure to your songs as we'll drive thousands of listeners to vote on our website.
Organically increasing your Spotify streams.
Organically increasing your overall social media subscribers and followers.
Win up to $1000 dollars if you win a game, plus playoff berth.
Finish in the top 4 of the playoffs to earn an all-expense paid trip to Newport News, VA to compete in the SVS SUPER MIC.
Win the SvS SUPER MIC to win $5,000, SvS Championship Belt, and #1 national ranking
______________________________________________________
HOW DOES IT WORKS:
NOTE: All games leading up to the SvS SUPER MIC are virtual (ON OUR WEBSITE). The SUPER MIC will be a live and in-person game. Players participating in the SUPER MIC will need to travel to Newport News, VA. Any players not within driving distance (living within 3 hours), will be provided travel courtesy of MSL.
DRAFT: Prior to each game, we will do a draft to select the 16 songs that'll compete in the upcoming game. If you're not drafted and want draft consideration for any other upcoming regular season games, you will have to go through this process, again, but using a different song.
REGULAR SEASON: The regular season includes 2 games per month from January - June. Each game is virtual which means matches will be listed on our website. Matches are won based on points scored by our judges. However, the public will be able to listen to the songs and vote. In the event of a tie, votes will be factored in as the tie-breaker.
PLAYOFFS: In the playoffs, in July, the 10 winners will face off under another virtual game. Players that reach the semi-final clinch a SUPER MIC berth.
SvS SUPER MIC (championship game): Top 4 players will compete head-to-head live in a boxing ring to determine the SvS champion.
REWARDS: Each game's winner receives up to $1,000 dollars and a playoff berth. The SvS SUPER MIC champion receives the SvS championship belt, $5,000 dollars, and the #1 national ranking.
PAYOUT SCALE: Each game's winner is paid based on the number of submissions received for that particular game.
$250 - 50 submissions received
$500 - 100 submissions received
$750 - 150 submissions received
$1000 - 200 submissions received
RANKING: Within 2 weeks after the completion of the SUPER MIC, MSL will conduct its SvS national Ranking. Ranking will be determined by results from the playoff game and will be in accordance to where each player finished in the game.
DRAFT SUBMISSION DEADLINE: Dec 23rd, or if 100 submissions are reached. Whichever comes first.
HOW TO ENTER THE DRAFT: To enter, click the "Get Tickets" button. There's a $50 submission fee payable at the time of registration. Complete the form. An IACS A&R will reach out to your via email regarding the next steps.
SUBMISSIONS RULES: If submissions do not comply with the rules listed below will result in submissions being disqualified. Submission fees will not be refunded.
SONGS MUST BE LISTED ON SPOTIFY: All songs that compete in the SvS must be listed on Spotify, in the registration form you will be asked to provide one (1) song link. The song must be radio-edited or will be disqualified from draft consideration (submissions fees are not refundable).
Submission must consist of one (1) original Spotify-listed song
Song must be radio-edited
Must be a U.S. resident
May not be signed to a major label or imprint of a major label
Must be at least 18 years old
If drafted, players will be required to sign an MSL Player Agreement
GAME ONE DRAFT: Dec 27th - 30th
GAME ONE COMPETITION DATES: Jan 9th -15th, 2023
1st Round, Jan 9th
Quarter-Finals, Jan 11th
Semi-Finals, Jan 13th
Final, Jan 15th
——————-————————-————
FOR ANY ADDITIONAL QUESTIONS, EMAIL US: info@musicisoursport.com
GOOD LUCK!
MSL/IACS Competition Committee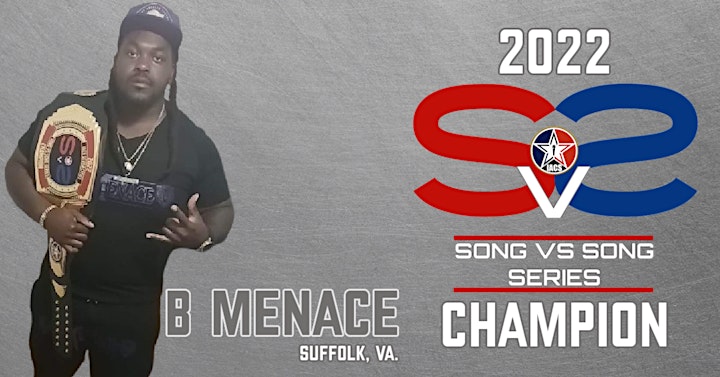 B MENACE, Suffolk, VA., won game 2 to clinch the 2nd playoff seed. On Oct 29th, he captured the 7-Cities SvS title by defeating WASHKO, Hampton, VA.