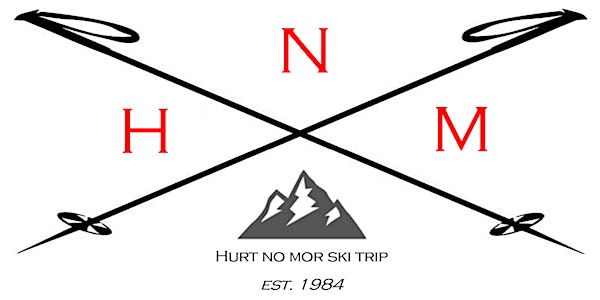 2023 Hurt No Mor Ski Trip - 35th Annual
Please join us in Park City for 35th Annual Hurt No Mor Mortgage Bankers Ski Trip. March 8-12 of 2023
When and where
Location
Sheraton Park City 1895 Sidewinder Drive Park City, UT 84060
About this event
4 days 3 hours

Mobile eTicket
35th COVID DELAYED BUT STILL ANNUAL HURT NO MOR SKI TRIP
March 8th – 12th, 2023. Park City, Utah.
TO: All Powder Hounds and Powder Puffs
FROM: The Three Santas - Dave, Nolan & Jeff (ski guy emeritus)
FEEL FREE TO FORWARD / FAX / TEXT / TWEET OR SIMPLY HAND THIS TO ANYONE YOU THINK HAS NOT RECEIVED THE INFO – THANKS!
We have a limited number of rooms still available in the discounted room block. Please email Dave or Nolan for the Marriott link. Room block closes Tuesday January 31st.
Ho! Ho! Ho! WOW! Has it been 3 loooong years? Covid sure took a bite out of life and in many cases, much that we hold dear. But, like a serious face plant at the bottom of the Park City run out, we dust off the flakes, stroke our buns, maybe take a nip of Fireball, and get back on the horse for the next adventure. In Hurt No Mor parlance, that means, "WE ARE BACK, BABY!!" Mother Nature has received our emails and is doing her thing with snow blasts throughout Ski Country; currently Alta – nearly 6' Base and 12" New; Deer Valley - 4' Base and 13" New; Park City – over 4' Base and 10" New. I am sure there's another nina or nino that has crossed the borders of the Southwest to marinade the Rockies and the Uinta's for the rest of the season.
We're getting ready, are you? Note to self should read – 1) Block the March dates now & Pay Dave or Nolan; 2) Tune Skis; 3) Make Hotel and Flight Reservations; 3) If not paid already, Pay Dave or Nolan; 4) Tune Body; 5) Reminder – Hotel, Flight & Dave or Nolan; 6) Start Counting the Days – 92 as of today and yes, 6) Start your wall sits and squats in your walk-in freezer.
For those of you who made it to the MBA in Nashville, how cool was that? Kid Rock's Bar – all 1,500 of you!! Yes, that was the estimate from the management and owners. They want to know when we are coming back; said that Tuesday night was one of their largest takes ever. A different band on each of the 5 floors and we didn't need to press the stars of Instagram's 'Rigs of Dad' MIKE DUBECK AND THE DUBIES into service for the night
The trip is 3 months away and it's time to secure your spot(s). Not January; not February, now would be the right time. It's time to connect with Dave & Nolan to secure your place on the trip. Why, you can even call Jeff if you like. Just don't pronounce the last name 'More-On' in a voice mail. We will sell out. Book NOW and don't be left out.
ON TO MARCH
One thing for sure – you won't be conflicted with the MBA Servicing Conference (Feb 21-24), the SFIG -ABS Conference in Vegas (Feb 26-Mar1), or the MBA Midwinter in the 'Other Vail' (Mar 5–8). We also cross-referenced Mall Santa training for 2023 in Late April, the Ernest Hemmingway Look Alike Conference in Key West in Late May (Dave, Pishalski and all other beard wannabe's); nor any Spring Breaks for the masses (sounding like April). Yeah – no excuses! IKON (Alta, Snowbird, Deer Valley) and EPIC (Park City, Canyons, Beaver Creek, Vail) passes get those double dippers (Nolando) access to the best of both worlds.
Wednesday night's Welcome Back Opener will return to the No Name Bar on Main Street. Our Annual Thursday Night Margarita Party will kick things into high gear, and as always in the Hotel Atrium conveniently adjacent to the pool, hot tub and shot ski. Meetings each morning are during breakfast and all about hooking up to chase the best powder and arranging carpool rides with your colleagues to talk about the many loans we can't originate at 7 + %. You can wear your business attire during the MBA Conference in Vail, we simply require that you only wear something other than that worn the night before.
WHAT'S DIFFERENT THIS YEAR?
Put simply – YOU are booking your own room and paying the hotel directly. YOU are responsible for all charges, fees, cancelations, etc. We are working with hotel on getting a link set up. Check back here.
The hotel's room rate is $309.00 plus a $30 destination fee and tax per night. The cut-off date to receive the discounted room rate is February 1, 2023. There is a 30-day cancellation policy. Reservations cancelled after 30 days will be charged (1) night's room and tax. Reservations that are no-showed will be charged (1) night's room and tax. There is a $309.00 early departure fee for guests who check out early.
Independent of the hotel, we will have a small fee ($350), which goes into the pot for the extracurriculars, parties, ski race, receptions, and dubious awards and prizes. Call it the "Only Hurts a little to No Mor" Conference fee to be sent or Venmo'd to Dave or Nolan . More on that as you read on.
One of the parting gifts from Covid was a much more mercenary contracting approach to non-corporate citizenry like Dave & Nolan, particularly when it comes to large contracts with hoteliers. Such is the case with Marriott. No longer are we able to manage the ebbs and flows of our brethren in the mortgage biz when schedules change and one has to leave early or perhaps cancel altogether. Additionally, many of you have asked about the option to fly solo or even stay off campus, let alone you already have an investment property in say Summit County, UT and prefer to stay there. All of that is on the table, today. What we have learned through all of this is somethings are best left with each of you to book on your own. We have a smaller room block that will be exhausted quickly and it is in the Sheraton. We will set it up for you to take advantage of that block, but with your direct reservations and usage of your credit card, not unlike every time you book on your own. For those of you seeding a roommate to cut things in half, we can help with some of those pairings, but you will both need to supply your cards to secure the reservation(s).
TIME TO GET YOUR GEAR IN GEAR!!!
SHOULD you send money…? YES! do it now! Please! Send Dave or Nolan $350 dead presidents to guarantee your spot. We take cash, checks, credit cards, money gram, VENMO, Zelle, singing telegrams, you name it.
YES – you get an expense receipt. YES – You get free booze + consolation prizes and if you act within the next 10 minutes…. you get a double offer for 2 free hangovers! But wait… there is more! Please remit payment to either Dave Hurt or Nolan Turner ASAP.
SPONSORS
Want to get your name out? Have some swag to give away? Feeling generous? Help us pay for the open bar, ski race, margarita night or something special. We need ya! Sponsorships start @ $500. Your fellow ski trippers will appreciate you! Please reach out to Dave Hurt or Nolan Turner for more information.
IMPORTANT STUFF - LOGISTICS
Airport: Closest Airport is Salt Lake City (SLC)
Airlines: Alaska, American, Delta, Jet Blue, Southwest, United
Mileage: It is 40 miles (45 minutes) from Airport to Hotel
Transportation: Rental Cars $250-350 per week. Uber / Airport Shuttle $100-150
Hotel Address: Park City Sheraton. 1895 Sidewinder Dr, Park City, UT 84060-7220
Other Hotels (sans room blocks) include Marriott, Hyatt, Hilton and boutique properties. Quality, price, and location vary. Contact Dave or Nolo for more information.
Of note, the Sheraton has some of the better rates and we know both the owners and the management. Some of the other options such as the St Regis, Montage, Deer Valley, can be better suited to an Interest Rate environment in the mid 3's and MBS prices in the 106+ range…
We have a limited number of rooms still available in the discounted room block. Please email Dave or Nolan for the Marriott link. Room block closes Tuesday January 31st.
DATES & COSTS (Per Person)
This year – with our 'currently' modest room block, the base rate is $309 plus taxes and the mandatory resort fee of $30 per night per room. Note that you will be solely responsible to the Sheraton for arrival times, departure times and particularly early departure times. Obviously, with a roomie, you can do the math, this amount is minimized. If we fill the room block quickly, we will ask for MORE rooms and let everyone know asap. Needless to say, to be eligible for the room block you MUST be part of the group and have remitted your $350 to Dave or Nolan. We gotta pay for the ski race and Margarita Party!
PHONE, EMAILS, UPDATES
Hopefully, this newsletter finds you at the same phone number, email, or homeless shelter. IF you see any wrong phone numbers (including yours), employers (better than even chance), wrong email addresses, high maintenance candidates, etc. or if you know of anyone missing who feels slighted, has never been invited, or even better, they recently left the circus, and need help- PLEASE HELP AND LET US KNOW ASAP.
FREQUENTLY ASKED QUESTIONS
What if I don't ski? What if I am hurt?
Hit the spa or the great outdoors (fly fishing, snow mobiles, hiking, sun tanning or day drinking).
What is the Theme?
Beach Sheik. Think Baywatch, Miami Vice, The Italian Riviera or maybe a Jimmy Buffet concert... except for those who vividly remember the Johnson & Nixon administration's and still use metal detectors while on the beach. Look the part.
Can I bring a friend? Invite someone?
Yes. Just remember the no A-Holes rule. We love new blood.
Rookie of the Year
The most coveted award in the world of sports! What does it take to earn this award? Only a newbie knows the outstanding acts of courage, effort, enthusiasm, and outrageousness. If you have never skied in a Chewbacca or Elvis suit - you have never lived your best life. The prize may be more than your 2022 bonus.
MVP
Bring your A game if you want to have a chance
2023 AGENDA
WEDNESDAY March 8th
8 AM - 4 PM. Follow the experts to Snowbird, Alta, Park City, Deer Valley, Solitude, The Canyons, or somewhere amazing.
6 PM - 8 PM. Welcome Party. No Name Saloon. Upstairs / Roof Top. Main Street.
THURSDAY, March 9th
8 AM - 4 PM. Follow the experts to Snowbird, Alta, Park City, Deer Valley, Solitude, The Canyons, or somewhere amazing.
5 PM ish - 7 PM. Margarita Party. Dress to impress, enjoy the fiesta, meet your new friend the Shot-Ski, and see hello to Don Julio. We won't tell your sponsor....
FRIDAY, March 10th
8 AM - 4 PM. Follow the experts to Snowbird, Alta, Park City, Deer Valley, Solitude, The Canyons or somewhere amazing.
6-7:30 PM. Cocktail Reception. 2nd Floor. Sheraton.
SATURDAY, March 11th
9 AM - 4 PM. Silver Lake Lodge Area @ Deer Valley. Our Annual Flagship Event. The Ski Race. It is a super hero? A Wookie? Elvis? You never know who will cruise down the Nastar course to a record time. It's always a great day at The Beach. Lunch will be provided in the Mariposa Room @ Silver Lake Lodge.
SUNDAY, March 12th - Departures
Please book early. Please send money. See you in Park City.
Big Hurt & Nolando + Jeff from a storybook kingdom far far away….
Dave Hurt. 202-437-5235. david.hurt@bkfs.com
Nolan Turner. 646-709-7611. nolan.turner@carringtonms.com