2023 HITLAB Women's Health Tech Challenge
2023 HITLAB Women's Health Tech Challenge
About this event
4 hours 30 minutes

Mobile eTicket
The fifth annual HITLAB Women's Health Tech Initiative Challenge will be taking place on February 10th, 2023 where FemTech innovators will pitch their disruptive healthcare solutions virtually.
The HITLAB Women's Health Tech Challenge began in 2018, focusing on emerging technology applications and systems that improve medical care and the provision of healthcare among women worldwide, an industry slated to reach $50B by 2025.
We are excited to announce that our 8 finalists who will pitching live on Febuary 10th are: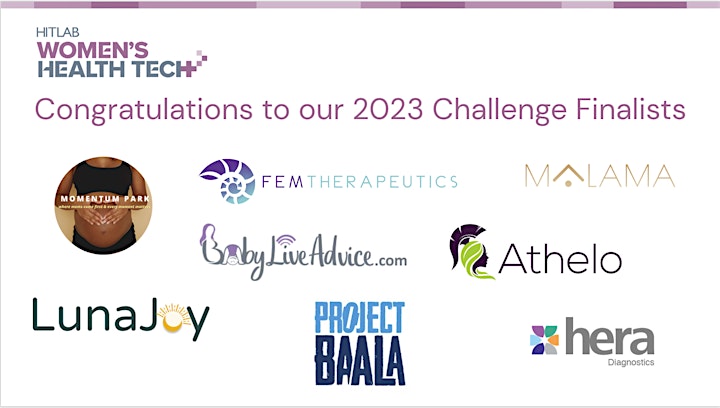 Join us at Pitch Day to see the selected finalists pitch live, and network with industry leads representing the entire digital health ecosystem. The event will feature Panel Discussions, Innovator Pitches, and a surprise Keynote Speaker!
February 10th, 2023: 1pm-5:30pm EST
Topline Event Day Agenda (4 .5hours)
Master of Ceremonies:
Susan Solinsky
Co-Founder & Chief Growth Officer, Ellipsis Health
Founding LP, How Women Invest
Nikolia Kanaris
Lead coordinator, Women's Health Tech Initiative, HITLAB
We would like to thank all of our incredible screening judges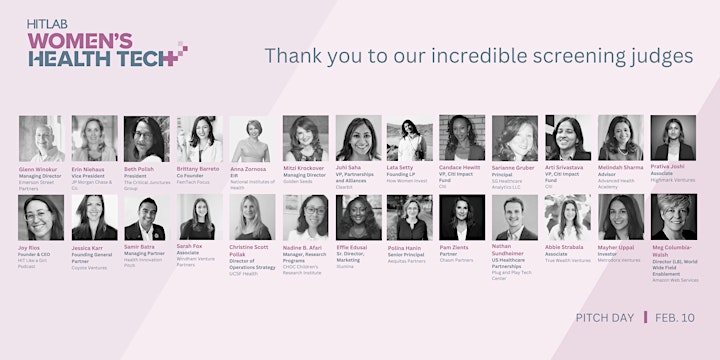 Thank you to our esteemed panel of judges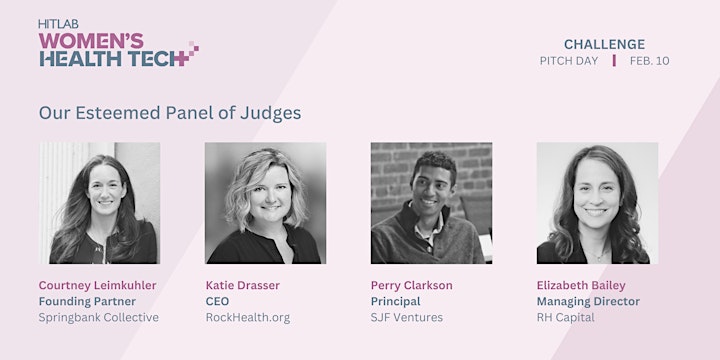 Agenda
Friday, February 10th
1:00pm - 5:30pm - All times below are Eastern - virtual
12:55pm: Webinar opens
1:00pm: Welcome, Thank you to Screening Judges, Judges, Sponsors
Susan Solinsky, Director, Women's Health Tech; Co-Founder ,Ellipsis Health
Nikolia Kanaris, Lead Coordinator, HITLAB Women's Health Tech
1:05pm: Fireside Chat - The Changing Landscape of Women's Health Globally
Marija Butkovic, Founder & CEO, Women of Wearables
Brittany Barreto,Founder, FemTechFocus
1:15pm: Panel Discussion - Why Every Leader Should Have a Mentor and Be a Mentee - a Frank Discussion About the Circle of Support in Women's Health
Moderator: Anna Zornosa, EIR, National Institutes of Health
Janna Guinen, Executive Director, HLTH Foundation, Program Lead, CSweetener
Sharon Knight , Venture Partner, JAZZ Venture Partners
Brian Kalis, Managing Director, Accenture Health
Erika Seth Davies, CEO, Rhia Ventures
1:40pm: Judge Introductions
Courtney Leimkuhler, Founding Partner, Springbank Collective
Katie Drasser, CEO, RockHealth.org
Perry Clarkson, Principal, SJF Ventures
Elizabeth Bailey, Managing Director, RH Capital
1:50pm: Non-profit and Pre-seed pitches
2:35pm: Fireside Chat: Driving the Women's Health Revolution
Delphine O'Rourke, Partner, Goodwin
Dr. Sandy Milligan, Head of Research and Development, Organon
2:50pm: Seed and Series A pitches
3:30pm: Audience Choice Award Voting
3:35pm: Panel Discussion: The Importance of the Mind and Body Connection in Women's Health
Moderator: Nina Roth, Associate Director, Ellipsis Health
Solome Tibebu, Founder & CEO , Going Digital: Behavioral Health Tech, Venture Partner, GreyMatter
Dr. Bradley Karlin, VP & Executive Medical Director, Behavioral Health, Highmark Health
Dr. Victor Carrion, Vice-Chair of Psychiatry and Behavioral Sciences at Stanford University, Director of the Stanford University Early Life Stress and Resilience Program
4:00pm: Creating More Ease In Your Leadership: Connecting to Breath
Dr. Roopan Gill, CEO & Co-Founder, Vitala Global Foundation
4:15pm: Awards Announcement
Non Profit (2nd place): Niko Kanaris, HITLAB
Non Profit (1st place): Marija Butkovic, Founder & CEO, Women of Wearables
Pre Seed (2nd place): Horizon
Pre Seed (1st place): Niko Kanaris, HITLAB
Seed (2nd place): Katie Cheralas,Manager, Femtech, Withum & Samantha Greenbaum, Senior Manager, Withum
Seed (1st Place): Lily Wound, Partner, Goodwin
Series A (2nd place): Kris Brown, Partner, Goodwin
Series A (1st place): Kris Brown, Partner, Goodwin
Audience Choice Award: Nuzi Barkatally, VP StartupBanking, Life Sciences & Healthcare, Silicon Valley Bank
4:35pm: Closing Remarks
4:38pm: MOVE to Zoom Networking
4:40pm: NEW Zoom (10 minute introductions - 30 sec intros from hosts)
Networking and Breakout Room Hosts Introductions:
Lata Setty, Founding LP, How Women Invest
Michele Colucci, CEO, DigitalDx Ventures
Mia Ji Xin Farnham, Investment Associate, SteelSky
Kris Brown, Partner, Goodwin Law
Jessica Karr, Founding General Partner, Coyote Ventures
Prativa Joshi, Associate, Highmark Ventures
Victoria Lezzi, Women's Health and Wellness Co Team Lead, Withum
_________________________________________________________________________________________________________________________
Non-Profit Room:
Project Baala
MOMentum Park
Pre Seed Room:
FemTherapeutics
Athelo Health
Seed Room:
LunaJoy
Malama Health
Series A Room:
BabyLiveAdvice
Hera Diagnostics
4:50pm: 1st Networking - Rooms open (20 minutes)
5:10pm: 2nd Networking - please move to a new room (20 minutes)
5:30pm: Closing remarks
*Media Disclosure
HITLAB reserves the right to use any photograph/video taken at any event sponsored by HITLAB, without the expressed written permission of those included within the photograph/video. HITLAB may use the photograph/video in publications or other media material produced, used or contracted by HITLAB including but not limited to: brochures, invitations, books, newspapers, magazines, television, websites, etc. You are agreeing the media policy upon entering the event; further details are available at the event or at hitlab.org/media-disclosure.