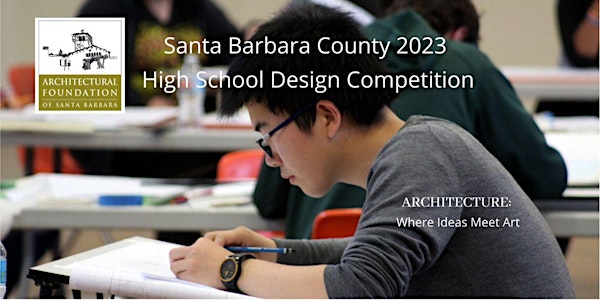 2023 High School Design Competition - Santa Barbara County
High School Design Competition No Entry Fee. Open to all 9th - 12th grade students in Santa Barbara County
By Architectural Foundation of Santa Barbara
Date and time
Tuesday, February 28 · 8am - 3:30pm PST
Location
Santa Barbara County Locations: North County (Santa Maria) or South County (Santa Barbara/Goleta) 1) North County - Allan Hancock College, Santa Maria, CA 93454 or 2) South County - Direct Relief Santa Barbara, CA 93117
About this event
Design Charrette (Initial All Participant Activity)
Date: Tuesday February 28, 2023 8:00 AM - 3:30 PM
Two locations available to choose from:
North County Location: Allan Hancock College at 800 South College Drive, Building G, Room 106 on the Santa Maria Campus, Santa Maria
South County Location: Direct Relief at 6100 Wallace Becknell Road, Santa Barbara near Goleta
Juried Review (12 Finalists Activity)
Date: Saturday March 4, 2023 8:00 AM - 1:30 PM
~~~~~~~~~~~~~~~~~~~~~~~~~~~~~~~~~~~~~~~~~~~~~~~~~~~~~~~~~~~~~~~
This competition is an in person event and will follow the SB County Public Health guidelines in place at the time of the competition. Contact Molly Burns, Executive Director (805) 965-6307 with any questions.
Have you ever imagined how much fun it would be to design a home for yourself or create a truly unique building?
Be the first of your friends to take part in a Design Charrette (Shuh-ret)!
Join us for a fast-paced, exciting, mind expanding, creative experience designing a building or space in a limited amount of time. ***Drafting Skills Are Not Required***
Each year, a new interesting community design project is chosen for the Charrette. You will not know what the project will be until you arrive. Examples of a community design project include a community center, fire station or museum.
Although you may be one of 50 designers at the Charrette, no two solutions will be alike. There is no right or wrong design. Each student will address the issues presented on their unique way bringing experiences and insights to their work.
You can draw, sketch, paint or use any media to illustrate your ideas on paper. Architects will then evaluate your work and select 12 finalists, who will later be invited to appear at a Juried Review to present their design to a panel of four design professionals and educators. Competition winners will then be announced!
More details about the competition:
Open to all 9th - 12th grade students in any Santa Barbara County school
Food is provided for students during the Charrette and for those invited to the Juried Review
"Certificates of Participation" are awarded to all participants, with special cash awards and prizes for the 12 finalists
Designers must arrange to be dismissed from regular classes the day of the Charrette and for transportation to and from the event site
This is an "open book" competition, you may bring reference materials, even Google
Your completed work will be created by hand, on paper provided to you. Again, drafting skills are not required, however you must draw with drafting tools or freehand to scale. This is required so you can be sure that the room you design (for example a bedroom) is large enough to contain a 6'0" x 5'0" bed and other furniture.
The following tools can be found at the Architectural Foundation of Santa Barbara website www.afsb.org
Helpful videos explaining design creativity, scale and drawing techniques
Additional information relating to the High School Design Competition
Registration closes February 21, 2023
You may also contact the Executive Director of the Architectural Foundation directly for more information: Molly Burns at (805) 965-6307.

About the organizer
Founded in 1983 with the goal of enhancing our community's awareness and appreciation of architecture and the built environment, the Architectural Foundation offers and supports a diverse array of programs serving both North and South Santa Barbara County.