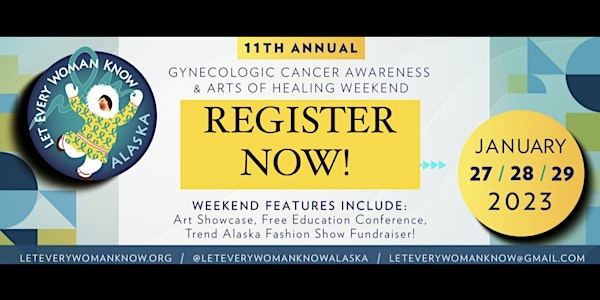 2023 Gynecologic Cancer Awareness & Arts of Healing Weekend
Register here for the free 11th annual Gynecologic Cancer Awareness & Arts of Healing Weekend, Friday, 1/27/2023 - Sunday, 1/29/2023.
About this event
Let Every Woman Know - Alaska's 11th annual Gynecologic Cancer Awareness & Arts of Healing Weekend is happening during the last weekend in January 2023, offering virtual and in person events!
Registration is free & you must register here on Eventbrite to receive an email with links to the Zoom events + Art Showcase online store. This email will be sent on January 26th.
All are welcome to attend: survivors, patients, caregivers, family, friends, and medical providers! Invite those in your community who may be interested. If you have friends and family attending from different households, please have them register separately to receive access.
Visit the weekend hub webpage HERE for the full schedule of events, event links, resources, & sponsor information.
Events
Art Showcase: Featuring artists who support the mission of LEWK, 100% of sales go directly to GYN cancer awareness and support. Donated art can be viewed & purchased online Thursday January 26th through Saturday, January 28th.
Stop by our in-person "Last Friday" event held at the Georgia Blue Gallery on Friday, January 27th from 5-7pm! View, purchase, and pick up art, plus enjoy treats from Fromagio's Artisan Cheese Shop and drinks.
Education Course: This year's Gynecologic Cancer Course will be held virtually on Saturday, January 28th from 9:00 am - 4:00 pm. This course is FREE and open to all cancer survivors, loved ones, caregivers, friends, and anyone interested in hearing from leading U.S. experts in gynecologic cancers. Additionally, the day will feature accessible movement breaks and a Rhythm Heals Concert over lunch with harpist Erin Hill. Click HERE and scroll down to 'Gynecological Cancer Education Course' to view the conference schedule and speakers.
Accredited CME is available through Providence.
TREND Fashion Show: This year we are honored to be the charity of choice for the Trend Alaska Fashion Show fundraiser. Click HERE to watch the 2022 Trend Fashion Show. Tickets available for purchase HERE.
Celebration of Life Memorial: On Sunday, January 29th from 10:00 am – 11:30 am, we will gather virtually to honor and celebrate the courageous women who we have lost to gynecologic cancers in 2022.
We look forward to seeing you for this year's events! Contact us at leteverywomanknow@gmail.com with any questions.