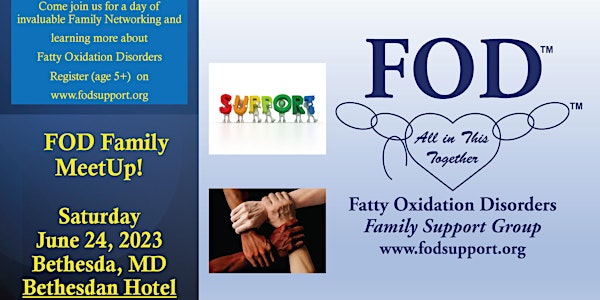 2023 FOD Family MeetUp in Bethesda, MD ~ June 24, 2023
Everyone: We have a max of 75 attendees ~ 1st come 1st served. Register everyone Age 5 and up. NO Registration CHARGE for Families.
When and where
Location
The Bethesdan Hotel, Tapestry Collection by Hilton 8120 Wisconsin Avenue Bethesda, MD 20814
About this event
This form is for FOD Families (as well as for a few Professionals) so I can bring enough FREE FOD Tshirts for our attendees! Also, Everyone age 5 and up MUST be registered so we get an accurate FOOD Count.
FOD MeetUp Family/Professional Registration Form:  Online at www.fodsupport.org and in our facebook Group -  this is the MeetUp Registration for for ALL Families and a few Professionals. We have a maximum attendance of 75 (including children age 5+) so 1st come first served.
Hotel ~ The Bethesdan Hotel $109 + tax/night
Online or Phone HOTEL Registrations: Use our unique link below (should show 2 room types for $109 per night +taxes). If you have a problem with this link, just call.
If you call, state you are registering for the FOD Support MeetUp for June 24, 2023.
8120 Wisconsin Avenue, Bethesda, Maryland 20814-3624, USA
Phone: 301.652.2000
I (Deb) will be arriving Thursday evening, June 22, 2023,  so if anyone would like to meet for dinner on Thursday or Friday please let me know. We may just stay at the Hotel or go to a nearby restaurant. The same is for Saturday AFTER the MeetUp - if Families would like to continue to Network for dinner on Saturday June 24th, we can meet at a local restaurant.  
Also stay up-to-date with MeetUp info on our FOD facebook group page -- https://www.facebook.com/groups/FODFamilySupportGroup or my wall at https://www.facebook.com/debleegould
Deb Lee Gould, MEd, Director    FOD Family Support Group PO Box 54 Okemos, MI 48805     deb@fodsupport.org      517.381.1940