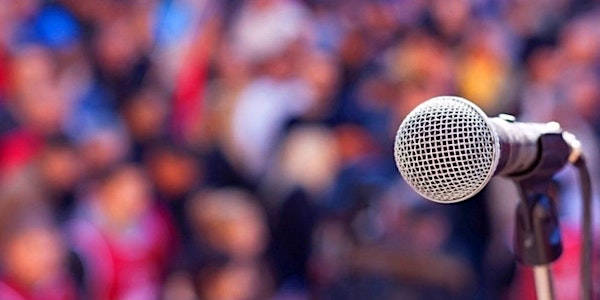 2023 Flatwater Tales Storytelling Festival
The 6th Annual Flatwater Tales Storytelling Festival present 3 world-class tellers Friday evening and 3 Saturday shows and two workshops!
When and where
Location
Historic Grove Theater Grove Center 123 Randolph Rd Oak Ridge, TN 37830
About this event
2 days 9 hours

Mobile eTicket
2023 Flatwater Tales in Oak Ridge, TN
June 2 – 3 at the Historic Grove Theater
June 1 and 2 Workshops at the UT Arboretum Auditorium
The Flatwater Tales Storytelling Festival features three nationally acclaimed storytellers for the June 2023 performances: Lyn Ford, Bil Lepp and Rev. Robert B. Jones, Sr.

Known for their wit and wisdom, all three will perform different stories at every show. Our 6th annual event returns live to the Historic Grove Theater in Oak Ridge, Tennessee on Friday, June 2 and Saturday June 3, 2023. Performances are at 7 PM June 2 and at 10 AM, 2 PM and 7 PM on Saturday, June 3.
Robert Jones and Lyn Ford kick off the festival with special daytime workshops on June 1 and 2. 
The Shows!!
Our Friday and Saturday evening shows include two special events. On Friday, June 2, Robert Jones will headline with a feature presentation, "American History Through Music." On Saturday night, June 3, Bil Lepp will perform a special Oak Ridge-themed story, "I Guess Ol' John Wasn't Crazy After All: John Hendrix, the Prophet of Oak Ridge."
Every teller will perform a different story at each show.
Special Workshops
Thursday, June 1, Lyn Ford will lead a 3 hour workshop,"Collecting Family Stories: Gathering and Creating Spoken and Written Narratives" from 12:30 to 3:30 at the UT Arboretum auditorium in Oak Ridge.
On Friday, June 2, Robert Jones will lead a 3 hour workshop,"Celebrating Diversity: Using Music and Stories Build Bridges" from 9:30 to 12:30 at the UT Arboretum auditorium in Oak Ridge.
These are great Christmas or holiday gifts.
…Tickets…Tickets!!!
Several generous donations enable us to reduce all storytelling ticket prices for 2023. We are also providing tickets for children at each show but request that children at the evening shows be 10+ years old due to the length of the show into the the night.
Tickets are now on sale here at Eventbrite, at the Flatwater Tales website or in person at the Ferrell Shop in Oak Ridge (cash or check only please). Take advantage of our Early Bird Special and get a discount when you buy tickets for both the afternoon and evening shows on Saturday.
These are great Christmas or holiday gifts for all ages. Shop now!
The Tellers
The Rev. Robert Jones, Sr. is a native of Detroit and an inspirational storyteller and musician. He celebrates history, humor and the power of American Roots music. Whether he's telling stories about growing up in his native Detroit, sharing tales about old blues musicians or inspirational stories drawn from history or scripture, Robert loves telling stories that reach both the mind and the heart.
He shares his deep love for traditional American and African American traditional music in live performances that interweave timeless stories with songs. For more than 30 years Robert has entertained and educated audiences of all ages at festivals, schools, colleges, libraries, union halls, prisons, churches and civil rights organizations. At the heart of his message is the belief that cultural diversity tells a story that should be celebrated, not just tolerated. He makes his home in Detroit and performs throughout the United States, Canada and Europe. An award-winning multi-instrumentalist, he is accomplished at guitar, harmonica, mandolin, banjo and fiddle and has recorded many albums of original and traditional songs.
Lyn Ford, a "Teller of Home-Fried Tales," is a fourth generation, nationally recognized, Affrilachian* storyteller. Lyn is also a teaching artist, author and creative narrative workshop presenter. She was the first storyteller in the state of Ohio to be nominated for a Governor's Award for the Arts. Lyn is a two-time recipient of the National Storytelling Network's ORACLE award, receiving both its Leadership and Service and Circle of Excellence awards. In addition to being a published writer, she is a recording artist with award-winning CDs. Her "Home-Fried Tales" are folktale adaptations, spooky tales, and original stories rooted in Lyn's family's multicultural storytelling traditions.
*Afrilachian or Affrilachian: of African American heritage and history from the region called Appalachia.
Bil Lepp, a five-time veteran of the Flatwater Tales Storytelling Festival, is the star of the History Channel's "Man vs. History." An award-winning storyteller, author and recording artist, Bil's humorous family-friendly tall tales and stories have earned him the appreciation of listeners of all ages from all walks of life. Though a five-time champion of the West Virginia Liar's Contest, Lepp's stories often contain morsels of truth which present universal themes in clever and witty ways. His 28 books and audio collections have won numerous awards.
If you love the National Storytelling Festival in Jonesborough or have always wanted to go to it, you don't want to miss the Flatwater Tales Storytelling Festival in Oak Ridge.