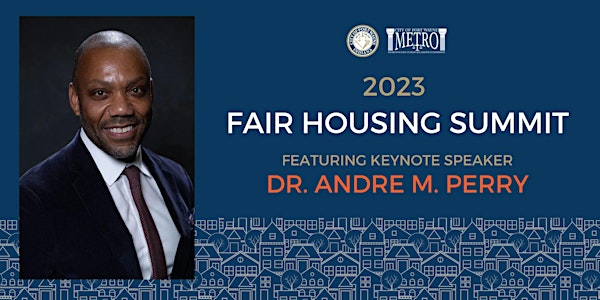 2023 Fair Housing Summit
2023 Fair Housing Summit featuring keynote speaker Dr. Andre M. Perry
By The City of Fort Wayne Metropolitan Human Relations Commission & Office of Housing & Neighborhood Services
Date and time
Wednesday, April 26 · 9am - 3pm EDT
Location
Allen County War Memorial Coliseum 4000 Parnell Avenue White Room Fort Wayne, IN 46805
About this event
Please join us for this FREE event featuring keynote speaker, Dr. Andre M. Perry, author of Know Your Price: Valuing Black Lives & Property in America's Black Cities. Perry is a nationally known and respected commentator on race, structural inequality, education and economic inclusion. His recent scholarship at the Brookings Institution has analyzed Black-majority cities and institutions in America, focusing on valuable assets worthy of increased investment. Perry coauthored the groundbreaking 2018 Brookings Institution report "The Devaluation of Assets in Black Neighborhoods" and has presented its findings on the price of homes in Black neighborhoods across the country, including to the U.S. House Financial Services Committee.
In addition to Dr. Andre Perry, attendees will have the chance to hear from fair housing experts during various workshops. The topics of these workshops include:
• Impacts of Housing Discrimination
• Disability Legal Update
• Equity for All: A Community Study
• How Criminal History Can Be a Fair Housing Issue
• Neighborhoods: Why They Matter
• Addressing Affordable Housing in Fort Wayne
• Fort Wayne Evictions Post Pandemic
The Gold sponsors for the event are Premier Bank and UPSTAR Alliance of REALTORS®, along with Silver sponsors First Source Bank and Bronze sponsors Lake City Bank and Old National Bank.
Fort Wayne Metro's mission is to enforce civil rights laws and empower the citizens of Fort Wayne through education on diversity and discrimination issues. The City's Office of Housing & Neighborhood Services works to attract and support housing investment throughout the community and expand access to safe, quality, affordable housing. The department also partners with local non-profit organizations to address critical needs in the community.
Agenda
8:30 AM - 9:00 AM
Registration & Continental Breakfast
9:00 AM - 9:10 AM
Welcome
9:15 AM - 10:15 AM
Breakout Session #1
10:15 AM - 10:30 AM
Break
10:30 AM - 11:30 AM
Break Out Session #2
11:30 AM - 12:00 PM
Break & Boxed Lunch Pick-Up
12:00 PM - 12:30 PM
Fair Housing Year in Review
12:30 PM - 1:30 PM
Keynote Luncheon Speaker
1:45 PM - 3:00 PM
Fort Wayne Evictions Post Pandemic
Frequently asked questions
Who should I contact with any special accommodation needs?
Who do I notify of any dietary restrictions?
What parking arrangements are available at the venue?